Isaac Zapata is a commercial and documentary photographer and by his own admission, a bit of a gear head. He is based in Miami and travels accordingly.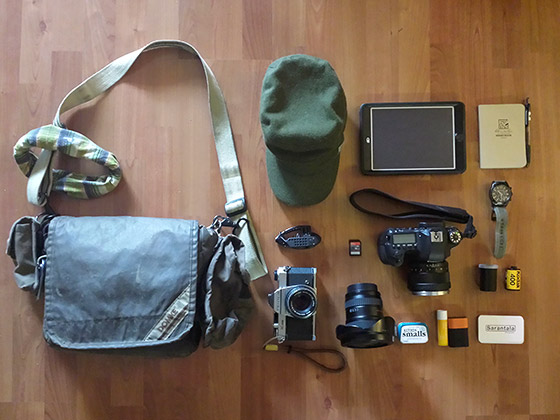 Prior to my recent trip to Istanbul, news of protests hit the airways. A trip intended capture the many faces of a city, now required me to strip my travel bag to three essentials: a full frame Canon 6D, a 1996 Pentax K1000 and a Samsung Galaxy S4 phone. Size and connectivity were the two main deciding factors when selecting the equipment. Small equipment that blends in would allow me to shot potentially violent street protests with ease. My equipment's wireless capabilities made it easy to back up my work to the cloud at least once a day.
What gear didn't make the cut? A second DSLR, flash, pocket wizards, laptop, and storage or hard drives, all got left behind.
Bag: Domke F-5XZ shoulder bag (waxwear finish)
Final gear in my bag:
– Canon 6D
– Canon 17-40mm f/4L
– Carl Zeiss 85mm 1.4
– Pentax K1000 (with various kinds of film)
– iPad Mini 64 GB (tethered to the 6D)
– (2) 16 GB SanDisk SD cards
And in my pocket:
– Samsung Galaxy 4S
– Can of Altoids full of mints, Pepto and Tylenol
Going back to basics forced me to focus on the narrative and sharpen my storytelling. It was an artist's exercise in not relying on the equipment but on your own artistic confidence.