Since every job is a little different, my bag constantly changes contents. This is the normal starting point for me and what happens to be in there today. In combination with a stand, speedlite and/or AlienBee cases, I can show up to an assignment with everything I might need.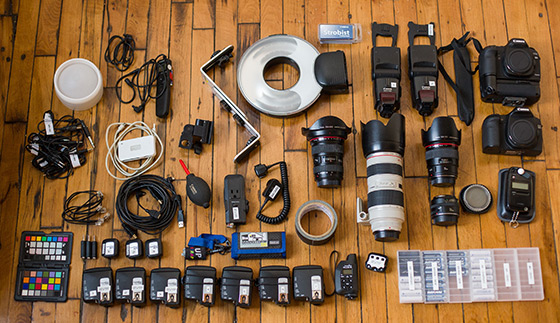 Bag: Think Tank Airport Security V 1
Gear:
– Canon EOS 5D Mark II
– Canon BG-E6 Battery Grip
– Canon EOS 50D
– Canon 35mm f/1.4
– Canon 50mm f/1.8
– Canon 70-200 f/2.8
– Canon 16-35mm f/2.8
– Canon 580EX (2)
– Plastic flash foot (2)
– PocketWizard FlexTT5 Canon (7)
– PocketWizard AC3
– PocketWizard AC9 (3) and cables
– PocketWizard Plus III
– PocketWizard Canon Camera cable
– Orbis ring flash and bracket
– Sanyo Eneloop and Eneloop XX (lots)
– Gary Fong flash diffuser
– Canon OC-E2 off-camera cord
– Gaffer tape
– Canon dust blower
– X-Rite ColorChecker Passport
– Think Tank Pixel Pocket Rocket
– UPstrap Large Pad with kevlar web
– Neewer intervalometer/cable release
– Sekonic L-308B
– Travel 3 port power strip
– Umbrella swivel
– Rosco The Strobist speedlite gel pack (2)
– Multi card reader
– USB tethering cable and extension
– mono miniphone sync cables
Usually a 13" MacBook Air slides into the front pocket and I'm ready to go.