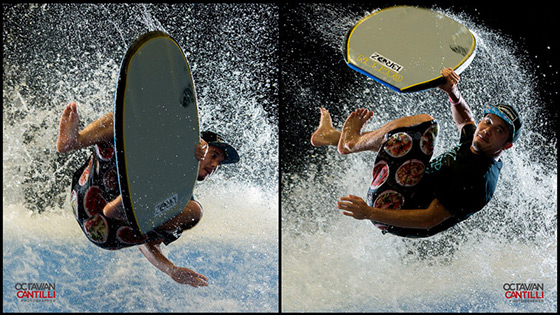 Orlando, FL-based photographer Octavian Cantilli took some cool photos of indoor surfers in action using an elaborate lighting setup.
My regular commute takes me by Fantasy Surf in Kissimmee, FL. About two years after first noticing the establishment, I finally went in to investigate the possibility of creating some interesting imagery. It turned out to be oozing with possibilities! After a few phone calls, emails and visits with an enthusiastic and very accommodating general manger, as well as a short wait for the dual FlowRiders (water jets) to be fully functional, I was granted an hour and 30 minutes of "closed to the public" time with a couple world champion indoor surfers. The date was set for Thursday, October 24th from 7:30-9 p.m. As someone who stated his college career as an aspiring engineer, I've always been interested in the latest and greatest image making technology. For this situation, both Profoto's ultra short flash duration 8a and B4 generators and Pocket Wizard's TT5 high speed sync transceivers teamed up with Nikon speedlights seemed like a good choice. I had access to both systems, so why not use both and compare and contrast the results. With the generous help of a couple good friends, Vincent Santilli and Willie J. Allen Jr., we were able to make some images worth sharing. Initially, I envisioned photos involving a black background. We set up for this type of image, and I was lucky enough to have a few minutes behind the camera before Murphy's law decided to peek its ugly face into my shoot, which caused me to have to improvise. The amount of time required for set up, and for the cameras to become acclimated to the humidity in the room shrunk my shooting time to about 30 minutes. At least once dialed in, both strobe systems worked like a charm. Below are my favorite images using each strobe system, a down and dirty behind the scenes video, my approach and what I learned from the experience.
Continue reading and see more photos on Octavian's blog.