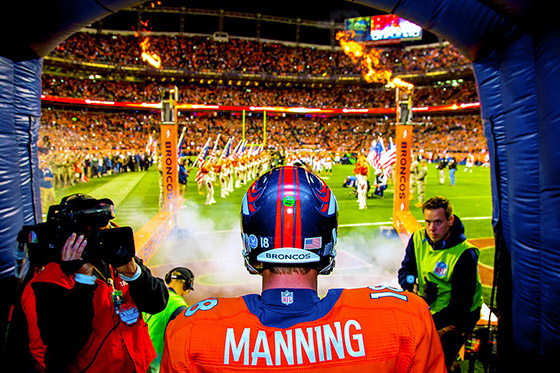 Sarasota, Fl-based photographer Chip Litherland covered the Denver Broncos vs. Kansas City Chiefs NFL game for ESPN the Magazine.
I don't know how I drew the long straw on these series of gigs, but I'm happy I did.  This is my third One Day One Game for ESPN the Magazine and every time it's a complete and total visual mosh pit I never want to leave.

Alongside a crew of seven photographers and editors from across the country, we all descended on Sports Authority Field in Denver for the night:  from one shooter with the horse all day to another up in a plane with parachuters coming into the stadium, the editors at ESPN really try to tackle (sorry bad pun) every angle of the story possible.  My job was a bit open ended with an all access pass to just go cover everything Denver from their sidelines.  Not too bad of a gig – especially when they win.  The matchup between the Denver Broncos and Kansas City Chiefs brought the top two teams in the NFL together in the middle of the season – a rarity.  Adding to that one team had the best offense, the other with the best defense.  Pretty big matchup.
Continue reading and see more photos on Chip's blog.