Suzi Pratt
has been a storyteller her entire life, beginning with her self written and illustrated stories as a child, to her first professional media job as a blogger in Spain, and her current work as a full-time freelancer. She didn't pick up a DSLR camera until 2009, but has found photography to be a great complement to her passion for telling stories. Today, she is an internationally published freelance photographer specializing in event, concert, and restaurant photography. Many of her freelance adventures are documented in her personal blog,
Intrepid Freelancer
. In addition to her photography business, Suzi is co-founder and operator of
Gemini Connect
, an online marketing agency specializing in travel and agritourism.
Fanny packs are a thing of the 80′s, right? That's always what my impression of fanny packs and belt packs were, especially pertaining to photography. I'd see other professional photographers running around with them and would giggle to myself. Little did I know that I'd one day make the leap to the belt pack and find myself LOVING it. In this case, I'm referring to the Think Tank Change Up Belt Pack, which I've been using on a very regular basis for the past month.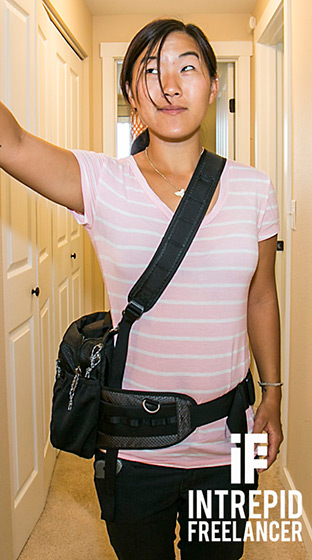 As I mention often in my blogs, I've been a longtime fan of the Think Tank Retrospective shoulder bags, having used two of them now. I love how they're solid and sturdy, yet also lightweight and compact with all of the pockets in just the right places. However, hauling around too much gear in the bags damaged my shoulder and neck muscles after a while, and my chiropractor strongly recommended I look into a belt pack. I automatically looked to see if Think Tank had any, and after much consideration, ordered the Change Up Belt Pack.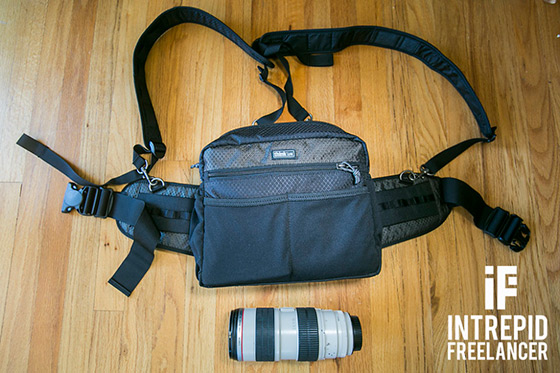 Compared to the Retrospective bags, the Change Up is quite a bit smaller, with its description saying it's meant to hold lenses, accessories, and Micro 4/3 kits. In the image above, you can see the bag's size relative to the Canon 70-200 f/2.8 lens. The bag has one large main pocket for your camera body and/or accessories, one flat internal zippered pocket for memory cards and such, one flat outer zippered pocket for memory cards and such, two stretchy outer side pockets, and two stretchy outer front pockets (great for holding Pocket Wizards, lens caps, or cell phones). There's also a flat zippered pocket for tablets or notebooks. For those who shoot with larger DSLRs, this bag can still hold your camera bodies, but barely. I can usually squish DSLRs in the bag, but then find that many of other zippered pockets are pressed tight with hardly any room to insert additional items other than flat memory cards and lens caps. I find my Canon 5D Mark III to be a bit too wide for the bag, even with a 50mm lenses attached. My Canon 6D on the other hand fits perfectly even when mounted with the 100mm f/2.8 macro or 16-35mm f/2.8. As a result, I generally pair this bag with the Canon 6D body. I'll still have enough room to stick quite a few accessories in there, even the 70-200mm. At the end of this post are some various gear configurations that work well with this bag. In terms of ergonomics and support, this bag is a winner. The belt straps are thick, sturdy, easily adjustable, and the connecting pieces make a satisfying click when snapped into place. On the downside, those with smaller waists may find the excess straps can be a bit cumbersome to stow away. If you don't want to wear the bag as a belt pack, the straps can fold and hide away into the bag's back flap. Additional support exists in the form of removable shoulder straps that can provide extra lift while wearing the belt pack, or easily convert the bag into a shoulder bag. An extra shoulder strap can also be added as a sort of chest strap. Material-wise, the Change Up's exterior fabric is water resistant, a feature I put to the test during a recent outdoor food festival shoot that got rained out. The Change Up's material withstood the rain, and the extra rain hood that comes with the bag was great for extra moisture security. Overall, this is a fabulous belt pack that delivers on Think Tank's stellar reputation to craft durable, functional, and stylish camera bags. It's great for ergonomics and will save your back during an all-day long photo shoot as well as serve as a great way to safely transport your gear during a casual day trip. I highly recommend it!