In 2005, New York based editorial and commercial photographer
Chris Owyoung
got his first digital SLR to take photos of flowers and rusty fire hydrants. Today, he's an internationally published music photographer specializing in concert photography and promotional portraits for bands. His work has appeared in publications such as Rolling Stone, The New York Times, Q Magazine, SPIN, Billboard, Vibe, The Washington Post, New York Magazine, and The Guardian. His commercial clients include American Express, Wrangler Jeans, Clear Channel, Roadrunner Records, and the Tony Award-winning musical Memphis. In addition to his photography, Chris is the Senior Marketing Manager at
PhotoShelter
, the leader in portfolio websites, photo sales, marketing and archiving tools for photographers. He loves to talk to photographers about online marketing and SEO.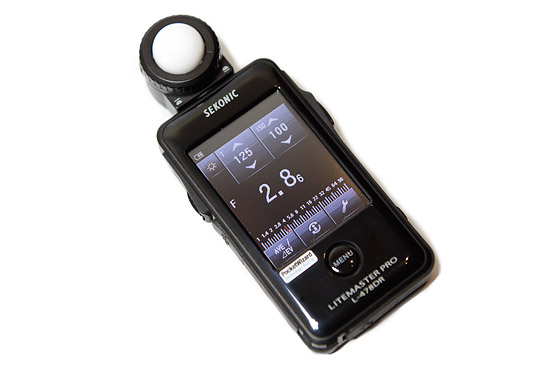 The Sekonic LiteMaster Pro L-478DR is one of the newest offerings from the most trusted brand in light measurement. The L-478DR, which replaces the ubiquitous Sekonic L-358, is also the first ever light meter with touch-screen-operation. It promises a wide range of functionality for both still and motion creatives and delivers with an intimidating (at first) array of modes and custom settings.
In this review, I'll take a look at the features and qualities of the Sekonic L-478DR to see if it deserves a spot in your camera bag.
Key Features
Here's a rundown of the most important features of the Sekonic L-478DR, both new and those that we're familiar with from legacy products like the L-358.
New Features
AAA Batteries
Color touch screen
Built-in PocketWizard for wireless triggering
Wireless flash power control via PocketWizard ControlTL technology
Custom exposure profiles for up to 10 cameras
Cine / HDCine Modes (Meter infinite FPS and shutter angles)
TF Priority Mode (Lock shutter speed and aperture to meter for ISO)
Software updates via USB
Luminance Mode (Meter in lux, foot-candle, candela/m2 or foot-lambert )
Compensates for CTO/CTB/ND, +/- green, and 85 amber filters
Expanded ISO, shutter speed, and aperture ranges
Key Features
Meters flash and ambient light
Displays percentage of flash in a total exposure
Incident metering
Reflected metering with optional attachment
Retractable and removable lumisphere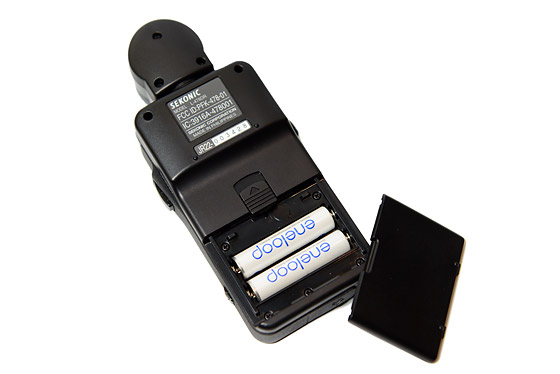 Batteries
Battery type is an important but easily overlooked feature in all photographic equipment. One huge improvement to the Sekonic L-478DR is the use of standard AAA batteries, instead of  lithium CR123A cells. The units ship with a pair of normal AAA, but it's nice to know that you can use rechargeable batteries like the Sanyo Eneloop AAA NiMH instead of more expensive and harder to find sizes.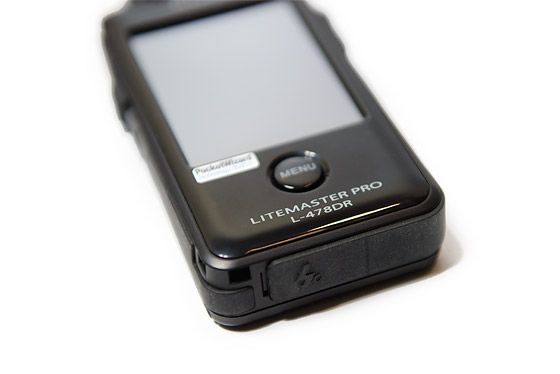 Triggering and Connectivity
For those of you who love sync cables (seriously?) the L-478DR can be triggered via a non-threaded PC sync jack on the bottom of the unit. For everyone living in the modern world, the L-478DR offers built-in PocketWizard triggering and goes a significant step further with the ability to wirelessly control flash power settings via PocketWizard's ControlTL radios – that's right, you can control the power output of up to 3 independent groups of strobes and toggle them on or off from the meter. For owners of the ControlTL system, this is huge.
The L-478DR also features a USB port that, when connected to computer, allows for firmware updates and the upload of custom settings and exposure profiles. The meter can store user settings such as frame rate, shutter angle, and supports custom exposure profiles for up to 10 cameras.
Controls
The control surfaces of the L-478DR are extremely simple. Besides the on/off button, there's a button to take a meter reading, one to commit the reading to memory, a menu button and that's it. So how has Sekonic packed so many new features into the L-478DR? It's all hiding behind the touch screen.
At first glance the touch screen on the L-478DR looks and feels dated. The resolution and tactile feeling resemble an old dashboard GPS instead of a modern smartphone. If I had to guess, Sekonic's decision to use this kind of screen kept costs down while having the additional benefits of better readability in sunny conditions and better drop resistance (a very good idea for a tool that tends to get dropped a lot).
Luckily the lack of screen resolution doesn't impact the functionality of the L-478DR at all – it's still the most full featured and usable light meter I've seen. The on-screen "buttons" are large and easy to read and, because the unit is roughly the size of an iPhone, it can be controlled using only one hand. Fine adjustments to aperture, shutter, and iso are made by tapping the corresponding up/down arrows. Larger changes are made by pressing and holding on an arrow. The screen even responds to sliding motions, similar to what you'd find when setting a timer an iPhone.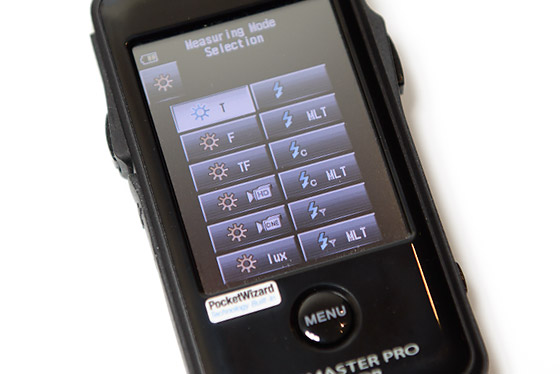 Modes
The Sekonic L-478DR can output measurements in a dizzying 12 different modes that cover ambient, strobe, wireless strobe and cine use cases. All 12 modes are available out of the box, but unused options can be hidden via one many custom settings.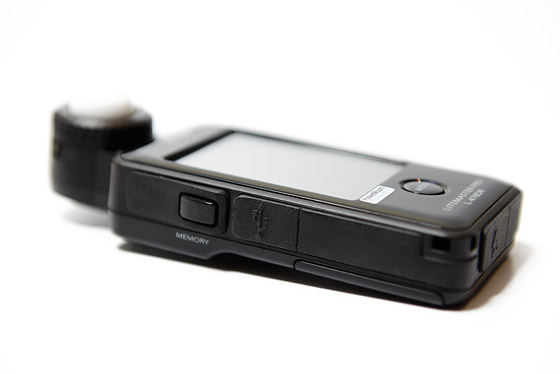 Build Quality
Like most Sekonic products, the L-478DR feels well-built. The shut lines are tight and the rubber bumper that covers the in-hand portion of the device goes a long way to reduce the chance that you'll drop it. Owners of the old L-358 will immediately notice how much better the controls feel on the L-478DR –  Sekonic has replaced the squishy rubber nubs with firm, short-throw plastic buttons.
While I didn't go so far as to drop a c-stand on the L-478DR or throw it a third assistant, the meter did survive several drops from 3 feet.
Operation – Use for still photography
I used the L-478DR during a variety of actual client shoots both studio and on-location in all cases, the meter wirelessly triggered our strobes as reliably (if not more so) than the Sekonic L-358. The unit reliably triggered Dynalite Roadmax packs with built-in PocketWizard transceivers, Paul C. Buff Einstein flashes outfitted with PocketWizard PowerMC2 receivers, and Nikon speedlights on PocketWizard FlexTT5 transceivers.
The L-478DR can trigger standard 32 channel PocketWizards and ControlTL radios at the same time which means that you can mix and match different kinds of lights and PocketWizards as needed. On a multi-subject portrait shoot, we were able to meter a key light driven by a Dynalite Roadmax pack and a hair light driven by a Einstein flash with ControlTL. Normally, the hair light would need to be physically adjusted to account for the different heights and hair styles of each subject. Thanks to the L-478DR, we were able to wirelessly meter it and adjust the power output (ControlTL) without raising or lowering the light. A lot of rigging time and effort was saved which resulted in more time spent shooting and a greater variety of shots for the client.
Furthermore, when using strobes with ControlTL radios, the L-478DR is able to adjust the power of 3 different groups of flashes, including the ability to selectively fire one group at a time. In a 3 light setup, this means you measure one light at a time or the difference between two overlapping lights without powering them down. Along these lines the meter also has a "contrast" function that allows you to see the exact difference (in stops) between two different lights. This is a welcome feature for photographers or lighting designers who need to create exact ratios between different sources.
While this feature is not new or unique among light meters, the Sekonic L-478DR is also very good at determining the percentage of flash in a mixed ambient/strobe exposure. This is extremely useful for photographers who need to achieve a specific amount of fill flash. If you have no idea what I'm talking about, check out Sekonic's interactive fill-flash tutorial.
Operation – Use for motion photography
Since I only dabble in video, I'm not the best person to evaluate the L-478 for cine uses. That said, I do understand how shutter angle affects motion footage and found the L-478 extremely easy to use to find the right ISO to achieve my desired 180 degree shutter angle at the aperture I needed. As it does during still metering, the L-478DR can swap easily between all of the different measurement needed for cinema. In particular, the meter can output infinite FPS and shutter angles, which is essential for creating a consistent look and feel.
The L-478DR can also measure light in more absolute terms with support for lux, foot-candle, candela/m2 or foot-lambert. The unit is even smart enough to compensate for the most commonly found filters (CTO/CTB/ND, +/- green, and 85 amber filters).
Accuracy
Out of the box the L-478DR seemed to be as accurate as my L-358. Since the new meter can be manually calibrated to your specific camera body (up to 10 unique profiles), accuracy should not be an issue.
End Notes and Conclusion
I'm of the opinion that newer isn't necessarily better and thus, I approached this review of the Sekonic L-478DR with a raised eyebrow and a bit of a smirk. I was wary of the build quality, skeptical of the touch screen, and fairly sure that the user interface would be a hot mess. I'm happy to report that, as of writing all of my assumptions were wrong. While the touch screen does take some getting used to, especially for those of us who are used to older meters like the L-358, the benefits to workflow alone are worth the modest learning curve. My L-478DR continues to work flawlessly after months of professional use, including a few drops, and I've stopped buying those expensive CR123A batteries.
In conclusion, the Sekonic L-478DR is an easy recommendation for photographers who own both standard PocketWizard radios and the ControlTL system – the L-478DR makes moving between the two (and using them together) a real pleasure. It's also easy to recommend the meter to anyone doing both still and motion work. In fact, unless you absolutely need the 1-degree spot meter that comes standard on the much more expensive Sekonic L-758CINE, L-478DR will work just as well.
So is it worth upgrading if you already own a meter? That depends. If you're a still photographer who already owns a meter like the Sekonic L-358, there's no great reason to drop $470.00 for the luxury of AAA batteries and a touch screen. But, if you've moved into motion work, the L-478DR will certainly help you shoot footage with a technically consistent look and feel.