Richard Patterson is a cinematographer and steadicam operator based in Brooklyn, NY. His start in film began in 2007 as a film loader on the set of the independent feature "The Tested." Prior to working in film and video, Richard was a commercial and editorial photographer for seven years.
Born and raised in New York City he began his career as a staff photographer at the Miami Herald from 2000 – 2004 where he focused on documentary and portrait photography. He covered the 2004 coup d'état in Haiti as a freelancer for the New York Times and Associated Press.
His first credit as Director of Photography for the PBS documentary, "Hecho A Mano," received an Emmy Award for Historical and Cultural programming by the National Academy of Arts and Sciences, 2011. 

Today Richard Patterson works primarily in the New York and Miami markets and has produced and shot projects in over 25 countries. He graduated from Florida International University with dual Bachelor degrees in English Literature and Fine Arts in 2000 and is an avid cyclist, runner, and moviegoer.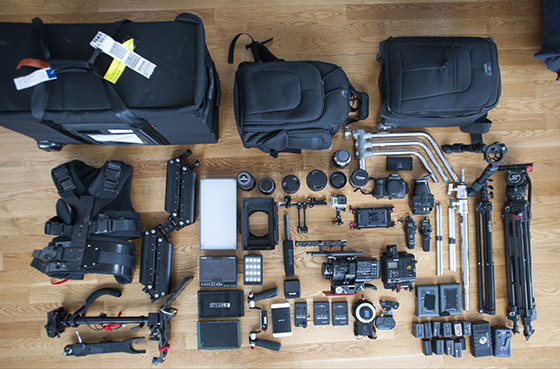 Packing for my most recent documentary shoot in Haiti, was a series of decisions that balanced optimism vs reality.
The subject of our piece is "Professor" Alfred Avril, a poor subsistence farmer in the small town of Jacmel, Haiti, about two hours outside of Port Au Prince. Though he toils every day to make a living and feed his extended family he has also inherited the legacy of this fighting style known as "Tire Machet."
A respected elder in his community, he teaches the cultural roots and form to the youth in Jacmel, instilling in them a sense of discipline and responsibility that helps them look beyond their current station in life.
My crew and I were hopeful that the weather, logistics, and our main subject of the doc would cooperate enough for us to tell the story we wanted in the two week window we set aside.
However, Haiti's a unique and rugged destination. My director, Jonathan David Kane, compared it to a former experience he had in India; moments of eye dropping beauty and inspiration are quickly juxtaposed by tough logistics, broken gear, and severe living conditions. The highs and lows of life in a single day.
Our budget was limited but we still wanted to cinematically capture machete fencing in slow motion with as much latitude as possible for our post production color correction.
We packed accordingly.
An upgraded Sony FS700 with the necessary IFR5 & R5 recorders provided 4k 16 bit capabilities with the support of AbelCine NYC, nonstop 120 & 240 FPS high speed recording options for the fight sequences in 2k resolution and Zeiss ZE prime lenses. Tenba provided three great, light weight bags for the camera package, lighting and grip essentials and Steadicam.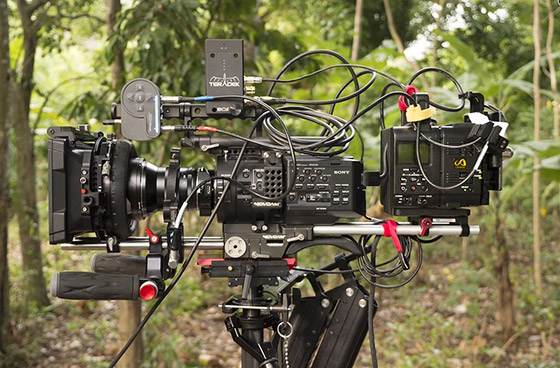 We monitored all the shots with Teradek Bolts, Small HD OLED & Marshall, and Redrock Micro follow focus units.
Many lessons were learned.
We captured about 10 terabytes of footage in eight days of shooting which we had to completely back up before coming home.
Our download times using Shotput Pro was roughly six hours on USB 2.0 per 512 gig SSD card (1 hour recording time at 4k resolution).
We used Shotput Pro to verify our transfer. Our hotel's power would constantly switch to a backup generator throughout the day and the momentary drop in power could interrupted our transfer.
We wanted to ensure all the files were copied.
I was disappointed to learn that I couldn't capture 4k timelapse with the Sony IFR5 & R5 setup. Instead we used a Canon 7D set to capture small raw and an intervalmeter.  This was the better method with regards to post production flexibility but was one more piece of gear to lug.
The bulk of our gear fit into the tenba rolling case (used primarily as a back pack) and the HDSLR shootout Bag. On days when we had to hike up hills and cross rough terrain we strapped the sachtler tripod to these packs.
Lighting was kept to a minimum. We used three 5-in-1 reflectors of various sizes for fill, an Ikan LED, and Sungun.
Despite our five person crew (director, writer, producer, sound, camera) we tried our hardest not to compromise the look for the piece. We're now working on our second edit of the piece and moving into color correction issuing the 4k footage instead of our HD 1920×1080 proxies.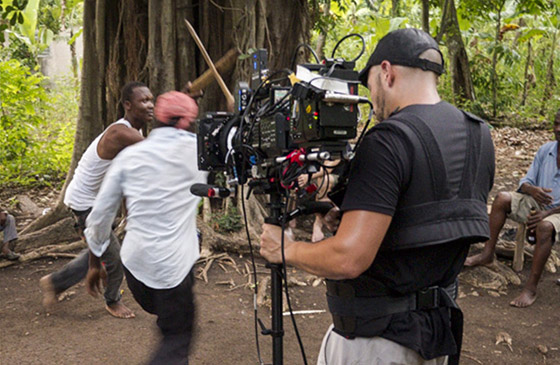 To date, we're awaiting news of film festival submissions, kick starting or kickstarter, and planning release events.
For more info and announcements please follow us on Facebook.
Gear:
– Sony 4k FS700, Sony IFR5 and R5
– Canon 7D
– GoPro HERO3
– Sachtler DV8
– Induro Hi-Hat tripod
– Glidecam x22 vest and arm
– Oconnor O-Box
– HyperJuice battery charger
– Alphatron viewfinder
– Tenba – Transport Air Case Topload Medium
– Tenba – Roadie Hybrid
– Tenba – HDSLR / Video Backpack
– Dry bags
Lenses:
– Zeiss ZE 21mm, 28mm, 35mm, 50mm, 85mm
– Canon (L) 16-35mm, 24-70mm, 70-200mm
– Sony Kit Lens 18-200mm (backup)
Monitor:
– Small HD 7" OLED SDI
– Marshall 7" SDI
– Teradek Bolts
Grip:
– Magic Arm
– Baby Cstand
– Super clamps
– A clamps