If there's one thing to be said about event photography, particularly concerts and festivals, it's that all of them are extremely diverse, unpredictable, and often tiring. As a result, event photographers need to carry a variety of gear that allow for both flexibility and portability. I've learned that hard way that it's taxing on the body and essentially not worth it to carry loads of gear just because it fits in the bag. It's a healthier and more fun practice to learn to take great photos with less gear. Not long ago, I did a lengthy post about my camera bag contents on my blog. While that camera bag and its contents are still my ideal setup, I've also come up with a lighter alternative, which I'll highlight below.
In this lighter event photography setup, my essential photo gear includes a wide angle lens for crowd and venue shots, a 50mm lens for impromptu portraits and "street" photos, and a telephoto zoom for tight shots of speakers, drummers, and performers. Although I own a 24-70mm f/2.8 midrange zoom, I've learned to do without it for the sake of carrying less gear; generally, the 50mm will work fine it its place. I'll also likely have my 580EX II Speedlite handy for crowd shots at night, but never for using in a photo pit at a concert (no lighting or flash of any kind is generally permitted). If I've got portrait sessions with bands or musicians scheduled, I'll also bring along my PocketWizards to allow for more flexible lighting with the Speedlite, and lately the Manfrotto Maxima 84 has been a constant companion for its reliable continuous lighting output. Depending on the event, I'll also bring along my Nexus 7 tablet that can be connected to my DSLRs for tethered shooting and/or viewing and uploading photos from the cameras on the go (great for instant social media updates!).
A few other concert photography must-haves: earplugs, business cards, spare batteries and memory cards. Always have at least one pair of earplugs to protect your ears from blasting music. The photo pit is usually right in front of the stage, allowing for an awesome vantage point, but it also means that more often than not you'll have to stand next to blaring speakers to get your shots. Protect your ears, and bring spares to make friends with another photographer or audience member who forget theirs. Business cards are a must-have to pass on your contact info to curious front row attendees who may want to see your photos later, or for tour managers or big wigs you may interact with in passing or during portrait shoots. They're a simple way to leave bread crumbs that can lead to more views of your photos later! Last but not least, never forget to bring extra power and storage. It's really embarrassing and really easy to get on site for a shoot and realize you forgot your batteries at home, or have a memory card malfunction. Always be prepared with backups.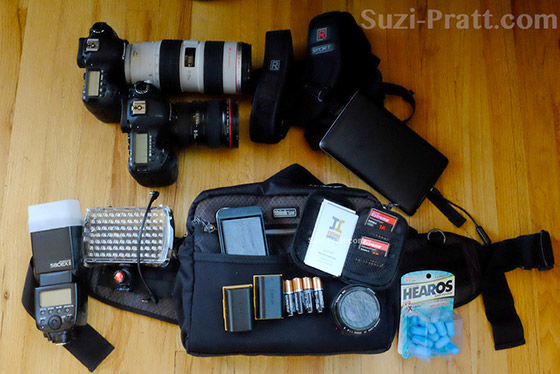 My typical concert and event photography bag has gone through its changes, making frequent downsizes over time. I started out with a large Think Tank Retrospective Shoulder Bag, moved on to a smaller Retrospective model, and eventually picked up the Think Tank Change Up belt bag to place less weight and stress on my shoulders.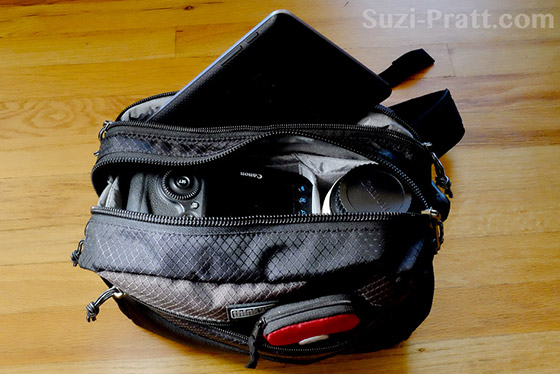 The Think Tank Change Up bag is quite a bit smaller than the Retrospective series, but I find this to be a good thing. When traveling "light," it will snugly hold my 5D Mark III with a 16-35mm f/2.8 attached, and a 70-200mm f/2.8. The back pocket will hold my Nexus 7 tablet, leaving the front pockets a bit crammed but with enough room to hold my memory card wallet and a spare battery. Voilà–I've got a nice compact travel or street photography kit!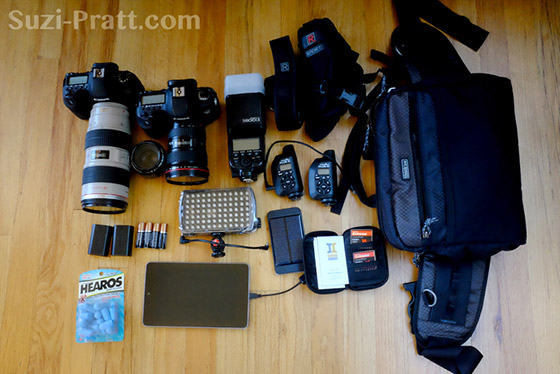 As I mentioned in my other post on my camera bag contents, I'll still keep a nice reserve of materials in the trunk of my car, just in case they're needed for an event or concert shoot. These items include:
– Benro A2190T Travel Flat Tripod with carrying case
As I mention in my event photography blog, there are many event photography shots to be had when you can elevate yourself above the crowds. Sometimes, this can be done by getting to a rooftop or going up to the top floor of a venue, but when you don't have these luxuries, the above photo tools are great to have in the trunk of your car. They're also essential in the event that you have to do a soundboard shoot at a concert to make sure you can get a clear shot from the back of the venue while stabilizing your camera.
Gear Worn on Body:
– Canon 5D Mark III with 16-35mm f/2.8 lens
– Canon 6D with 70-200mm f/2.8 lens
– Cameras secured with Black Rapid R-Straps (1 Sport and 1 Women's strap)
Bag Contents – In Think Tank Change Up Bag:
– Canon Speedlite 580EX II with Diffuser
– Memory card wallet with spare CF and SD cards and business cards
– XTG external smart phone charger
– 2 spare camera batteries
– spare AA batteries
– earplugs
– (optional) 2 PocketWizards
– (optional) Manfrotto Maxima 84 LED Light with sync cord
– (optional) Nexus 7 tablet