Recently I've been transitioning from a single strap camera bag to a backpack. With a tendency to take to the streets by bike for local shoots, I started using a chrome messenger backpack to carry minimal gear in my own padded casings. While that bag didn't offer a cushioned sectioned setup, it was convenient for riding and importantly featured a waterproof compartment. Since I live in New Orleans where it rains a lot, waterproof is a big benefit when doing outdoor shoots by bike.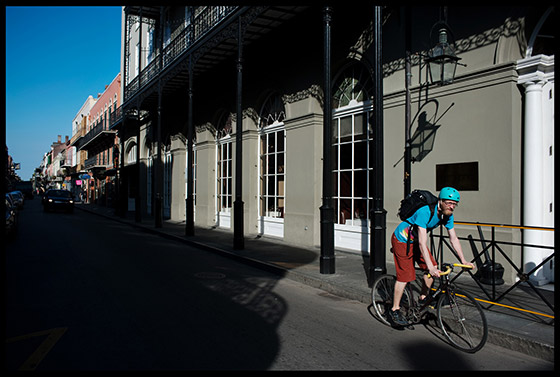 I have been in search of a new camera bag for some time, and when a friend mentioned that Chrome had recently released a camera-centered backpack I was pretty excited. The Niko Pack is their largest camera bag. It's described as a "water-resistant, padded camera backpack with integrated laptop sleeve and customizable interior. Guaranteed for life."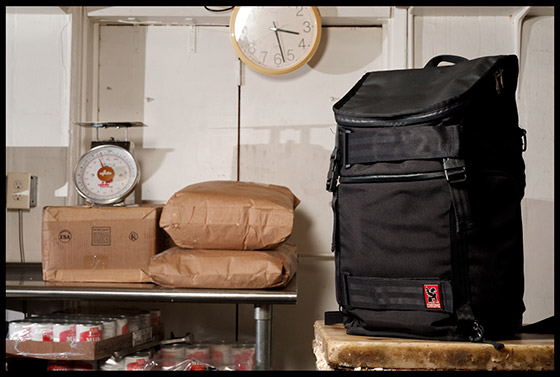 The bag arrived just in time to document the final four days of Jazz Fest. To avoid a parking and traffic nightmare, I rode my bike to the festival grounds each day. The first day crowds were heavily rained on followed by a day of cool grey skies and then finally dried in the hot New Orleans sun for the final two days. With a long list of performances and topics to capture, I knew that I would be on my feet most of the day carrying a variety of gear. Jazz Fest presented a perfect testing ground for the Niko Pack.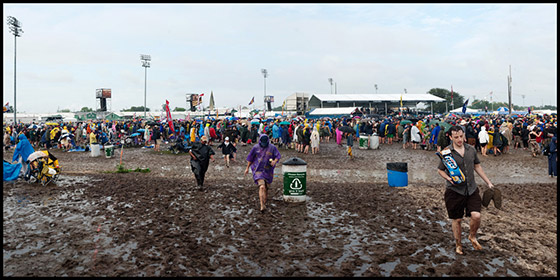 The bag is only available in black and weighs in at 3.4 lbs, measures 11" wide, 17.75" high, 8" deep. It has no external pockets, and two inner compartments. The Niko Pack looks simple, sturdy and sleek for a big bag.
The main/lower compartment is accessible by a large zip around opening and features customizable velcro dividers for gear. For Jazz Fest, I packed my Nikon D700, 80-200mm, 28mm, 35mm, 50mm, and flash with room to spare. On the inside of the opening flap are a number of handy pockets to hold batteries, memory cards, notebook, business cards, and more. While wearing the bag on one shoulder, I was able to easily access one side of main compartment where I stored my 80-200mm. I kept another smaller lens in a Domke pouch on my belt.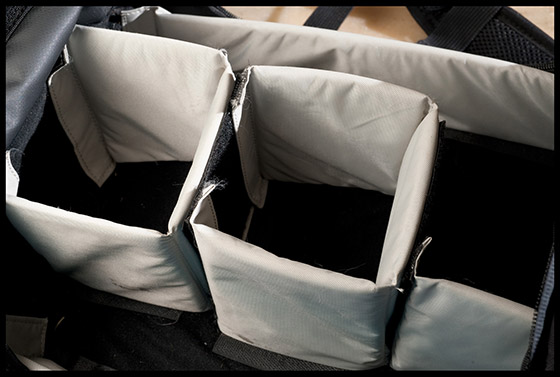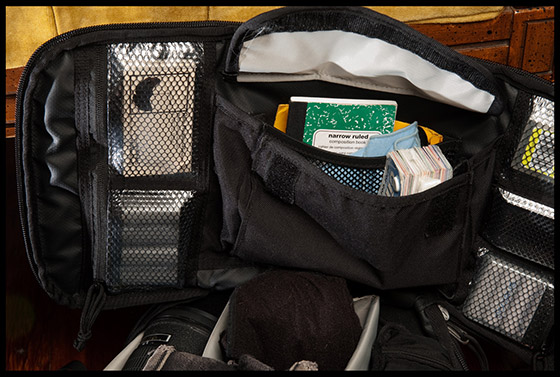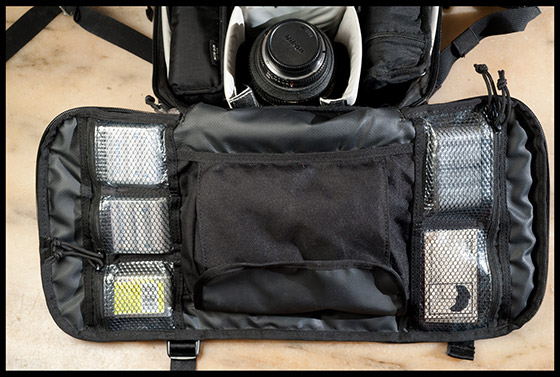 A separate quick access top-loading compartment allowed for storage of sunscreen, hat, snacks, and rain jacket during the fest. The compartment also offers a padded laptop sleeve that fits up to a 15″ Macbook Pro and also allows access to the the main compartment. With a square bottom, the bag stands upright easily, making this top compartment even more convenient to access. While I didn't upload while at Jazz Fest, the computer sleeve has come in handy on countless other occasions since.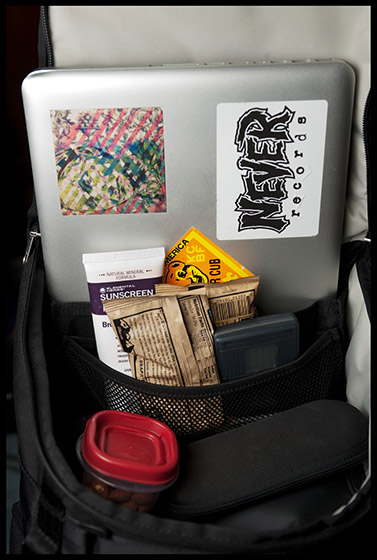 The bag is fitted with an EVA foam back panel and ergonomic shoulder straps allowing for greater continued comfort throughout the day. The design helps keep air ventilation to your back, making hot days bearable. The sternum strap that buckles across the chest is great for load distribution and securing the bag to your body, which is a major plus while riding. There are also multiple straps on the outside of the bag that I have used to carry a bike lock and water bottle. The only downside is the lack of a water bottle holster, but I've worked around it thanks to the use of a carabiner. The straps could also be used to carry a small tripod or similar gear.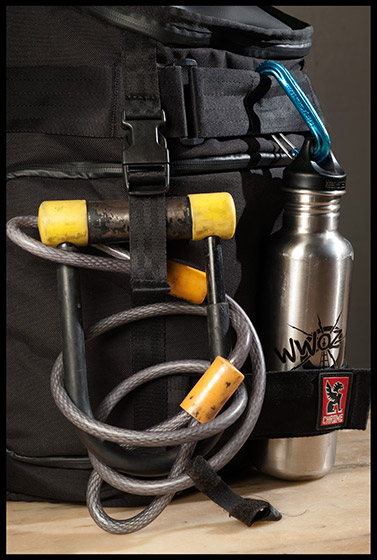 The possibility of heavy rain has become a way of life in New Orleans, and the "Weatherproof 1000 denier nylon outer shell and military-grade, truck-tarpaulin liner" along with waterproof urethane YKK zippers stood up to the challenge. At Jazz Fest and many other times since it has performed flawlessly. The Niko Pack, along with my beloved rain jacket and dry cloth, have allow me to stay out in the rain hunting images. While I can't submerge the bag I have little concern about getting my gear wet while in the elements.
When comparing this bag to other camera backpacks, I see a number of differences. Its weatherproof design is a key point that many other bags don't offer. Also most camera bags are only designed with space for camera gear in mind, and offer little room for other items beyond laptops. With the mindset of a biker who is out all day and does photography, the Niko Pack has more room for non-camera related items. Most of the time I like to carry water, snacks, sunscreeen, sunglasses and at times a rain jacket and hat. While riding I include a bike pump, and a bag with tire tubes, a small wrench, and tire levers. Crammed altogether this can still get a bit crowded and disorganized for the single compartment, but overall I've been happy with the storage capability. I wish that there were additional pockets for easier storage of my bike gear, especially the portable pump. Most bags offer velcro customizable gear compartments that hug gear. This bag's setup works great but the dividers leave something to be desired in the comparison.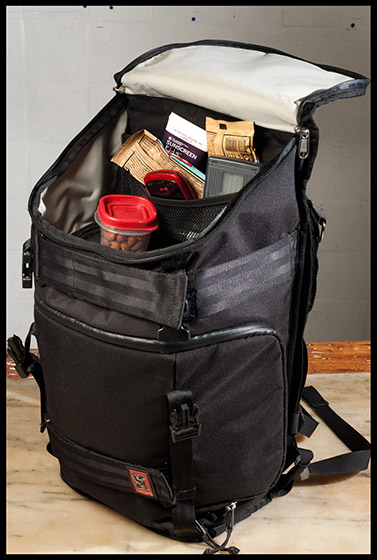 Overall the Niko Pack has been a fantastic fit for my approach to photography. It has allowed me to carry more gear comfortably and securely, while on the move. Thanks to the inner pocket system my inventory has become more organized making for a smoother workflow. For the last five months, I have used it to document numerous festivals, assignments, weddings, and wanderings and hasn't let me down yet and still looks practically new. Retailing at $180.00, Chrome offers a great deal on their first generation of camera bags.