C.S. Muncy
is a freelance photojournalist based out of New York City with a client list that includes The New York Times, The Wall Street Journal, Newsday, The New York Daily News and The Village Voice. As a freelancer, he's covered such subjects as the BP Oil Spill, the fight for same-sex civil rights, the takeover of the state capitol in Madison, Wisconsin and Occupy Wall Street. A graduate of the Defense Information School, he enlisted in the United States Air Force in 2002 and is currently a photographer with the New York Air National Guard.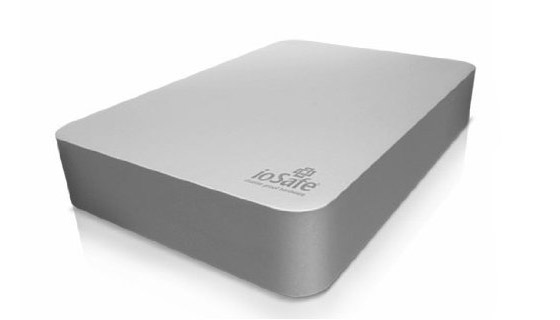 Let's imagine you're not the average person looking for a new portable hard drive. Given The Photo Brigade's audience, this isn't too much of a stretch. So let's take a step back for a moment and imagine you're the kind of photographer that needs a portable hard drive with a little something extra under the hood. Maybe you need a drive that you can leave in the freezer for two weeks or survive a six foot drop or an extended immersion under water. Or maybe you're the kind of person that needs to be able to take it into a burning house then blast it with the hydrant afterwards. Sound good? Because recently I was sent an ioSafe Rugged Portable hard drive to test out, and I did all of those things to it and more.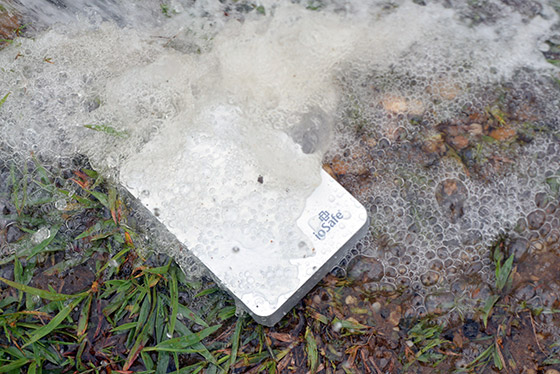 Put simply, the ioSafe is a rock-solid brick of a drive. The durable metal housing is built to take a vicious beating and can withstand up to 5,000 pounds of direct pressure. The HDD drive itself is mechanically suspended along all axis. When it first arrived I immediately threw it in one of my crash bags and started traveling with it, putting it through the same kind of every-day abuse the rest of my kit normally goes through. This may not sound like much of a test, but my bags have been dragged through the dirt, sand and oil, have been smashed against hard surfaces caught between subway doors on a fairly regular basis. I've had other "ruggedized" hard drives go bad on me before just from my daily routine.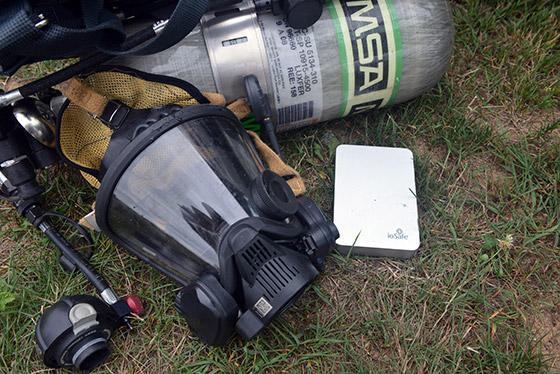 After a while, it became obvious that my normal travel schedule wasn't going to affect it, so I decided to up my game. The ioSafe is rated to temperature extremes of -40 to 149 degrees (while not in use), so I dumped it in the freezer and forgot about it for a couple of weeks. Following that, I thawed it out and dunked it in a tupperwear full of water for half a day. According to the manufacturer it's rated to survive complete immersion in salt water 30′ deep for at least three days. Still no issues. (Full disclosure: I did allow the drive to dry off before plugging it into my computer.)
Lastly, I decided to really put the spurs to it. Today I was lucky enough to photograph some firefighter training and brought it into the burn house with me, where the temperature easily reached several hundred degrees. Obviously this was outside of its temperature design limits. When I finished working inside, I brought it out (where the drive was still hot to the touch) and left it under the hydrant for the rest of the day. Again, I allowed the drive to cool and dry and plugged it in where it functioned without any problems.
So far, I'm thoroughly impressed. It's taken every piece of abuse I could hurl at it, and it kept coming back for more. Originally I intended to take it out to the range and hit it with something big and scary, but scheduling issues prevented that. Also, as tough as this drive may be, I doubt even it would have survived a 40mm sabot round filled with buckshot.
For photographers who work in high impact or marine environments, who travel regularly or who simply need a drive that will survive a steady stream of abuse, the ioSafe is just for them.
PROS:
– Titanium Chasis
– Can survive extended immersion in salt water, fresh water, oil, mud and sand.
– USB 3.0
CONS:
– Heavier, bulkier than the average portable hard drive.
– I would have liked to have seen some kind of rubber frame on the corners, something to better absorb drops and falls.