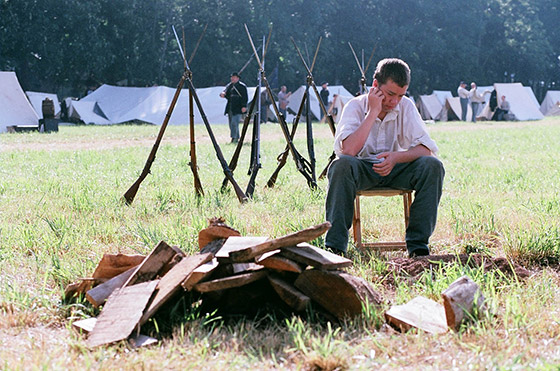 Photographer
Chris Rusanowsky
shares photos from the reenactment of the 150th anniversary Gettysburg Civil War.
On July of 2013,  Wild River Press sent out in search for a group of photographers to create images that would show the true battle of the Gettysburg, Pickett's Charge. Twelve photographers including myself created thousands of images from different parts of the field including images on the front lines. Spending a great deal of time those four days taking portraits and camping on the ground with the reenactors. The camps were as if we jumped back to the 1800's, Guards where stationed to keep watch and soldiers slept on canvas rugs. The challenges of taking war like images without the war hazards and emotions was tough.

The reenactors of the 150th anniversary of the Gettysburg Civil War, came from all around the United State and the world. The two sides split in the North and South Armies lived, slept and cooked on the battle field. Morning drills would start with the awaking of a trupet and the night would end with camp fire and friends. The dedication and knowledge of the reenactors was amazing, every detail was on point as if you were there. These portraits are of the reenactors themselves, posing in front of a modern day SLR in a 1800 wool jacket.
See more of Chris's work on his blog.