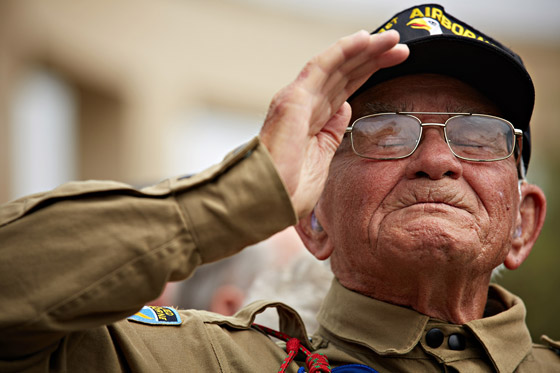 San Diego-based photographer John Riedy has been documenting and taking portraits of US WWII veterans on their battlefields.
Over the past five years I've had the honor of documenting the return of over 100 US WWII veterans to the battlefields on which they fought in both the European and Asian theaters, including England, Normandy, Holland, Pearl Harbor, Iwo Jima, Guam, Tinian, Saipan, Austalia, Okinawa and Hiroshima.  Sadly, like most graduates of a US public school system, my exposure to the history and men of WWII was fleeting at best.  This project has ignited a passion in me to make sure future generations do not forget the incredible sacrifices these men of the Greatest Generation made for us nearly 70 years ago.  The programs are funded by The Greatest Generations Foundation whose mission is to bring veterans back to the battlefields at no cost to the vet.

In addition to straight documentary style photos, I strive to make a formal portrait of each veteran on their specific battlefield.  My goal is to release a book of these images at the 70th anniversary commemoration of D-Day in Normandy next June.  TGGF will be bringing 70 veterans back to France next year and I am looking for a volunteer staff of six photographers and six videographers to help me document this moment in history.  We lose over 1000 of these men every day and this will be our final major opportunity to honor them before they're gone.
See more photos on John's website.