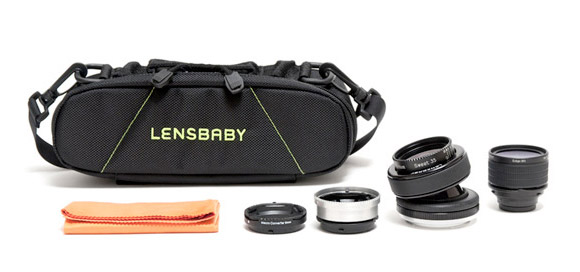 When the original Lensbaby first came out, I remember picking it up, looking at it, shooting a few frames and thinking, "it's neat – but I can't really use it for anything: focus is too hard/slow/unreliable and it's fun, but just not right for me."
Depending on the work you do and rules of the publications you shoot for, using a Lensbaby is out of the question. At the LA Times, tilt-shift lenses are allowed, but Lensbabies are not. This was one of the biggest issues I had when coming to review this lens – it was outside of my normal comfort zone of shooting.
The most recent model however, with switchable lenses including the Edge 80mm and Sweet 35mm, offers a lot more ability to focus and compose in a refined way. Called the "Composer Pro with Sweet 35 Optic," Lensbaby describes the lens "features a metal swivel ball and a fluid, accurate dampened focus ring" – In other words: No more having to turn little wheels in a cumbersome process or using magnets to drop in and out aperture rings. The new Lensbaby feels more like a real lens, has an aperture ring on the front of it and enables focusing in a more natural and faster fashion. (It is still a manual focus lens and it takes some getting used to nail focus)
I found myself using live view on my Canon 5D Mk III to check focus a lot, since just trying to judge it by the viewfinder on the 35mm did not always work for me, but improved with time. With the 80mm, like any narrow depth of field lens, it is easy to be just slightly soft on someone's eye, so be careful if trying to nail the crispness in one's eyes.
I also noticed a few times when I tilted the 35mm lens, the black ring of the Lensbaby would appear on my full-frame Canon 5D Mk III. I imagine users of 1D and 30/40/50/7D Cameras with cropped sensors would not experience this issue. Likewise, I also experienced sharp focusing issues when the lens was at the limits of its movement, so keeping things a little more together will give sharper focus.
All in all, I enjoyed using the Lensbaby, for those who shoot less "news" and are looking for a different sort of effect, it could be an interesting tool – now with a lot more function and ability than the previous models that were much more fickle, I feel like I could actually control the outcome and performance of this new version with greater precision.