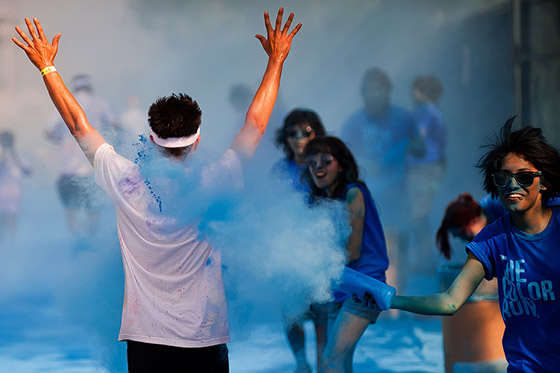 L.A.-based photographer
Jonathan Moore
shares photos of a vibrant color run.
Color run is a 5K race in which participants are bombarded throughout the course with a cornstarch based dyed powder.  Each "color station" is a different color.  Covering the event was fun, exhausting, unique, colorful (obviously), exhilarating and absolutely horrible for my gear, my eyes and my lungs.

An event like this requires proper preparation.  First and foremost, protect yourself.  This dust smells/tastes awful and will eventually cause your eyes to start burning.  Wear a bandana around your mouth and nose or a dust mask.  Also, consider sunglasses if you don't mind shooting with them.  I didn't have either and so I left WAY too early because I felt like I was getting sick.  Second, protect your gear.  I didn't want to ruin my Aquatech housings so I used plastic bags and secured them using my Aquatech eye pieces and tape.  Dust still got everywhere.  Honestly I don't think there's a way around it, but there was absolutely no damage.  Finally, wear clothes that you're not particularly attached to, as they will be ruined.
C0ntinue reading and see more photos on Jonathan's blog.