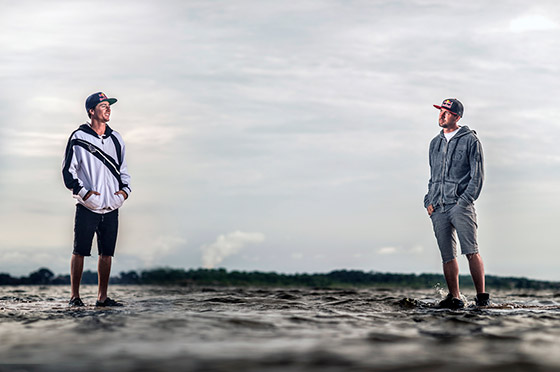 Photographer Chris Garrison made some amazing photos using a 20 foot submerged platform to photograph a BMX and wakeboarding stars in the middle of Lake Hart, FL.
A few months back I had the chance to shoot a unique idea from the minds of Terry Adams and Adam Errington in Orlando.  The shoot was actually set up around the end of winder snow season.  I was on my way from shooting with the guys at Shredtown in Texas to do some work at Red Bull Snow Performance Camp in Colorado.  The shoot lined up the day after the Colorado shoot and gave me the ohh so fun opportunity to shoot snow in the morning and then shooting water in the evening.

The basic idea was to get a shot of Adam boosting over Terry while performing a flatland BMX trick.  Sounds easy until you begin to realize that there is about a million factors that do not get along with each other!  Topping off the timing of the athletes tricks, style, position, and speed having to be right on; it was pretty much a hurricane out for the entire two day shoot.  I was also shooting with flashes only giving me one click at a time to get the shot each hit.  Also include everything being in in and around 5 feet of water with a decent white cap chop.
Continue reading and see more photos and videos on Chris's blog.