Dean Neistat
was born and raised in CT. After he graduated from the University of South Carolina, he spent 7 years in the USAF flying the C-17. He completed his service in 2012 as a decorated Instructor Pilot with more than 500 combat hours and several deployments. He settled in NYC to pursue a career as a Stuntman, Actor and Photographer. He is represented by Polaris Images.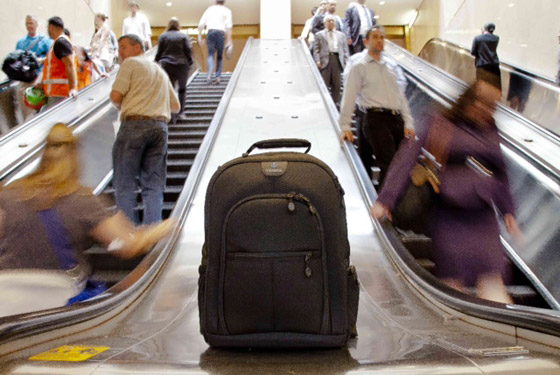 This new Tenba backpack isn't really a camera bag, it is an 'executive' backpack…much like a briefcase.
Construction is as I've come to expect from Tenba: Sturdy.  It uses the same ballistics nylon as many of their bags.  The zippers and pulls are strong but if you really pack it full and force it closed, the main zipper might skip a few teeth.  The bottom has a PU coating just in case you set it down in a puddle or need something to stand in for your forgotten wake board.  Much like the last Tenba I reviewed, the shoulder straps leave much to be desired.  I found them to be stiff and awkward.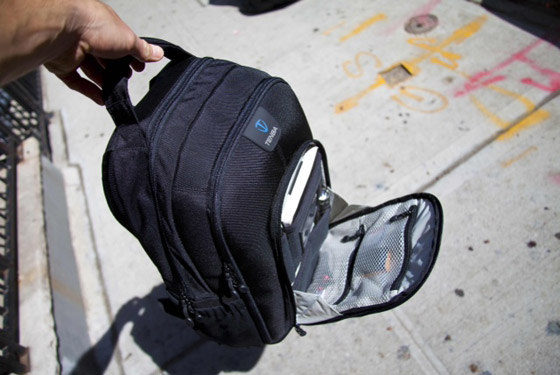 My favorite feature of the bag is its semi-rigid body.  Full or empty, it keeps its shape.  Inside the main pocket is a nicely padded slot for your 15″ laptop and another smaller slot…I have no idea what to do with the smaller one but if I did, you better believe I'd be all over it.  The pocket is large.  Even with a laptop there's enough room for 2 days of clothes, a pair of sneakers and a 5D with a 24-105 attached.  Unfortunately there is no dedicated space for a camera so it just sloshed around.  The three outer pockets are useful and have several internal zippered pockets for assorted nick-knacks, pens, notebooks…They all have fabric catches so if you unzip the pocket all the way the flap wont drop open and dump the contents.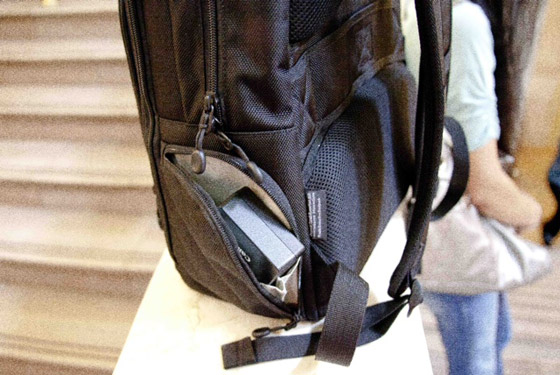 There's a lot I like about this bag.  It fits a lot of gear without being bulky.  It's light and convenient.  It fits under just about any airplane seat even when packed so full it looks to be bursting at the seams.  The shoulder straps are stiff and generic and stained my shirt when I carried the bag in the rain.  Despite its great functionality, the shoulder straps keep it from replacing my every-day backpack.  I feel obligated to add that my shoulders are rather broad and I am a large man.  Maybe on a normal sized person, they feel great.  I encourage you to head immediately to your nearest Tenba retailer to try on this pack.  If it fits, you might just fall in love.