A few years ago I remember seeing pics on SportsShooter from a Holi festival. The pics were amazing and I thought, "man I'd love to cover that one day." Well, things like Holi festivals don't happen in the halls of Congress, which is where I was working at the time.  A couple things have changed since then: I'm now freelancing full time, and the advent of the "Color Run."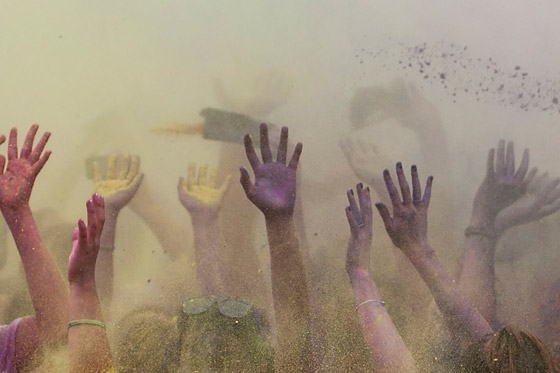 Color runs have taken some aspects of Holi festivals and applied them to a 5k fun run. Essentially it happens like this: runners navigate a 5 kilometer course that has "color stations" where volunteers throw colored powder on passing runners. The festival-like atmosphere continues after the run, with music and dancing and more color being thrown about.
A rep from Run or Dye, a leading organizer of a series of color runs, contacted me last week to be a house photographer for their DC event, which took place on Saturday, June 8, 2013. After a couple e-mails negotiating rights and fees, I secured the gig.
I have read horror stories such as this one when it came to covering a color run. I'm a lowly freelancer and my hand-me-down 5D mk IIs are all I have. I can't afford to have a lens or body taken out of commission because of color dust.  I took every precaution I could think of to keep my gear safe. I negotiated camera covers into my agreement, which the company provided. I bought cheap filters for the front of the lenses I would be using. And I found an 11th-hour deal on a $70 used 28-70 3.5-4.5 USM Canon lens, which I could write off and throw away after the gig if I had to.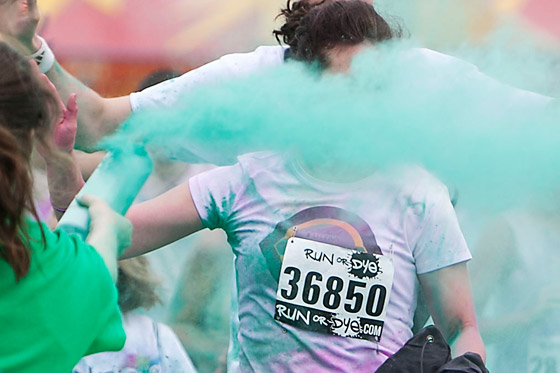 I arrived early (as you ALWAYS should) and contacted the Media Director. I met up with him and ran into a couple familiar faces that were also covering the event for Run or Dye. I was given my camera covers and I quickly broke out my cheapo lens and gaffer's tape and set my rigs up. THIS SAVED MY ASS. The covers were cheapo Op/Tech clear covers that run for $6 on Amazon.com.  Instead of putting the draw-string closures on the lens as recommended, I put the other end on the lens and double-layered gaffer's tape to the filter and the covers. The covers were long enough to go up my arm a ways, and I used the drawstring to secure the cover around my arm when I was shooting.
The other trick I used was staying upwind of the dye. If the wind is coming from the right, stay to the right. That way, any dust will blow AWAY from you and not land on/in/near your camera. I shot a lot from a distance with a 70-200, and when I needed to get close I used the 28-70 cheapo lens. I left my 50 1.2 and 16-35 2.8 in the bag.
My instructions were to shoot at the start line, and then the finish line for a bit. I could also shoot the festival from the stage, where most of the post-race action took place.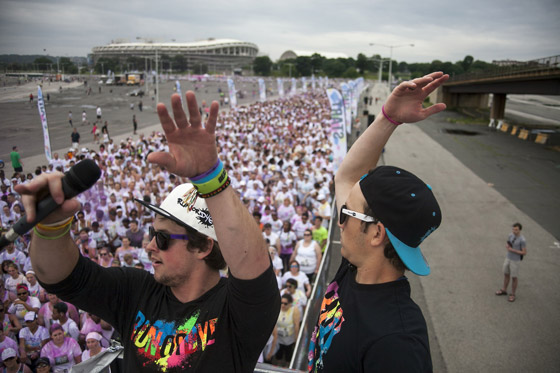 Two guys were MCing from a riser near the start, so I climbed up and snapped a bunch of pics from above for a bit. I then moved to the ground level of the start line, and then moved to the first color station. Again, I stayed upwind, and made sure to keep the dye powder moving away from me while I shot from a distance. When I did move close, I stayed to the upwind side and used the cheapo lens.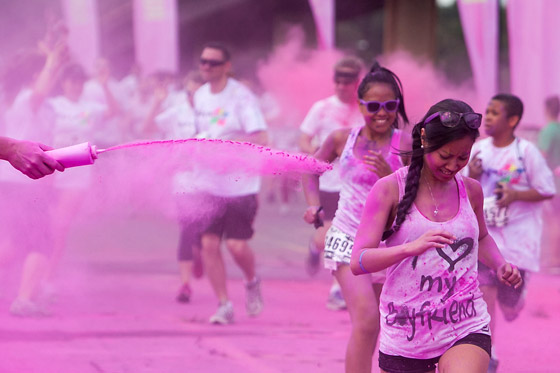 I moved to the finish line when I was asked to, and to be honest it wasn't my favorite spot. People were rude, mostly, and a lot of them wanted to mug for the camera rather than let me photograph them actually running. As quick as I could I made my way to the stage to make pics of the rest of the festival.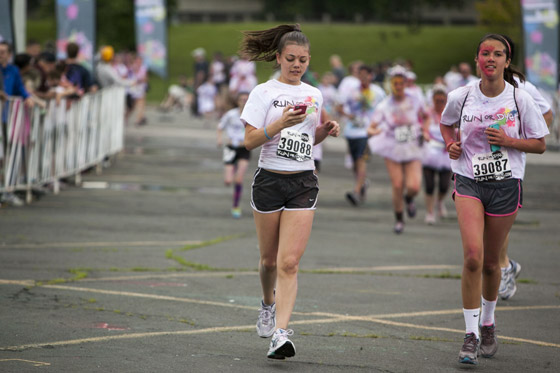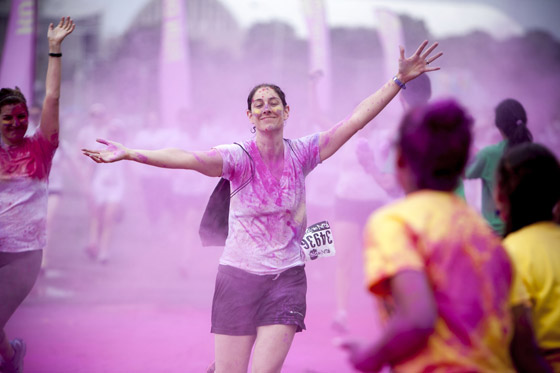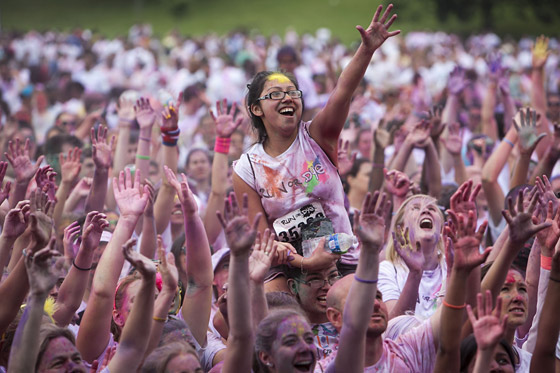 Loud dance music, endorphins, and color dye make people act crazy. Even at 10 am. I was hoping/praying/excited for eye candy, and I wasn't disappointed.
As the festival wound down, I met up with the Media Director and downloaded my memory cards to his hard drive. 20 minutes later, after 28 gig worth of raw files were delivered, I was done. And here's the cool part: I was paid upon delivery of the images. When the last file transferred and I closed my laptop, I was handed a check. No waiting, no 30 day lag, none of that. Deliver the images, boom, get paid.
Color runs/Holi festivals can be great to cover. I am happy with my results and more importantly my client was happy with my results. Be smart, be prepared and think before you go and you will be just fine.