About a month ago, I bid on the most lucrative job of my career and to my delight, was hired for it. The client's needs weren't outrageous, but the production schedule and demands on our gear would be…
The company is a wholesale manufacturer that produces clothing for some of the largest department store chains in the country (think Target, JC Penny, etc). I'm typically hired for my architecture and event work, but this job was to Photograph over 600 styles of fashion product on mannequins, for a Fall and Spring collection. The images would be placed directly into line sheets (a simple catalog of all their styles) for their sales team. The photos had to be exceptionally styled, sharp, and color balanced perfectly…but above all, consistent in lighting. This would be challenging because the palette of colors was all over the spectrum. The images had to showcase the colors accurately as well as the manufacturing, design, and detail of the fabric.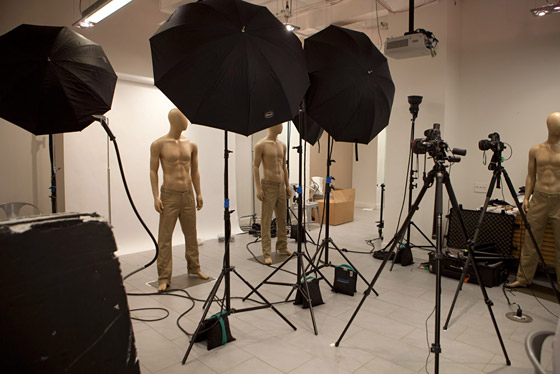 The volume, fast production and limited time per shot required a high level of reliability from my gear. We calculated a per image time of 3 ½ minutes per photo based on the amount of styles and the time given to shoot. It didn't leave much time to rest, reset, or replace gear if something went wrong.
The initial gear was easy to choose. Two 5D MKIIs with 85 1.2L lenses tethered into two MacBook Pros with Capture One, processing out to a MacPro Tower where my Post Production guru was sweetening the jpgs for final onsite delivery when the shoot wrapped. Probably the most important decision was lighting.
Since I'm primarily a natural light photographer, I'm lucky to have the best digitech assistant in the business to help recommend studio lighting solutions. He didn't hesitate to recommend a Profoto setup, despite all of the available options. We acquired two Acute2R 1200 packs and six heads. I know Profoto lights can be pricey, so cost was a concern. Luckily I had the budget, so I decided that it wasn't worth being cheap and risking consistency or reliability for this shoot…my reputation depended on delivering the highest quality images possible.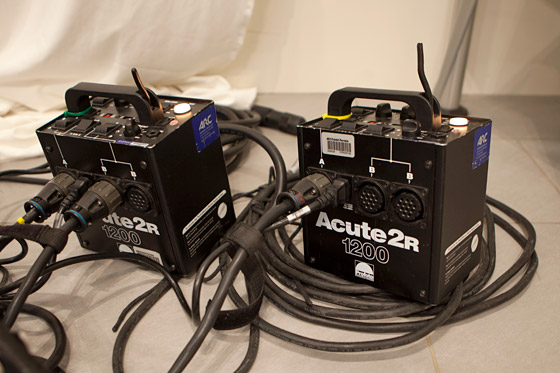 I try to stay objective with my reviews, but in this case, it's hard. At the risk of sounding enamored, I admit the Profoto lights really came through for us. Profoto has a level of build quality and attention to detail that is instantly noticeable in their gear, but the performance and capability of these lighting systems are even more apparent when seeing them in action.
Ok, let's get to the nitty gritty…
We were shooting in a large showroom at the clients corporate offices, not a studio, and I was concerned about drawing too much power and blowing breakers. I discovered that the Acute2R 1200's have a low amperage draw, so we could use them without fear of blowing circuits (and we didn't, not one). Additionally, the light weight of the packs let us get in and out of the space easily.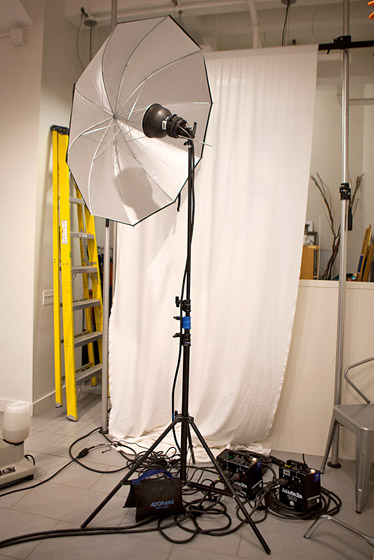 They are consistent. INCREDIBLY consistent. The color stability throughout the power range was essential for us because color accuracy was extremely important with the bright and mixed colors of garments we were shooting. Once we decided on exposure and direction, I was very pleased that almost every frame had the same quality of light.
The ability to run three heads on one pack was also nice…it gave us the flexibility to travel lighter and have a more compact set. This is a plus when you have tons of soft stylists and art directors running around all over the place. Less gear for them to trip on.
I loved the fact that we could zoom the reflectors and fine tune the light without needing many different light shaping tools. Super nice feature of the heads, again – saving us the need for more gear.
The built in Pocket Wizard receiver enabled us to shoot without worrying about the receiver's battery and also enabled us to shoot on two separate sets without one light tripping the other via optical slave.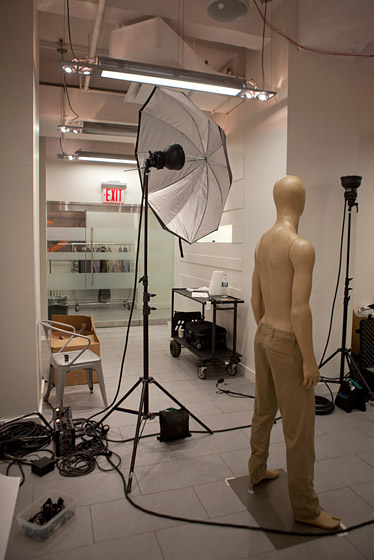 We did reconfigure the set a bit for a different type of shoot on the final day, the ability to hot plug heads let us do so as needed without worrying about dumping the pack's power.
Yeah, I could gush a bit more, but those were the standouts for me. I know, almost all good things to say…so in the spirit of being objective, here's a couple things that I'd like to see Profoto change:
We had to leave them on at night because when they're shut down, the built-in wizard "forgets" its last setting and since we were using two on separate channels we kept them on to maintain sync. Not very green. The tree hugger in me didn't like leaving the set with the fans running. It would be nice if they could have the built-in wizard remember its last setting when powered off, and have a reset button to return to default.
It would be great to have a bit more finite control for each head independently.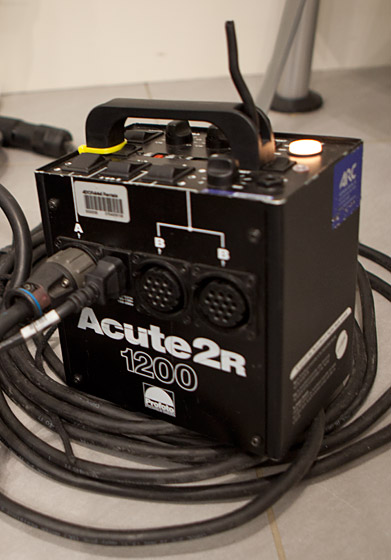 Of course, these criticisms are minor in the grand scheme of things. Overall, these lights were fantastic. We hammered them for 3 days straight and they never failed. I felt like we could have gone on for a month straight without failure. After working with Profoto lights, it's clear to me the value and piece of mind they provide when reliability and consistency is paramount. Although expensive, the value is there and sometimes you get what you pay for. This Profoto setup was worth every penny and helped me produce the kind of images I needed to please my client.
My clients first reaction to the images? "They are fantastic!!!"
It's nice when your images can surpass expectations. My client has already hired me for more work and I can't say that it's solely because of Profoto, but I can say that Profoto lights had a lot to do with it. I didn't have to worry about failures or downtime on a tight production schedule. I could concentrate on the image and the creative process, which is how it should be.
Many thanks to Profoto and Adorama for making the most lucrative shoot of my career, a huge success.