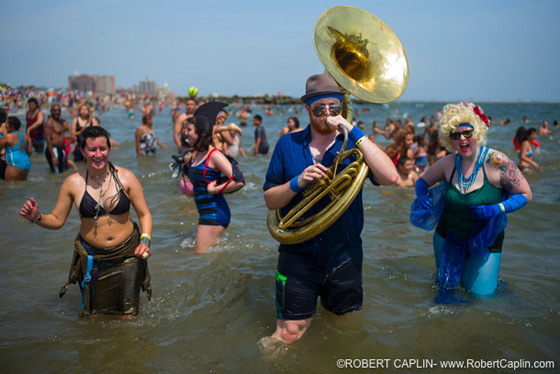 NYC-based photographer Robert Caplin shares photos of the 2013 Mermaid Parade in Coney Island.
My wife, Laia, told me last week that she really wanted to attend the Coney Island Mermaid Parade this year. She'd been to it twice before, once with her family who were visiting from Barcelona and another when I had just started on tour with Justin Bieber, both times I was unfortunately unable to attend. Coney Island is a place I rarely get to, so it was a nice change of pace to zip out to the beach on my scooter with Laia today.

I'm not sure what to say about the parade other than it's Coney Island's official start of summer, it has a Mardi Gras feel to it with dancing, some brass bands, and lots of people dressed in ocean-themed outfits. Oh, there's a fair amount of boobs too. Lots of these outfits are made entirely out of body paint, so there's some partial nudity.
Continue reading and see more photos on Robert's blog.