Yunghi Kim
is a photojournalist, born in Taegue, South Korea but grew up in New York. She has covered some of the biggest global news events in the last 30 years. The more memorable include; Somalia in 1992, the Rwandan Genocide 1994 and the resulting refugee crisis in 1996, South African elections of 1994, the fall of the Indonesian dictator Suharto in 1998, the war in Kosovo in 1999, the Iraq War in 2003, Afghanistan 2001 and 2005, and Hurricane Katrina in 2005. She is most proud of her documentation of the lives of former South Korean Comfort Women in 1996, who were forced into sexual slavery by the Japanese army during its occupation of Korea during World War II.  Her most recent project is Occupy Wall Street.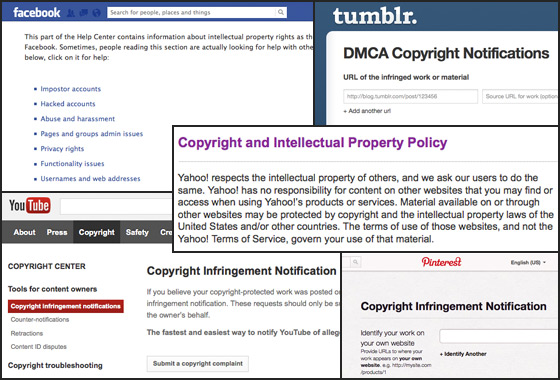 I started a list of contacts to have your images removed from the various social networks if you see one of your photos being infringed. I try to collect fees whenever I can, but often lot of unauthorized uses are foreign sites or bloggers who just need education. Facebook pages or Twitter handles are also another way to contact the websites, but make sure to only give the facts and don't get emotional or defamatory.
Most DCMA Take Down Notices can be completed by email or by filling out an online form. Once you get the hang of it, the process only takes about 5 minutes. Include a description of the image, the violator's URL, a statement that you are filing DMCA in good faith, the URL of authorized use, your name, address, phone, and screen grab of the violators site. State that you are the copyright holder and author of the image. You can refer to this DMCA sample letter here.
Europe's version of DMCA law is called The E-Commerce Directive: http://tinyurl.com/mrtkuma
http://tinyurl.com/cgegryo
List of take down contacts:
1) WORLDPRESS.com (the blog site not to be confused with WordPress.Org): You can send your notice by emailing:
Mr. Toni SchneiderEmail: dmca@automattic.com
Automattic, Inc.60 29th Street #343
San Francisco, CA 94110Phone: (877) 273-8550
Fax: (415) 840-0710.
It also helps to include screen grab.
2) FACEBOOK: Go to the image, go to Options on the bottom, click where it says "is this your intellectual property?" and follow the instructions. It's really easy to use and is the fastest way to get an image removed. You will need the provide the Facebook URL to the image you want removed. Another Facebook option is to go to Facebook's copyright page or you can email ip@fb.com. By using the email option you can put multiple URLs in one email, but the removal takes a bit longer.
3) GOOGLE: http://goo.gl/9d6bH. I'm not sure if Google removes the content or you just don't see it but it's still there. Either case if it can't be searched, it should hurt the infringing site and how many hits they get.
4) BLOGGER: http://goo.gl/odZ0n
5) YOUTUBE: You can fill out their online copyright complaint form or email/fax/mail YouTube here:
Email:copyright@youtube.com
Fax:+1 650 872 8513
Address:
DMCA Complaints
YouTube, Inc.
901 Cherry Ave.
Second Floor
San Bruno, CA 94066
USA
6) YAHOO and FLICKR take down notice (it has too many requirements): http://tinyurl.com/9c2errz
7) TUMBLR: You can fill out the form on their DMCA Copyright Notifications page or email/fax/mail Tumblr here:
Tumblr, Inc.
35 East 21st St, 10th Floor
New York, NY 10010
Attn: Copyright Agent
Fax: +1-646-513-4321
Email: dmca@tumblr.com
8) MYSPACE:
By email: copyrightagent@support.myspace.com
By Fax: (310) 734-1748
By snail mail:
Copyright Agent Myspace LLC
8391 Beverly Blvd., #349
Los Angeles, CA 90048
9) PINTEREST: http://pinterest.com/about/copyright/dmca/
10) Italian blog host LIBERO: amministrazione@staff.libero.it
11) NAVER-JAPAN: support@naver.jp
12) Cafe383.daum.net: copyright@daumcorp.com
Other sites, go to http://whois.domaintools.com/ and look up the domain name. It should provide the contact information for the web host including email. You can file a DMCA Take Down with the web host. Some sites require a DCMA form letter, in which case you can use the sample letter here.
With foreign sites, sometimes it's easier to go directly to the web host and ask them to take the image down. Again, most of these websites and web hosts have Facebook Pages and likely can be reached there.
Helpful links:
You can use whoishostingthis to look up domain contact information for any site.
Helpful Read: 6 Steps to Find a Host's DMCA Contact
How to find a web host: http://tinyurl.com/79bwq3
If you have any links or words of advice, please feel free to post in the comments below!
Save