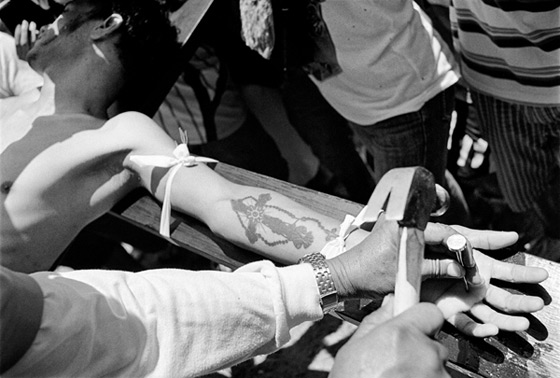 Photographer Roland Nagy shares his new photo essay about a real life crucifixion in the Philippines.
Religious festivals in the Philippines occur all year long in this predominantly Catholic nation.  These festivals are held to celebrate a patron saint or liturgical season such as the Lenten Season. The Lenten season celebrates the passion and death of Jesus Christ and is done in a grand manner throughout the country which intensifies during the Holy Week.

In Pampanga, north of Manila the Holy Week celebration combines church beliefs and folk traditions. Hundred of penitents and flagellants line the street and walk barefoot for hours with their faces covered.

Some penitents carry wooden crosses and are beaten by sticks and hemp as they parade around.  Flagellants are everywhere hitting their backs with sharp bamboo sticks and pieces of wood.   Their backs are covered by blood even splattering to spectators nearby.

On Good Friday, the celebration is highlighted when several men nailed to crosses in the re-enactment of the crucifixion of Jesus Christ.  These real life crucifixions are staged in Barangay Cutud, San Fernando City of Pampanga and nowadays in several small towns around it.
Continue reading and see more photos on Roland's website.