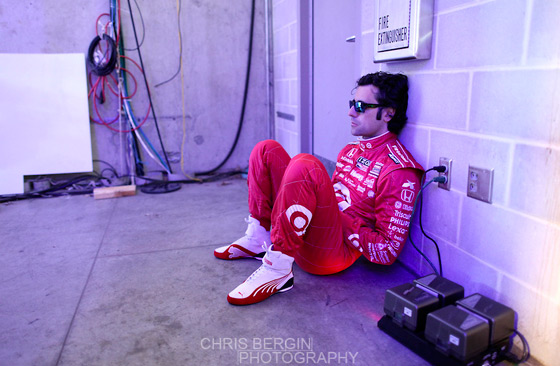 Indianapolis-based photographer Chris Bergin covered the 2013 Indy 500 race.
This was my first year helping cover the Indy 500 with the crew from the Indy Star. We had 15 photographers covering the main front of the track and a handful of people shooting crashes in the turns. The track is 2.5 miles around so there is a ton of ground to cover.
We arrived race day at 7:30 a.m. after getting a police escort in and then it was off to work. My first gig of the day was to cover the "celebrity" red carpet event. Not much to say about that except i'm really glad they had a cheat sheet with names and pictures of the people on it.

Then I was given great access to the Green Room where the drivers meet up before the race to relax and chat with each other. The room was packed and pretty loud, but behind a large wall banner I spotted last years race winner Dario Franchitti who used the time to be quiet and get himself focused.
Continue reading and see more photos on Chris's blog.