Jonathan Moore
started shooting while a student at USC for the Daily Trojan in 2006.  Photography didn't become a career choice for Jonathan until he interned for Getty Images sports in 2008, where he learned not only how to capture important, key moments at sporting events, but also how to think outside the box.  He applies that creative drive towards whatever he shoots, whether for sports, weddings or creative portraits.  His clients include Getty Images, USC, Associated Press, Toshiba, Pac-12 Conference, University of Washington and USA Water Polo.   If Jonathan is not shooting, then he is probably out training for his next marathon…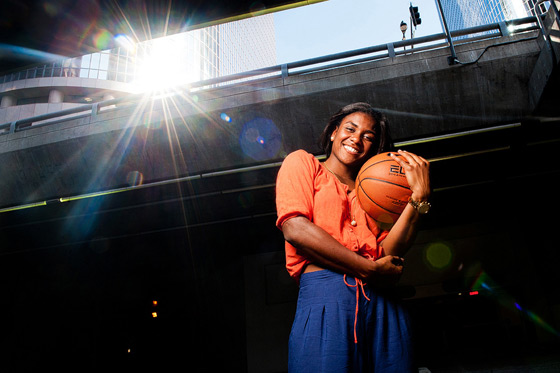 I was recently commissioned by USC to do a 2 day portrait shoot of the Women's Basketball team.
It was my first time putting together a shoot from beginning to end.  I handled everything from scouting locations to obtaining permits, reserving gear, creating a budget/schedule and of course, making the portraits.  We shot inside the Galen Center, as well as various locations around Downtown LA.  This is what I learned:
#1:  Make sure the sensor is clean!  This is kind of obvious, but I'm so used to covering sports and weddings at f/2.8 or f/4 that dust on the sensor usually isn't a problem, but at f/18 – f/22, EVERY SINGLE spot comes out, which made editing very time consuming and tedious!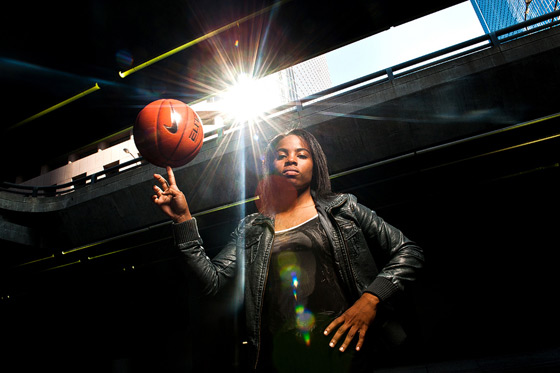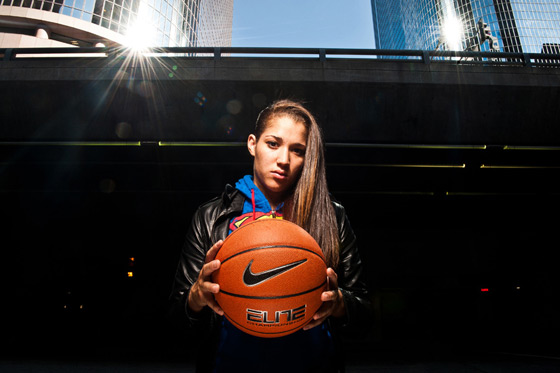 #2: If you're shooting at a location that requires a permit, give yourself at least one week to obtain the necessary documentation, even if it means postponing the shoot.  The final budget, schedule and location approval from the staff came at the very last minute, which made obtaining permits and finding an assistant a very rushed experience.   If you're shooting in LA, you should know that FilmLA (the nonprofit that handles still photo and film permits) ONLY accepts cash, money order or cashier's check and payment must be made in person.
On a side note, if you're shooting for yourself (i.e. NOT for a client) and your production is small, don't bother obtaining a permit.  Save time and money.  I did everything by the book as a formality.  Since this was for a client, I didn't want to risk getting shut down, as I would have been held responsible.  That said, two cop cars drove right by us and saw we were clearly shooting in the street.  They didn't bother to ask what we were doing…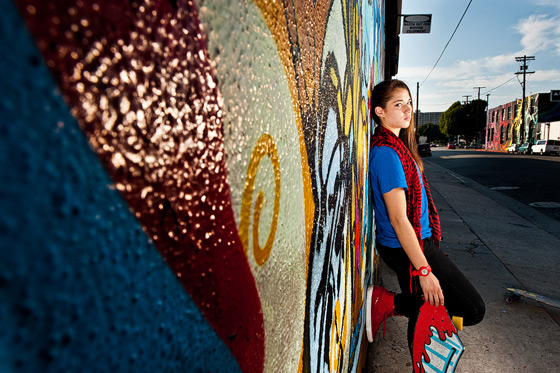 #3:  Avoid using speedlites.  I realize a lot of photographers will advocate speedlites because they are cheaper and more portable than traditional strobes, but I find them to be very unpredictable, they overheat quickly and take way too long to recycle.  I'm referring specifically to the arena shoot (below)– I could never get consistent performance out these lights, in fact I don't think I have a single frame where all 8 flashed at the same time.  This really broke the rhythm of this particular shoot and was a huge distraction.