C.S. Muncy
is a freelance photojournalist based out of New York City with a client list that includes The New York Times, The Wall Street Journal, Newsday, The New York Daily News and The Village Voice. As a freelancer, he's covered such subjects as the BP Oil Spill, the fight for same-sex civil rights, the takeover of the state capitol in Madison, Wisconsin and Occupy Wall Street. A graduate of the Defense Information School, he enlisted in the United States Air Force in 2002 and is currently a photographer with the New York Air National Guard.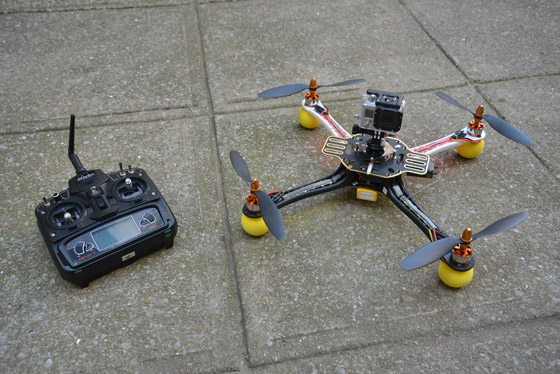 One of the biggest problems in being a photographer in New York is that you're constantly competing against a host of other shooters. Cover enough events, crime scenes or accidents and you know that the market here is, sometimes literally, flooded with news shooters.
This can make standing out to your editors problematic. With the flood of cameras and cell phones out there, it's no longer about being able to produce solid shots in a timely manner, now you have to do so while offering something that that nobody else can.
I started seriously thinking about this after Hurricane Sandy. More specifically, after visiting several areas that had been hit hard by the storm and fires. From the ground, it was difficult to show the wide patches of destruction. The view offered was essentially whatever was right in front of you. After visiting Breezy Point, I started thinking about ways to shoot from overhead. Traditionally, this meant either renting a helicopter (which was prohibitively expensive for freelance shooters like myself) or catching a ride on a National Guard aircraft. As a photographer with the Air Guard, such a thing could be a potential conflict of interest, so that was a path I couldn't pursue.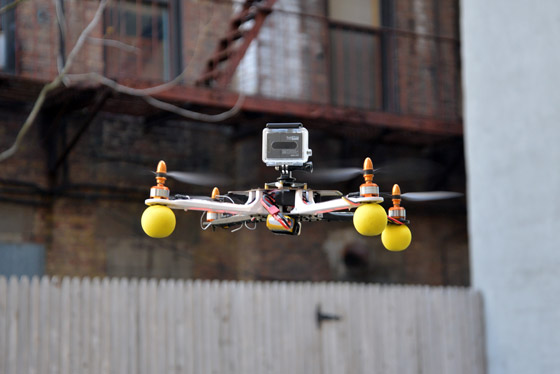 Breezy Point made me realize that I needed a third option, so I started looking into remote-controlled aircraft. Most multi-rotor systems are extremely expensive, at least those large enough to carry a DSLR, so that option was out. After a bit of research, I started looking at the Storm Drone FF from HeliPal. At less than $400 with shipping, and able to mount both point and shoot cameras and my GoPro Hero3, it seemed like the best system out there.
After placing my order and waiting two weeks, it finally arrived and was ready for assembly and use. No, putting it together wasn't simple but it wasn't especially difficult. It really looked more complicated than it really was. My biggest issue with putting it together was that the hex wrench they supplied with it was made from a relatively soft metal and stripped after a few turns. You're better off using a US made hex wrench set.
As somebody with almost not RC handling experience, I found the drone to be relatively easy to learn. The instructions weren't too hard to follow (your best bet is to look them up on YouTube, as the company puts out a great series of instructional videos on how to prep your vehicle) and I was up an running fairly quickly.
Now, please understand that "up and running" is not the same as being proficient. While I was able to use this in my backyard and get it to move and hover without too many problems, it can be incredibly easy to lose track of your direction or the amount of thrust you're giving it and lose control. This morning I accidentally did this and chipped a rotor.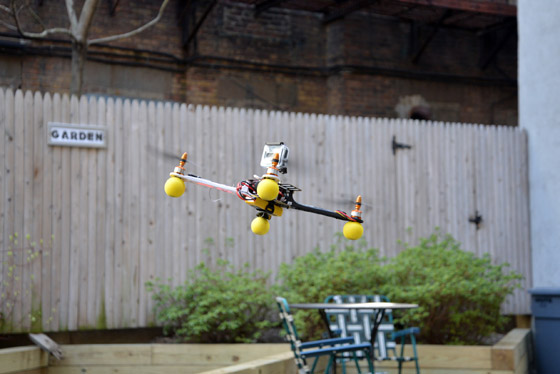 This brings me to my next point: do yourself  favor and buy some carbon fiber rotors at the same time as the aircraft itself. If you break a rotor, it's good to have them on hand rather than having to wait an additional two to three weeks for replacements to ship from overseas. They're not terribly expensive, and they'll stand up to the hard landings better than the plastic ones that come with it. There are also a few other items I'm investing in as well: the DJI Naza Multirotor Gyro System and the matching GPS module. These will allow the Storm to hover more efficiently, and can help when you lose control with its "Auto Return Home" option.
It's important to know when picking this up that it's not appropriate for every kind of story. I bought this mostly for covering large-scale disaster scenes, not for every day shooting in the city. I can't even imagine trying to cover a protest with one of these; it'd be a toss-up between whether a cop or a protester would try knocking it down. I also don't want to make people feel uncomfortable or like I'm violating their privacy. A device like this can be easily abused, but like any other piece of photo gear, it's use as a tool of good or bad is entirely in the hands of its operator.