Last year I was assigned to cover Air Force firefighter training, involving a simulator aircraft that could be lit and re-lit using high capacity propane tanks. The purpose of the training was to show both Air Force and civilian firefighters how to successfully extract victims from a burning aircraft, as well as how to extinguish the flames.
I'll be covering the same training this week, and intend to use what I've learned in the last year to try and shoot stronger photos. Instead of simply going for the action shots (though I'll still try for those, of course) I'll also try for the quieter moments. No more "spraying and praying," instead I will take what I've learned from my editors, teachers and colleagues to try and "wait for the moment."
At the same time, there are some safety concerns to take into account. The aircraft burns at well over a thousand degrees, and can seriously damage gear and exposed skin if you're not paying attention. The trick is to keep an eye on the source of the fire and the other firefighters working around you. If they're backing off, it might be a good time to do the same.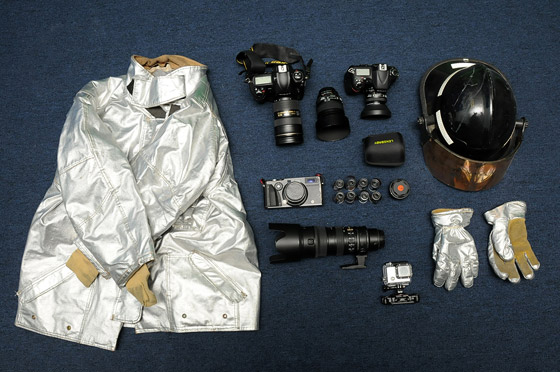 I've put together my "bag list" of gear for the next week. For this assignment, I'll be packing:
1) Firefighting jacket, helmet, gloves and (not pictured) boots, mask and pants.
2) Nikon D3
3) Nikon D600
4) Nikon 24-70 2.8 AF-S
5) Nikon 85mm 1.4 AF-D
6) Nikon 50mm 1.4 AF-D
7) Nikon 70-200 2.8 VR AF-S
8) Lensbaby Composer
9) GoPro Hero3
10) Hasselblad XPan
11) Mixed 35mm film (mostly a 50/50 mix of Kodak TMax and Fuji Sensia 100 slide film.)
12) First aid kit (not pictured)
13) Rain cover (not pictured)
The last item's pretty important. Last year, as I approached the fire with the rest of the team, the trucks behind us hosed us down to help keep us cool. Thankfully, the D3 is pretty water-sealed, but that's not the sort of thing I'd like to put to the test unnecessarily. The downside to that is that you have to keep an eye on all of your items to make sure it's not getting so hot that your gear reaches their failure points.