Currently residing on the East Coast, Steve Boyle travels the country to create compelling imagery for advertising and editorial clients. When working with athletes he strives to capture their physicality, intensity, and inherent competitiveness. Steve attended the University of Missouri and received a degree in photojournalism. Before beginning his freelancing career, he spent a year as an assistant & lighting tech for Sports Illustrated and briefly held a desk job as a photo editor at a fitness magazine. His favorite pastime is sitting around a campfire and devouring a bag of peanut M&Ms.
"That's easy!"  "Why didn't they hire me to shoot that?"  "I could take that photo."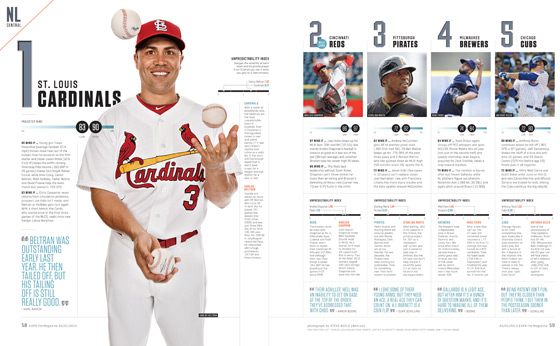 The amateur sees an athlete on a white background and likely exclaims the quotations above.  I did the same thing when I was fresh out of school and naïve.  So, for every aspiring sports photographer, here is a step-by-step description of how the above image of Carlos Beltran made it into ESPN the Magazine's baseball preview issue.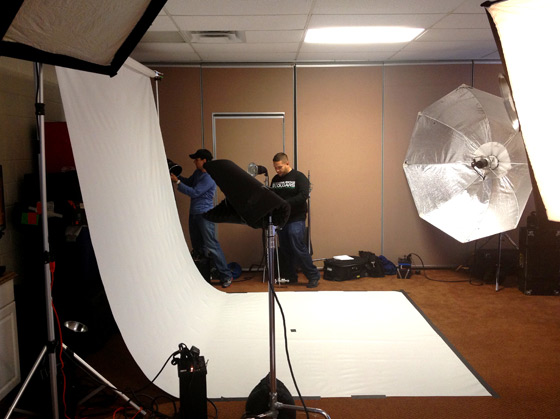 February 18, 2013 – Houston, Texas
I am in Houston for a different client shooting events related to the NBA All-Star Game.  One commitment for them in the morning, the afternoon free and then I have a flight home at 5:50pm after 22 straight days on the road.
My phone rings at 1:49pm CST.  It's my favorite editor at ESPN the Magazine, frantic because the St. Louis Cardinals just confirmed access to Carlos Beltran tomorrow. "We have him for 5 minutes during photo day, which is from 7am-9am in Jupiter, Florida.  Get there, just shoot on white, and make it fun," she said.

This is the last I hear from her until after the shoot.  This is trust.
In this business your life can and will be flipped upside down by one phone call or email.  At 2:05pm CST I am on the phone with Octavian Cantilli, a fellow photographer & assistant in Orlando whom I hire on the spot at the recommendation of a colleague.  He handles every pre-production aspect of the job while I take a 7:35pm flight direct to West Palm Beach, Florida.
While in the air, Octavian secures a second assistant and, by calling in a favor to a buddy, secures the following gear:
5 –  c-stands
1 –  medium riser
15 – sand bags
1 – background stand
1 – R12 Multicart
1 – mini boom
6 – Profoto Pro 7 heads
2 – Profoto 7a packs
2 – Profoto 7b packs
2 – Profoto 7b extra batteries
1 – 6ft Elinchrom parabolic
1 – grid reflector
1 – 9ft seamless
4 – MultiMax units
1 – roll gaffer tape
Did I mention all that I had with me were my cameras? Or that it was a Sunday afternoon in Orlando and the shoot would wrap before most places opened on Monday?
I land in West Palm Beach, Florida at 11:12pm, drive to Jupiter and lights out for me at 1am for a quick three hour nap.
February 19, 2013 – Jupiter, Florida
The two assistants leave Orlando around 3:30am to meet me on location at 5:30am.  We officially meet, and then figure out where to unload and set up by 6:15am.  The players start coming through at 7am, as we are still testing our light.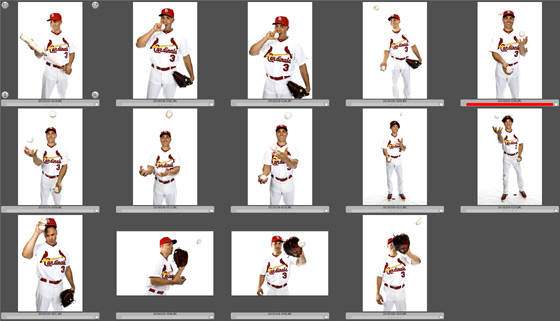 First and last frame of Beltran are at 8:16am and 8:25am, 216 frames in between.  We pack up and wrap by 9:30am.  Breakfast with the crew and kill time as we wait to hear if we're shooting in Clearwater the next day.  Clearwater is canceled and I am free to board from 7:25pm flight home.
And then of course, the retouching…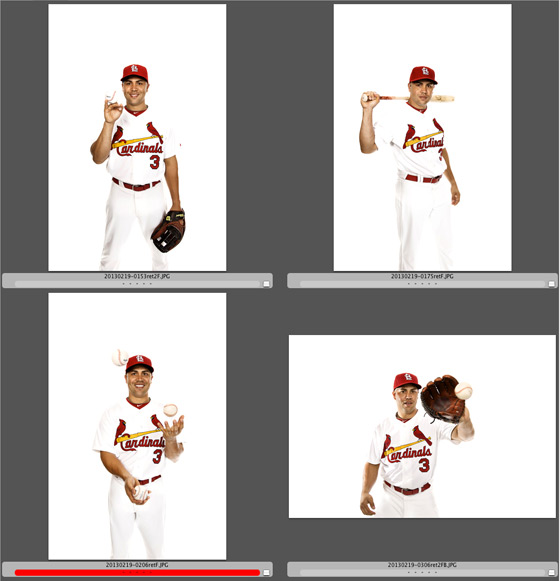 It was known that only one shot would run.  The page was part of several other identical pages that were all to be shot in a similar manner.  So it may look like a simple frame of a baseball player juggling, but it's a small miracle that the image actually came to fruition.
I'd also like to thank Mike Ehrmann of Getty Images & Chris Lee of the St. Louis Post Dispatch for their help on site.