Jack Megaw is an award winning photographer currently based in Philadelphia. He specialises in the photography of sport and motorsport and is available worldwide. Jack's images have been published globally including in the New York Times, The Guardian, Daily Mail, The Sun, The Independent, ESPN the Magazine and Sports Illustrated.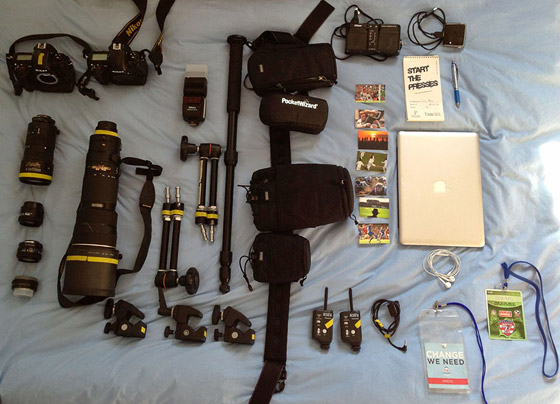 About 90% of my work is photographing sport. Mostly soccer, rugby, cycling, motor racing, ice hockey, boxing and cricket. I also photograph some news, feature, travel and documentary work and even some portraits so my kit needs to be slightly varied to accommodate all of those.
Camera Bodies:
– Nikon D3 (x2): Mainly I use two bodies. Both Nikon D3. The one D3 I have had for a few years and the other I recently picked up to add a second full frame camera to my arsenal. Normally I will work with the newer D3 as my main body and the older D3 as a second body or a remote behind a goal if I'm photographing soccer. I also have a Nikon D200 but it rarely comes out of the cupboard unless I need a third body for a remote. I have the original Nikon D3 strap on my main and an unclippable NPS strap on the other for when I do remotes and want to get the strap out of the way.
Lenses:
When it comes to wide glass I use primes. Mostly because they make me work and move my feet in order to make a picture rather than just taking pictures.
– AF NIKKOR 24mm f/2.8D: Wide prime. Good remote lens behind a goal or as a floor remote for basketball. Also works well as a handheld lens when photographing an event or celebration scrum after a game.
– AF-S NIKKOR 50mm 1.4G: Beautiful bokeh and at f/1.4 great in low light situations. Also makes for a decent portrait lens. My go to lens when I'm doing feature pictures and documentary work or even just going out to do street photography. It's simple and uncomplicated (and that is no bad thing!) My favourite lens at the moment.
– AF-S NIKKOR 85mm f/1.8G: A great portrait lens and has lovely bokeh. Another good lens for street photography with a bit more length.
– AF-S NIKKOR 200-400 f/4G ED VR II: My main lens when I'm photographing sport is the AF-S Nikkor 200-400 f/4G ED VR II. Much of my work is photographing soccer so the flexibility was my main motivation for choosing the 200-400 over the 400 2.8. With the 200-400 is the photographer is over-lensed much less often so as a result fewer pictures are missed where one would otherwise miss a moment switching bodies to one with a wider lens. The downside is a stop is lost from the 400 2.8 and sometimes I do miss it when working in dark stadiums or using a teleconverter.
– AF-S Teleconverter TC-14 E II: I don't use the teleconverter very often but sometimes when covering cricket or motorsport it cannot be avoided. The autofocus slows down as expected but I will prefocus a lot with the teleconverter or set the 'memory' on the lens so with the push of a button it snaps to the spot previously selected.
– AF NIKKOR 80-200 f/2.8D ED: It gets less use now than it used to but still does the job when called upon. Normally used as a wider option on the second body with the 200-400 on the main body for when the action gets close. For basketball and ice hockey it gets a lot of use. I will also use it when covering an event as a longer option.
– AFS NIKKOR 24-70 f/2.8G ED: A great lens and again the flexibility comes in and gives it the edge over the primes when I am shooting a high pace and intensity sport like boxing. Sometimes when photographing sport something entirely unexpected can happen and it's easier to have that lightning reaction time whilst using the zoom rather than the prime.
Flash
– Nikon SB-600 AF Speedlight: To be honest I barely use flash at all and almost always go with natural light. But there are times that flash does need to be used when things get dark or for fill flash. For that I use the Nikon SB-600. I also use the Sto-Fen Omni-Bounce to diffuse the flash.
Camera Support
– Monopod: The monopod I use is a basic aluminium Gitzo which I have had for a few years now. I like that it's uncomplicated and simple to use. Also it packs up nicely and slides easily into the front of my roller.
– Manfrotto 244 Variable Friction Magic Arm with Camera Bracket (x2) and Manfrotto Super Clamps (x4): Great for mounting cameras high up. If I am doing a timelapse I will use magic arms to mount the cameras but they are mostly used for mounting cameras for remotes. Manfrotto make a few versions of the magic arm. I recommend the Variable Friction Magic Arm (with the knob) since it can be tightened and loosened gradually for adjustments and is more reliable.
– Mini tripod: Used for placing remotes behind goals for soccer matches.
– Pocketwizard Plus II (x2): Used for firing remotes. I also use pre trigger cables from www.flashzebra.com since I know I'll end up breaking a few each year. Much cheaper to replace than the ones from pocketwizard. I keep a spare handy in the bag also.
Camera Bags:
– Think Tank Photo Airport International V2.0: I can't say enough about this bag. I went for the smaller international version since I do a decent amount of transatlantic flying each year. The idea of checking $20,000+ worth of camera gear sends shivers down my spine so it's great to have one that can fit in the overhead locker on any flight. Lenses and bodies fit snugly into the bag with the notebook, credentials in the pockets. There is a great pocket in the top of the bag for a business cards which is convenient when you want to hand one out.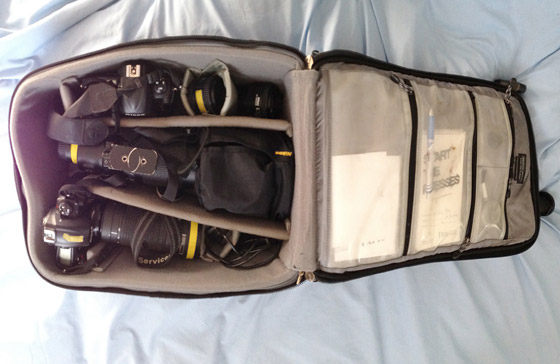 – Think Tank Photo Modular Component Systems: I use the Thin Skin Belt – midrange of the Think Tank Photo belts. Well padded and can be worn all day. Takes the weight of the back and the modular components distribute the weight well around the waist. For the modular systems I use the Lens Changer 15 V2.0 and the Lens Changer 75 Pop Down V2.0 to carry the lenses when not on a body. I use the Strobe Stuff pouch for the flash and a lens cloth. I also have a Pocketwizard case clipped onto the belt with Pocketwizards and a pre-trigger cable.
Other:
– MacBook Pro (15 inch)
– Lexar Professional USB 3.0 Dual Slot Card Reader: Fast and reliable. I work almost exclusively in RAW so a fast card reader is vital when working on a deadline.
– iPhone 5
– Headphones
– Notebook/pen for taking names/captions etc.
– Credential holder: Lots of the time credentials will just be a bit of paper on a string so it's always useful to have a spare credential holder so it doesn't tear off. Security people don't tend to be very understanding in those type of situations.
– Bright yellow gaffers tape: A lot of the time when I do remotes I really want to be able to see my gear from a distance so I know nothing has shifted or has 'disappeared'. That was the reason for the choice of tape colour. The yellow stands out well against the black even from a distance. The other reason is to distinguish my gear in a press room so it doesn't become mixed up with other photographers' gear.