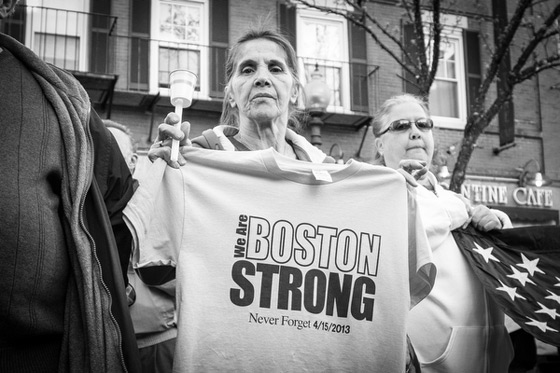 Boston-based photographer Elan Kawesch covered a vigil in the city in support of the victims of the Marathon Bombings.
Note: If you want to help the victims of the 2013 Boston Marathon Bombings, please consider a donation to the One Fund: OneFundBoston.org

I could try to sum up the attitude of Bostonians after the horrific bombings last week, but Red Sox designated hitter David Ortiz said it best. Before a game last week, he adressed the crowd, ending his speech by saying, "This is out [expletive] city and nobody is going to dictate out freedom. Stay strong."

Boston has lived by his words. "Boston Strong" has acted as a motto for the people of the city. Residents have opened up their wallets and homes to help the victims. Memorials have sprung up in various parts of the city. People of different religions have come together for interfaith ceremonies to pray for the victims.

Last Sunday, six days after the bombings, residents of the close-knit neighborhood in The North End came together for a march and candlelight vigil to show their support for the people affected by this terrible event.
See more photos on Elan's blog.