Born and raised in Macedonia under constant threat of conflict,
Marko Georgiev
witnessed the war in Kosovo, the NATO Campaign over the remains of Yugoslavia, and the Kosovo refugee crisis.
In 1999 he received full scholarship to finish his art studies at Rutgers University, only to come back and find his own country at war in 2001. In 2003 He returned to the US and started freelancing for The New York Times. Soon other clients followed – AP, The Star Ledger, Getty, WPN and other agencies and publications in the region. The New York Times sent Marko to cover many hurricanes, including Katrina in New Orleans, as well as the Iraq War where he spent 3 months in the brutal desert heat of Iraq, covering extremely tough assignments. Marko is also an adventure sports enthusiast and regularly paraglides, skis, mountaineers, and rock climbs all over the world. Currently on staff with The Record in North New Jersey where he covers regional, state, and national news.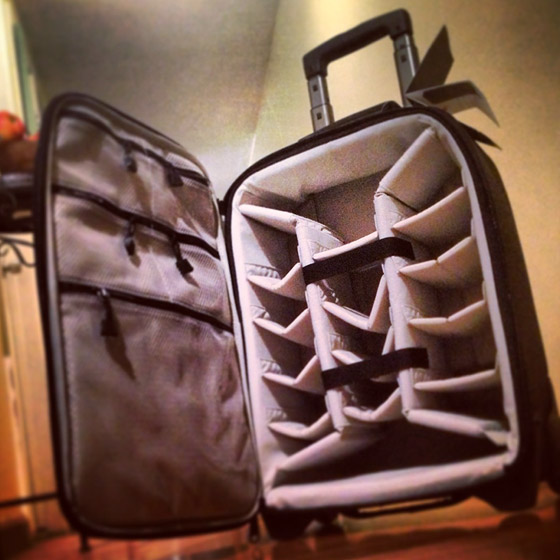 I used the Tenba Roadie II Universal Hybrid for the first time on a photo assignment for my paper, The Record, while covering the State Wrestling Championships this month in Atlantic City.
Usually I don't take untested gear with me on a long assignment, but I own an older model Tenba backpack and that one really served me well in my last decade of travels. But that was last decade, when I was younger and my back was stronger. Maybe it's time to move over to the "dark side" and roll over to the rollers, right? Well, not yet. This is why I was curious about the Hybrid.
My first impressions about the bag were good, it looked slick, fancy, and it felt tough.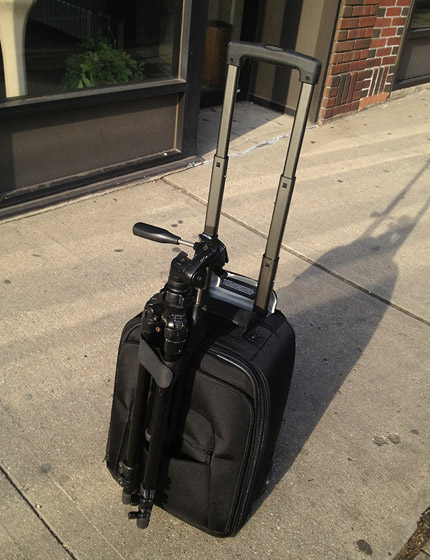 The bag itself is not much different than any other suitcases rollers, but I have to admit the built quality is superb. It's made out of Cordura-like material and the is reinforced with more stitching or bolts like on the two existing handles. Tenba describes the outer material as "Rugged, foam-laminated ballistic nylon exteriors," and "massive stress point reinforcements." From the look and feel of it, my heavily used cameras and lenses will finally get a chance to take a comfy break after the abuse I've put them through.
The zippers are badass. They are what Tenba describes as "Military-finish YKK zippers." The zippers are massive and not likely to fail any time soon. There's nothing worse than a broken zipper! Also it's lockable. I already put a TSA-lock through the zippers. There are two zipper compartments in the front, one main computer pocket and a smaller pocket below. There's another expandable pocket that holds a tripod belt and I kept my notebooks there.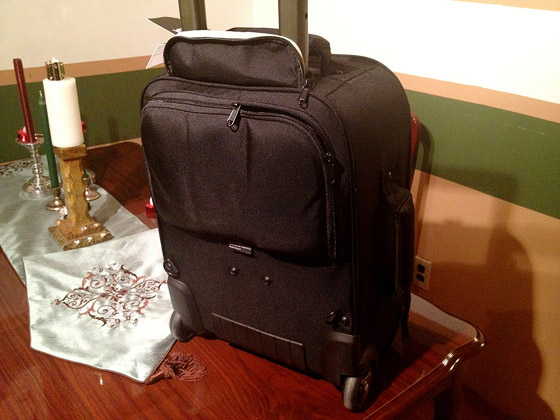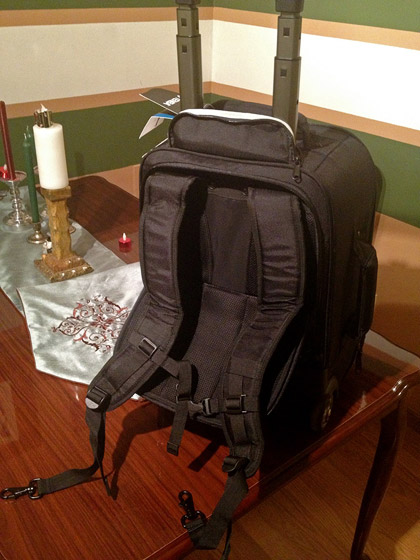 The nicest thing about this bag is in the backpack capability. It's an unzip-it & click-it kind of a deal. It instantly turns into a very comfortable backpack. It supports the lower back quite nicely and the wheels are not in the way of your elbows or love handles on your waist. The straps are not the widest and most comfortable ones I've seen, but they do the job quite nicely. I certainly wouldn't climb Mt. Washington with this thing on my back, but it's ideal for long cobblestones streets of, let's say Istanbul. It was in Istanbul when I had a similarly equipped Tenba backpack and I wished I had the option of the rollers just to take a load of my back at the end of the cobblestone roads and longer rocky terrain where wheels didn't work.
The wheels on the bag are replaceable and they run very smoothly. The handle, which is the weakest point on any roller-bag, seems strong enough to support additional bags and loose items, but only time will tell how strong it really is.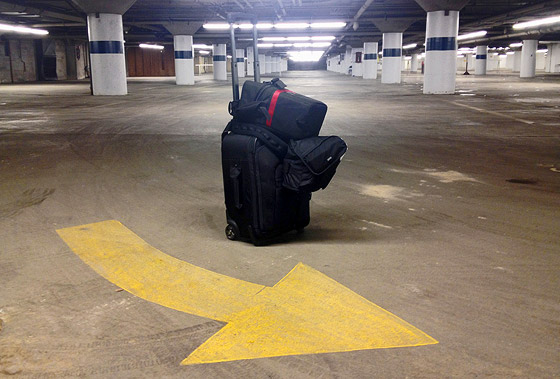 The innards are pretty standard. Tenba gives you enough padded compartment material to fit almost any piece of camera or gear. It's advertised it can accommodate "DSLR or HD video system with 1–2 bodies and 7–9 lenses plus accessories, including lenses up to 600mm 4.0, or a video camera up to 19 inches long."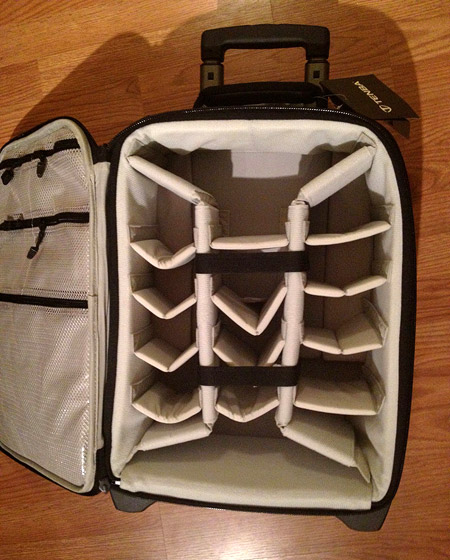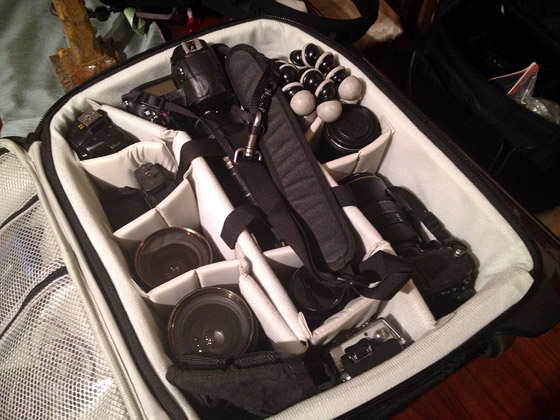 For this trip I packed a Fx DSLR, a smaller DX body, chargers for both, couple of wide angle zooms, mid-range zoom, a 50mm, a big zoom lens, extenders, a flash gun, Gorillapod, some cables, etc. I tried to fit my 300 and 2 bodies inside and it is manageable, but you will have to dismantle bodies from lenses and I like to have my cameras ready to shoot as soon as possible.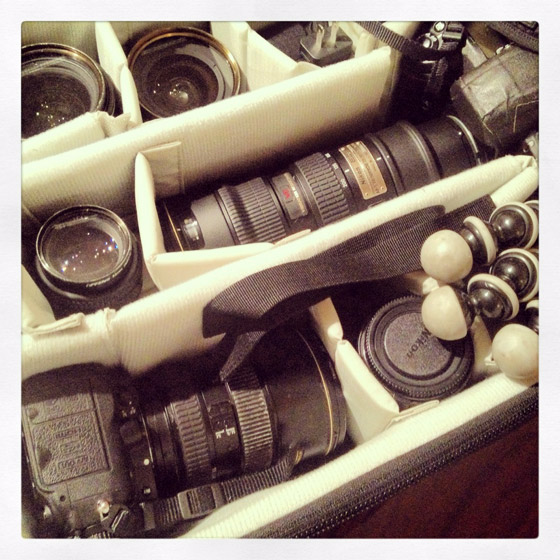 What this bag gained in durability and toughness was lost in space in the wall pockets of the bag. There is one large and four smaller pockets that are really made for the ergonomic traveler. When the bag is fully packed, the pockets get even tighter making it difficult to remove small items from the pockets.
Other stuff I managed to pack in the pockets are my LAV mics in the bottom pocket, some memory card wallets, a few USB cables and a pair of ExOffico underwear, the most comfortable adventure underwear I've ever worn. I always keep a pair in my bag. I never leave for work without them. They dry in 2 hours after a wash! And they come very handy when you are sent out on a multi-day assignments on short notice, or you simply forget to bring normal underwear since, for example, you've had to dig your car out of the snow for the most of the morning and had no time to properly pack for your trip in Atlantic City!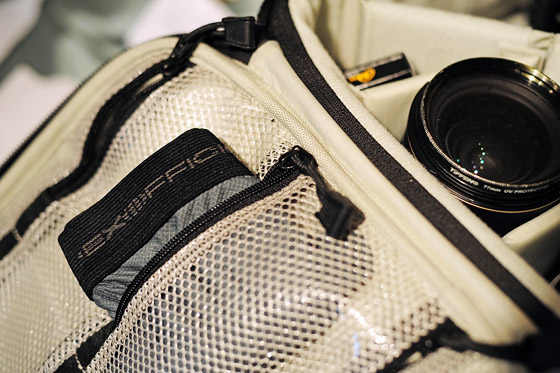 I think the Tenba Roadie II Universal Hybrid is a well-finished product, I love the toughness, the feel, and how it handles. The only con is that it lacks a bit of a space in the pockets. This would be an ideal airplane carry-on roller bag that looks very nice and turns into a backpack when things spring in action and the road is lost.
I'd give it 4 out of 5 stars.