I like covering spot news.  A lot.  I'm fortunate to be able cover a wide variety of features, sports, portraits, commercial assignments, and the like – but the thing I enjoy most is chasing the news as it breaks.  My wife rolls her eyes when a hurricane is churning up the east coast because she knows I'll be like a 5 year old on Christmas Eve waiting for it to come in.  Being able to shoot it well requires lots of very specific things, but most importantly, you need scanners.  More than one. This means that I get strange looks from people the first time they get in my SUV.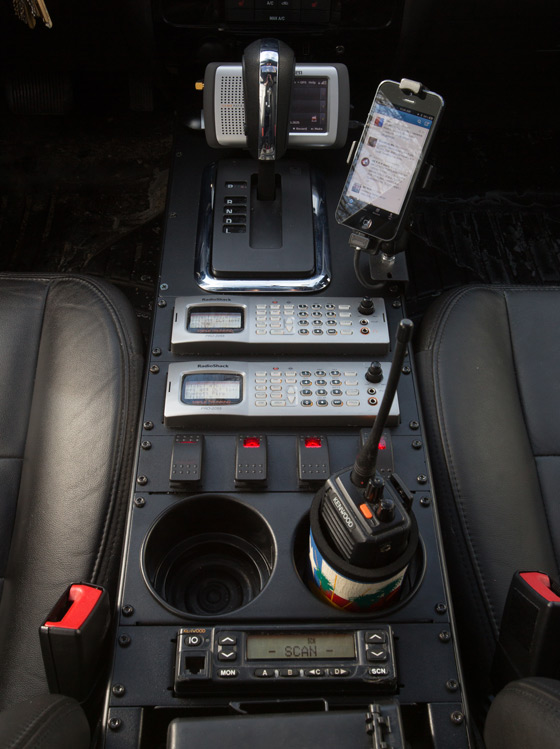 From top to bottom, that's:
– A Uniden HomePatrol HP-1
– iPhone 5 with data tethering plan
– Radio Shack Pro-2055 scanners (x2)
– Kenwood TK-380 handheld UHF radio in a koozie from my old newspaper
– Kenwood TK-880 UHF radio
All wrapped up nicely in a Havis vehicle specific console.  I took this approach to avoid having 4 radios and a mess of charging cables flying around the inside of my vehicle all the time.
This setup allows me to hear the police and fire departments around me in Boston, where I work.  Listening to it when all 3 scanners are going can be a little like trying to talk to all your friends at once at a loud bar, but you get used to it.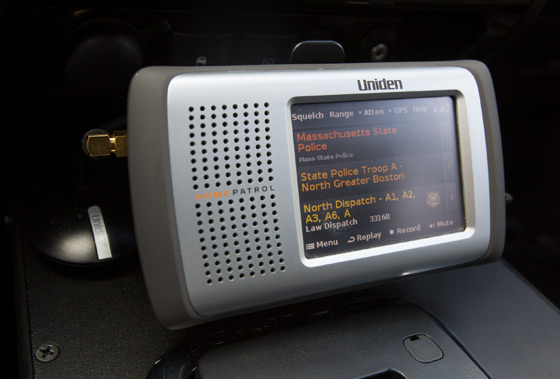 The thing that frustrates people the most about getting all this equipment set up and working right is programming in all the radio frequencies.  Let me offer a few tips:
Bookmark radioreference.com
If you know what departments you want to listen to and have a reasonable amount of patience, go to radioreference and find their frequencies in the database.  Pick up whatever scanner is in the back of the equipment closet and follow the instructions.  Prepare to spend an evening doing this.
If you know you don't have the patience, or don't understand what things like Trunking and P-25 mean, get ready to spend a lot of money on something like the HomePatrol HP-1.  It comes pre-programmed with the entire US RadioReference database, and can be updated with a (Windows) computer over USB.  It can also use a GPS receiver to determine its position and what it should listen to.  It happens to cost $500 (plus accessories).
The Uniden BCT-15 would be what I would buy now if I didn't already have my discontinued Radio Shack 2055's.  It can also be programmed through software and a USB cable, and only costs $200.  Of course, if your local departments use digital radios, you're looking at a $500 scanner like the BCT-996XT that can decode P-25.
Scanners, great as they are, have a very hard time determining what's important – all they can tell is that someone's talking on one of the hundreds of frequencies that they know they're supposed to watch.  Frequently, one department will be talking about something unimportant or doing a department-wide radio check while another is paging out the address of that fully involved structure fire that you really need to get to right now.
Enter: the little bird.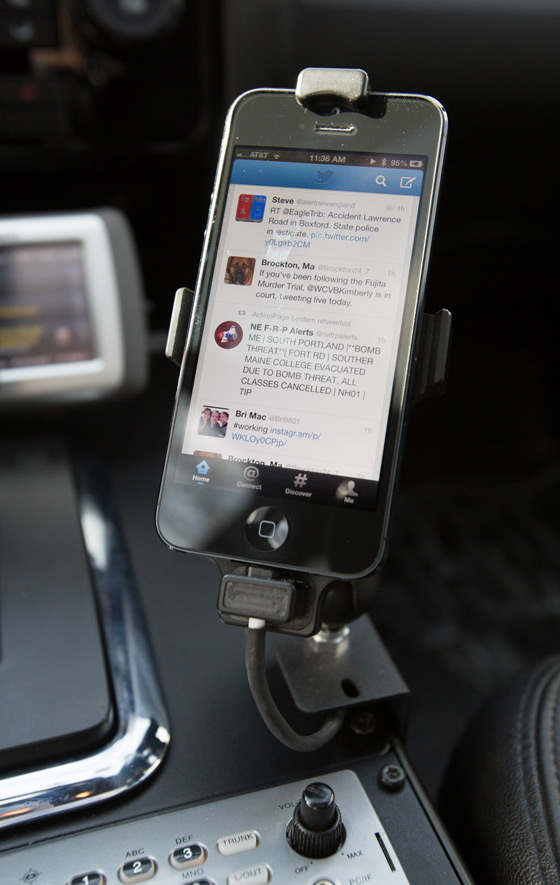 Scanners, it turns out, are not exclusively owned by news photographers.  There's an entire community out there of people who enjoy listening to them, and lots of those people are on twitter.  Police officers, firefighters, TV assignment editors, HAM radio guys with stacks of radios that put mine to shame… they all enjoy listening to the same radio traffic that I do.  I tweet when I hear about something important, they tweet when they have something, and collectively, we form a cloud of information on what is currently on fire and where.
I also subscribe to a paging service (1RWN.com) that is active in my area and sends text summaries of incidents to my phone.  Especially useful when you're away from your radios or asleep, as I was when it alerted me to a 5 alarm fire in Boston's Allston neighborhood last fall.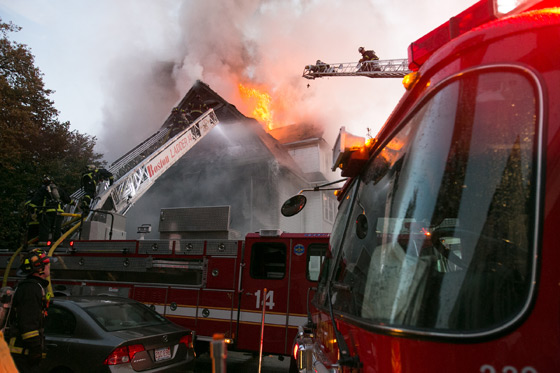 Speed is the most important part of covering spot news.  Getting there fast is part of it, but so is getting the pictures out quickly in a day when everybody has an internet-connected 8 megapixel camera in their pocket.  That's why I love my Eye-Fi card.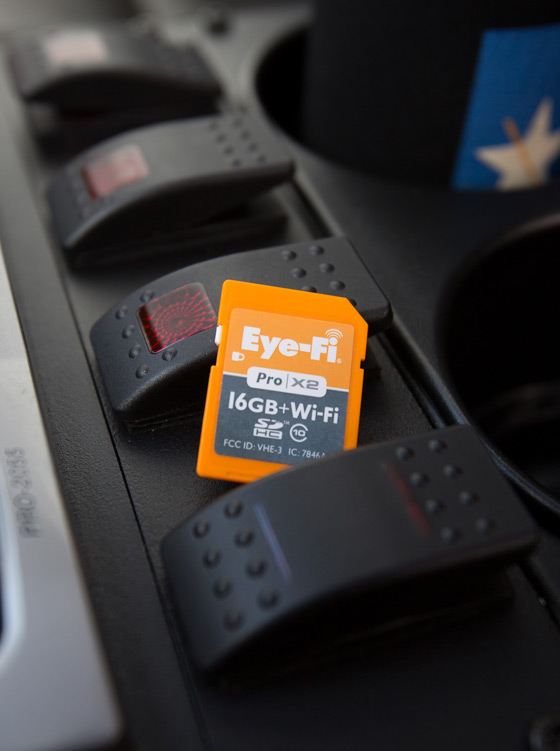 My 5D Mark III has a slot for it right next to the 32 GB CF card that I actually shoot to.  It's configured so that all I have to do is chimp my way through my photos on the back of my camera and copy the ones I like over to the Eye-Fi card.  I can then open the included app on my iPhone and transfer them over, do some quick editing in Photogene, and send them off to my clients without ever leaving the scene.  I stay as long as I need to, then come home and write invoices.  Life is great.
Equipment list:
– Havis Vehicle Specific Console for Ford Escape (ordered from MHQ in Marlborough, MA)
– Faceplate for the scanners
– Faceplate for the Kenwood TK-880
– Cupholder
– Switch plate
– Mic clip bracket for iPhone mount
– Storage box
– Armrest
– Uniden HomePatrol HP-1
– HomePatrol Mobile Mount
– HomePatrol DC adapter
– Uniden GPS Receiver
– Blue Sea Systems Fuse Block (inside the console for power)
– Automotive Fuse Taps
– Radio Shack Pro-2055 (x2)
– Kenwood TK-380
– Kenwood TK-880
– ProClip USA iPhone 5 Adjustable Holder
– RAM Mount Diamond Base (bolts to the iPhone holder)
– RAM Mount short arms (x2)
– Eye-Fi Pro X2 16GB