Looking back to May 2012, as I was gearing up for a four month backpacking photographic journey through Southeast Asia, Nepal, and a bit of Europe, I found myself once again considering what should be in my bag. Four months on the road required carefully negotiating space as well as weight and a computer with enough (well hardened) hard drive space to accommodate tens of thousands of new images. And photographing a wide variety of portraits, land/cityscapes, and street, the list included not only your typical camera(s) and lens range, but also outdoor landscape filters, a modest lighting setup, and other small though valuable travel items.
Regarding the camera set-up itself, newer technology was filling a gap where large-sensor rangefinder sized digital cameras hadn't yet existed. Through my previous extended backpacking trips, a full two DSLR setup stressed both the body and mind and this time around I was ready to leave this setup at home… travel lighter, feel freer, for a first time.
And with the anticipated launch (at that time) of the Fuji X-Pro1 and the Olympus OM-D E-M5, the decision of what gear to haul such long distances surely wasn't an easy one. DSLR set-up? Micro 4/3rd's set-up? Two micro 4/3rd's? A mixture? Would the micro 4/3rd's camera(s) be suitable? Would the DSLR be too heavy or would the extra weight warrant the potentially better photos? Could the micro 4/3rd's provide the telephoto capabilities of the DSLRs? With the need for a laptop and external hard drives, what would adding a DSLR and a few lenses really hurt? The bag's already so big, right? … And on it went, considerations back and forth and back again, but eventually the following set-up was finalized.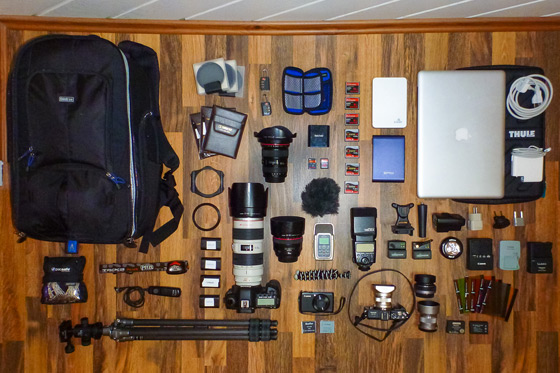 And now settled back in DC and reflecting on the travels, the choice of equipment couldn't have been more perfect. The GX1 micro-4/3rd's body with various lenses ruled the show and was always with. For street and travel images especially, its discreet compactness and high quality, low light, lenses performed wonderfully. For less candid and more intensive shooting including proper portrait shoots, NGO work, adventure rock climbing and the such, the 5DII performed like the workhorse it is.
Lastly, the one potentially overlooked element could be the two all-weather and shock resistant external hard-drives (see below) which provided a feeling of security throughout the trip, knowing all backups and data were well secured on two backup drives in two different bags (and burned onto DVD in a third bag). The ultra-rugged ioSafe drive boasts inherit protection from drop, crush, salt water, sand, rain, altitude, and chemicals. Needless to say, the team at ioSafe doesn't f@#! around.
For photos from the trip, visit Seth Rubin Photography on 500px and on his blog.
CAMERAS & LENSES:
– Canon 5D Mark II with 4 batteries (tip: I use pieces of masking tape reading "CHARGED" on each battery. Once the battery is expended, I peel the tape half back and tuck it under, indicating it needs a charge. Good way to keep track and not find yourself in a bind with no charged batteries – it happens)
– Canon 16-35mm f/2.8L
– Canon 50mm f/1.2L
– Canon 70-200mm f/2.8L IS
– Panasonic Lumix DMC-GX1 (micro 4/3rd's) with 4 batteries (2 shown here, 2 more picked up on the road)
– Olympus 12mm f/2.0 (24mm equiv)
– Panasonic 20mm f/1.7 (40mm equiv)
– Olympus 45mm f/1.8 (90mm equiv)
– Canon S95 (point & shoot) with 2 batteries
LIGHTING:
– Canon 580EX flash
– Canon STE-2 wireless transmitter
– RadioPopper PX Transmitter & PX Receiver with holder and handle
– White balance correction/adjustment gels
– Small cheap LED continuous light (only good for dark selective light portraits – not strong enough otherwise)
– 4×6" LED dimmable continuous light (not shown) (great for dimly lit portraits)
– Petzl Tikka Plus LED headlamp (all-around usage, not necessarily for photography)
FILTERS:
– Cokin P filter holder with 72 and 77mm adapters (these Cokin and Singh-Ray filter setups are key for landscape photography and useful for many travel situations as well)
– Singh-Ray Galen Rowell's graduated neutral density filters (P size) – 2 stop soft, 3 stop soft
– Singh-Ray Daryl Benson's reverse graduated neutral density filter (P size) – 3 stop hard
– Singh-Ray Vari-ND filter (77mm) (great for slowing the shutter down to show motion)
– B+W UV filters and multi-resistant coating (MRC) polarizing filters for each lens
MEMORY:
– 46 GB of SanDisk Extreme III & IV CF cards – (1) 16 GB, (2) 8 GB, (3) 4 GB, (1) 2 GB
– 20 GB of SanDisk Ultra & Extreme SD cards – (1) 16 GB, (1) 4 GB
– Lowepro card wallet
– SanDisk multi-card reader
TRIPODS:
– Gitzo Mountaineer GT0530 3 section carbon-fiber tripod
– Giottos MH1302 ballhead with MH655 quick release assembly
– Joby small and large GorillaPod flexible tripods (large tripod missing from the photo – purchased on the road)
– Canon simple cable release
AUDIO:
– Zoom H2 digital voice recorder with windscreen
COMPUTER & EXT HDDs:
– Apple MacBook Pro 15.4″ (pre-Retina)
– ioSafe Rugged portable hard drive with Firewire 800 & USB 3.0 (1 TB)
– Silicon Power Rugged Armor A80 portable external hard drive with USB 3.0 (1 TB)
– Thule Gauntlet MacBook Pro sleeve (this sleeve is bad-ass, highly recommended)
– Several international outlet adapters
BAG & ACCESSORIES:
– Think Tank Street Walker HardDrive backpack (good pack to accommodate all these items, although definitely recommend the reinforced (optional) waist belt, the one that comes with the bag is hardly effective. And the bag is quite deep, not necessarily ideal for "street walking", unless you really need all your gear in the bag)
– Pacsafe 55L cage system bag protector with exomesh (most often the Think Tank bag gets left behind and smaller daypacks get used… this exomesh makes sure the Think Tank is still there when you get back each day – attach it to a toilet or other 'permanent' structure)
– TSA combination locks (not great, but better than nothing)