Garrett Hubbard tells visual stories for corporate, editorial, not-for-profit organizations and wedding clients in Washington D.C. Hubbard has worked as a visual journalist at The Naples (Fla.) Daily News and USA TODAY. He has received recognition from the National Press Photographers Association's annual Best of Photojournalism competition as well as receiving the Video Editor of the Year award from the White House News Photographers Association in 2012 which landed him in the Oval Office to meet President Obama with a fist-bump. In 2012 Hubbard left USA TODAY and started GH Studios so he could spend more time with his family. He loves God, his bride Allison, and enjoys mountain biking and anything with avocados.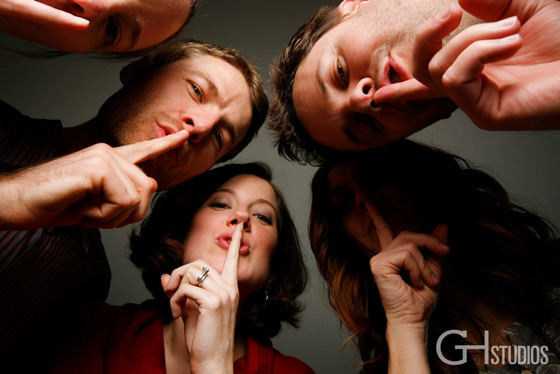 Like most photojournalists I am often seen as "that" photography who over-documents their life. I usually do it a little differently than most. But before I do lets set the stage here and I will clue you in on some of our super-secret photojournalist club rules. Us photojournalists often document our own lives with a 35mm f/1.4 on our cameras and creatively forget that there are apertures beyond f/1.4. Some of us have moved on and we have begun to document our reality with our iPhones (Android phones are definitely exempt) and Instagram our over saturated lives. Actually, no, that was our old modus operandi. Instagram was so 2012. So some have fallen back to old classics to legitimize our creative prowess. We have a designated "walk-around" camera and it is a Leica. If we're really cool it's a film Leica with either Tri-X or Tri-X with plans to push one of the rolls two stops. Now that you know our secrets and have heard our collective confessional, let me continue. Instead of the above ways of documentation I often use a photo booth and let the people with me be creative and make their own pictures.
Last weekend our dear friends threw us a co-ed baby shower and it was a ton of fun. Yes, even for the men. Leading up to the shower I knew I wanted to make a visual guest book for our daughter so that someday she could see all the people who showered her with lots of love. So I fell back on the old photo booth concept. In the weeks leading up to this shower my wife bought a playful background for the photo booth to fit the shower theme. I knew the pictures wouldn't read "baby" unless we made everyone hold a bottle, a stuffed animal, or a bag of diapers. I wasn't about to ask my friends do something that lame. On the morning of the shower the elusive idea I had sought out to make this baby photo booth special landed on my frontal lobe like a Hefty trash bag chock-full of diapers after coming down a 35 story trash chute in a NYC high rise. I would set it up from a baby's perspective. Yes! Leave it to the photojournalist to get the inspiration on deadline.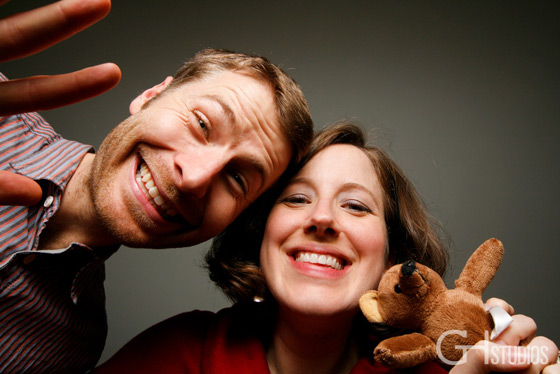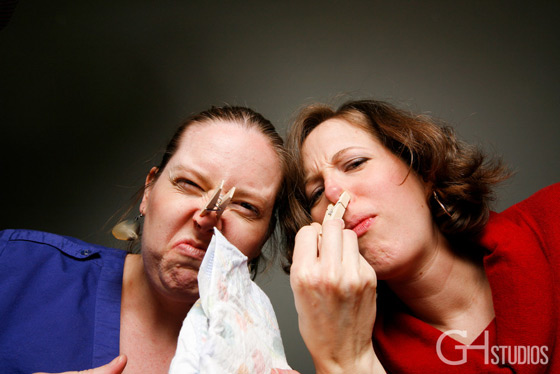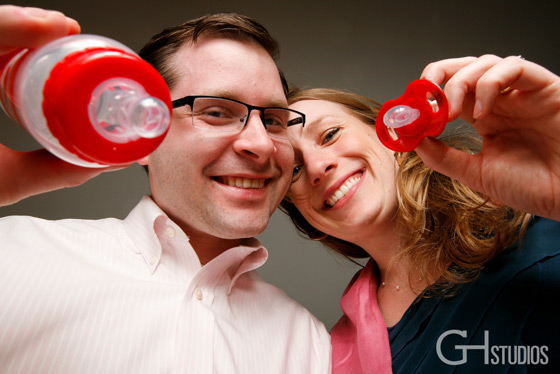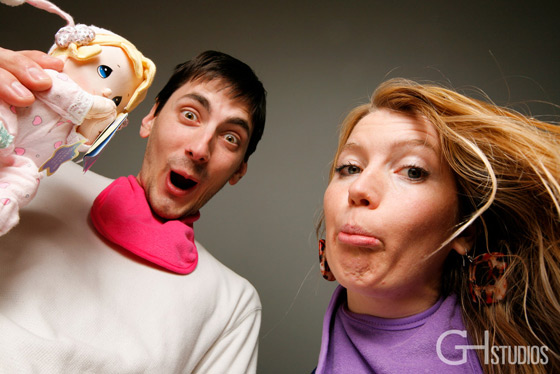 More of Garrett's baby photo booth pictures on his blog.
This all started around nine years at a graduation party for an emerging photojournalist. He had a camera set up with a ring light, a backdrop and we all had a blast. I noticed three things that evening. First, it allowed my friend who was graduating to visit with everyone in the room without a camera glued to his face. Second I noticed that almost all the guests really had fun with it. Lastly, once I saw the pictures days later I realized that he had a super fun visual guest book and we, his guests had some fun memories in the form of an indelible .jpg.  Thank you Robert Caplin for inviting me to your graduation party! After that I started setting them up at my client's weddings. It was a huge hit for the exact same reasons it was a huge hit at Caplin's grad party. Throughout the years I've added props to my photo booth which seems to help people let loose a little bit and get them off the ground creatively. Here are a few of my favorites over the years.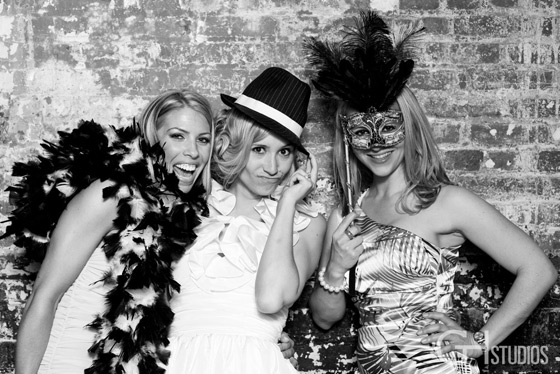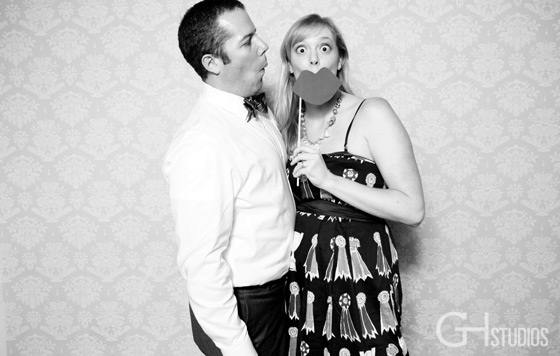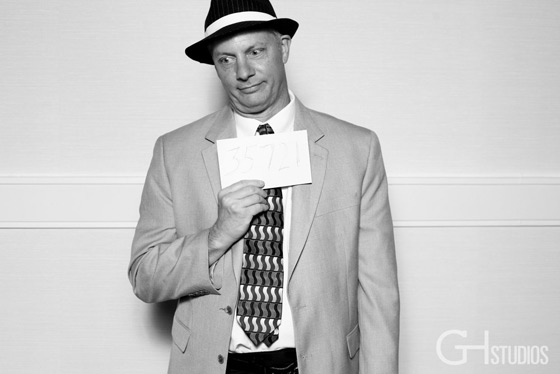 More of Garrett's favorites wedding photo booth pictures on his wedding site.
As a professional photographer giving up almost all control over the image is kind of like handing the keys of your treasured car to all of your friends even though you'd really like to be the one driving even if you've been driving for six hours without a bathroom break and your left leg is asleep. You endure because you know how crazy your friends are behind the wheel. But when you do give up the keys you shuffle to the back seat of your own car and you watch each person takes a turn at the wheel and try not to be that backseat driver offering advice and critique even when you know you're right. This handing over of the "creative keys" of your photographs can be frightening and freeing at the same time.
I can look back over the years I've got a fun collection of memories. I've set up photo booths for Halloween, Birthday parties, fundraisers for the not-for-profit organization started by my friends called Davids Hope, and even for the "Garrett got his dream job celebration" party I threw when I was hired on at USA TODAY in 2008. I've likely set up about 30 photo booths for various events and seasons of my life. All in all, after eight years of other people driving me around the visual landscape with my photo booth I've come to learn giving up control is a beautiful thing.