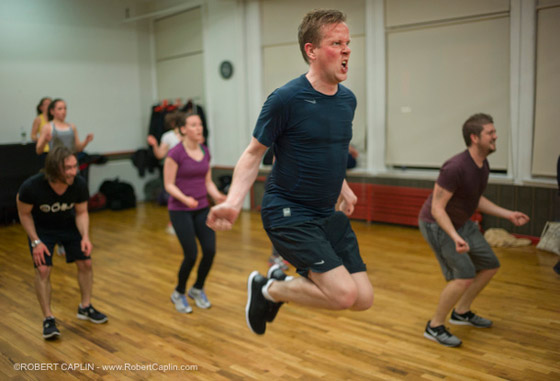 NYC-based freelancer Robert Caplin photographed a fitness bootcamp class for The New York Times that inspired him to begin taking the class himself.
About three weeks ago I was assigned to photograph an exercise "bootcamp" class for a New York Times Styles story. For those of you who don't know, a bootcamp class is a short, high-intensity workout led by an instructor, sort of like a military bootcamp. Though I'm certain a real military bootcamp is much more difficult both mentally and physically, this class is intended for people who wish to have the same sort of high-intensity workout a trainee would in the military.

Anyhow, this particular bootcamp is called The People's Bootcamp and is led by Adam Rosante and is a "pay-what-you-can" 45-minute workout. with a warmup and cool down. He had the idea to start his own bootcamp and when researching competition and found the prices of these classes were super expensive (some topping $50/class). Adam's philosophy is that "effective lifelong fitness should be accessible to everyone regardless of what you have in the bank." Awesome.
Continue reading and see more photos on Robert's blog.