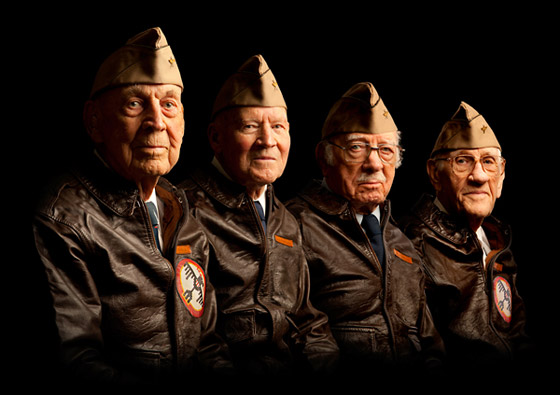 Houston-based freelancer Robert Seale photographed the Doolittle Raiders 70th Anniversary in Dayton, Ohio.
In 2011, I was lucky enough to photograph three of the remaining five Doolittle Raiders for a story in Smithsonian Air & Space.  It was an incredible experience and was a wonderful introduction to many wonderful people in the warbird community.

Through some wonderful new friends I met on this assignment, Larry Kelley, a B-25 owner and Doolittle supporter, and Tom Casey, who manages the Raiders' appearances, I was invited to photograph the Doolittle Raiders 70th Anniversary April 16-20 at Wright Patterson AFB in Dayton, Ohio.

I jumped at the chance, and was also able to bring my father (a big military aviation buff) with me on the trip to help me (and keep my light stands from blowing over!)

Larry Kelley, who owns and pilots "Panchito", a vintage B-25 (and the one we used in the Air & Space portraits in 2011), was on a quest to bring a large contingent of B-25′s to Wright-Patt for the anniversary celebration and flyover.  Through tireless fundraising and incredible determination, he was able to get 20 B-25′s and their crews to Grimes Field in Urbana, Ohio and the Air Force Museum at Wright-Patterson in Dayton for the event.

I had two goals for the event: first, to capture the massive gathering of B-25′s for my friend Larry.  (It was the largest gathering of flying B-25s since the end of WWII!).  Second:  I wanted to photograph a group portrait of all the surviving Raiders together.
Continue reading and see more photos on Robert's blog.