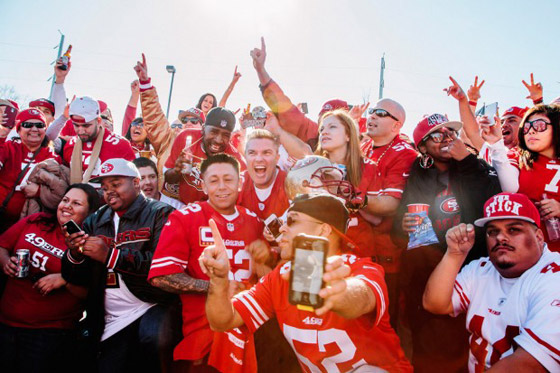 Atlanta-based photographer David Walter Banks was tasked with photographing 49ers fans for the San Francisco Chronicle.
I hadn't shot sports in a good while, so I was pleasantly surprised when an old friend called with an assignment for the San Francisco Chronicle, where she now works on the editing desk.  Shooting sports has never really been my forte, but sports feature shoots I love.  I was tasked with photographing 49ers fans before and during the game at the Georgia Dome in Atlanta last Sunday.  I kinda thought it was going to be like shooting fish in a barrel, but boy was I wrong.  The problem with focusing on fans for the away team, located across the country, is that there are not many of them, especially in such a high profile game in the Falcon's home town.  I didn't find any info for 49ers tailgates online beforehand, but figured it would be no problem and they would easily stand out.  As I meandered through the parking lots, I looked out through a sea of red and remembered that to add to my difficulty, the team colors were nearly identical.  Fortunately, after walking many miles in a circumference around the stadium, I found my holy grail whispered about by random solo Niners fans I came across alone in the urban wild.
Continue reading and see more photos on David's blog.