The other day, I finished listing all of our new equipment purchases for our insurance company. While it's rare that anything positive comes out of anything having to do with insurance, this time was different. The process gave me the inspiration to submit to an article series I had been following in Photo Brigade for quite some time. If I already had all of my gear listed in one place, why not submit to the "in my bag" series?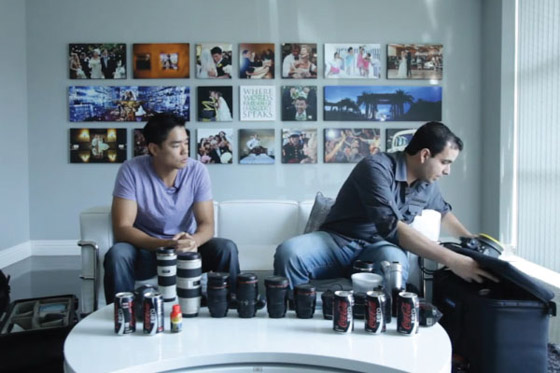 As a quick warning, our list is would be huge if we took into account all 12 photographers with Lin and Jirsa, a Los Angeles Wedding Photography studio and SLR Lounge, a photography tutorials site. For example, there are 3 Nikon Shooters (Matt, Tim, and Elmer) vs. 9 (Chris, Pye, Justin, Joseph, Sarah, Andrew, Maria, Laura, Daniel) Canon Shooters. So for simplicity sake, we're only going to focus on the bags of the 3 lead shooters (aka the Lins and the Jirsa), as they are all identical and serve as the perfect tool kit for our style photography.
Our style of photography requires off camera strobes, tripods for long exposures and HDRs, sunshields for portraits, and other goodies throughout the day. All in all, it's easy to say that we've got a lot of baggage, both literally and figuratively.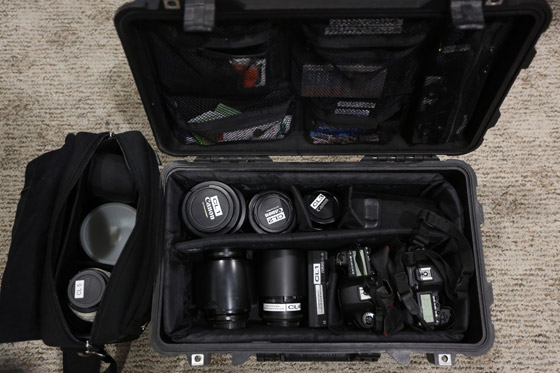 If you asked us "what's in our baggage?" We'd probably answer regret, insecurity and loneliness… but if you asked "What's in our Bag?" Well here's a fairly comprehensive list:
Our Camera Systems
Starting with camera bodies, our studio uses the most current and high-performing wedding photography camera bodies available to date, the Canon 5D Mark II. Each of our master photographers is equipped with one of the following primary and backup bodies.
– Primary camera body: Canon5D Mark III

– Backup camera body: Canon 5D Mark II
Our Lenses
Our studio purchases only high-end professional L quality lenses in order to get the best sharpness, contrast and saturation straight from our camera. Our lenses consist of multiple:
– Canon 70-200mm F/2.8 L IS USM Telephoto Lens

– Canon EF 24-70mm f/2.8L USM Standard Zoom Lens for Canon SLR Cameras

– Canon 50mm F/1.2 USM Portrait

– Canon EF 16-35mm f/2.8L II USM Ultra Wide Angle Zoom Lens

– Canon EF 15mm f/2.8 Fisheye Lens for Canon SLR Cameras

– Canon EF 24mm f/1.4 L USM II Wide Angle Lens for Canon Digital SLR Cameras

– Canon EF 100mm f/2.8L IS USM 1-to-1 Macro Lens for Canon Digital SLR Cameras
Our Lighting
Our studio is also equipped with full studio lighting equipment and remote triggering systems including multiple:
– Canon Speedlite 580EX II Flash for Canon EOS Digital SLR Cameras

– PocketWizard PWP-TR 801-125 PLUS II Transceiver (Black)

– Dynalite RK5-1100 Kit, with 1-RP500 Power Pack, 1-MH2015 Fan Cooled Head / Storage Case

– Quantum Turbo C Compact Battery Power Pack
– Various Hot Lights
Our Photography Accessories
– The Fishbomb Lens Filter Case
– UNDFIND One Bag
– Pelican 1510 Case
– Tiffen Circular Polarizer Filters

– Tiffen 58mm Neutral Density 0.9 Filter

– Manfrotto 055XPROB Pro Tripod Legs (Black)

– Westcott 750 Photo Basics 7.0-Foot Light Stand

– Westcott 1303 30in. Silver White Reflector

– Sanyo Eneloop AA NiMH Batteries

– Epson P-7000 160GB Multimedia Storage Drive, Photo Viewer and Audio-Video Player w/ 4-Inch LCD

– Drobo S 5-Bay USB 2.0/FireWire 800/eSATA Storage Array DRDR3A21
Our Work Stations
– Dell Studio XPS sx8100-3007NBC Desktop

– DELL UltraSharp 2209WA 22 Inch Black Widescreen Flat Panel Monitor
Our Software and Computer Accessories
– Photoshop CS5

– Wacom Intuos3 4 x 6-Inch Wide Format Pen Tablet (PTZ431W)

– Adobe Photoshop Lightroom V4
– Lightroom 4 Presets by SLR Lounge– ProShow Gold

– Adobe Premiere

– Luma Pix FotoFusion Standard
You can also check out our video going through all the equipment here: