The Canon versus Nikon debate has raged for years now and underscores the fact that gear is a highly personal choice and there's no one right setup for everyone. What I'm offering up is what has worked for me and what I'm comfortable with…Hope it offers up some interesting reading.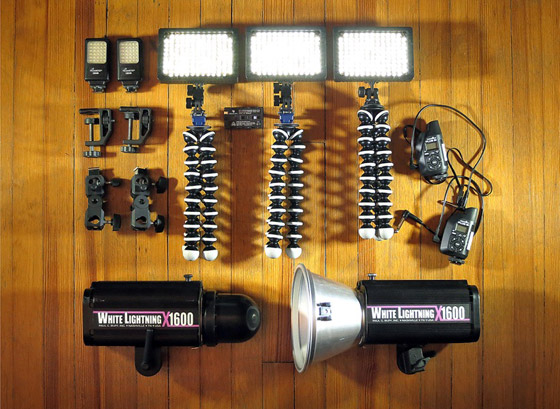 I've pulled together a kit that I would use on a pretty standard restaurant and food shoot for a magazine or the establishment itself. In the past I've used White Lightning x1600's with softboxes or umbrellas or even grid spots but the issue with strobes tends to be that they take up a lot of space and are fairly distracting inside a small space like a restaurant which is a problem if they're open for business while I'm working. That setup also tended to throw light everywhere and I was looking for a light source that was a bit more directional, spotty and controllable. So when I came across the LED lights that have become pretty popular for video work I was intrigued by the possibilities. They turned out to be great for food work, are super compact, affordable and dimmable as well. The only drawback can be highlights on glasses because of all the tiny LED points of light effect (with careful placement and/or diffusion though it can be avoided). I've put together four or five of them as well as a couple of even smaller pocket sized LEDs that I'll use at points on shoots to fit into the tightest of spots or use them as highlights in a scene (they're not dimmable but a little gaffers tape goes a long way at controlling light output). I have all the bigger LEDs on Joby Gorillapods to make positioning them easy and the whole setup pretty light and quick on the fly. I highly suggest the rechargeable Li-Ion batteries as well – I think they last longer and are way easier on the environment.
There are times I'll use either some Canon 430EZ II's with Pocket Wizard Flex TT5s or my White Lightning x1600s and Pocket Wizard Plus III's but it tends to be overkill for most of the type of jobs I'm shooting and I find the 430's tough to shape and direct the light the way I want it many times.
For white balance issues I'll use a small white balance target or an Expodisc for challenging or mixed light. The less I have to do in terms or post production color correction the better as far as I'm concerned – no reason to not get it right in camera as much as possible.
I shoot mainly with a Canon 5D Mark III because I love the full frame aspect and the image quality is amazing (it's incredible even looking back five or six years at the differences in files from back then to now). I tend to work mainly with a Canon EF 24-70mm 2.8L or a Canon EF 100mm 2.8L Macro for most of the food shoots sometimes using a Canon EF 70-200mm 2.8L or Canon EF 85mm 1.8 as well. I find a tripod can be handy at times especially in a dimly lit restaurant but I've never been a big fan of working off a tripod if I can avoid it (it always seems like I can't get exactly the angle I want off a tripod for some reason). I always make sure I have plenty of spare freshly charged batteries as well – nothing worse than showing up and finding out most of your batteries are dead.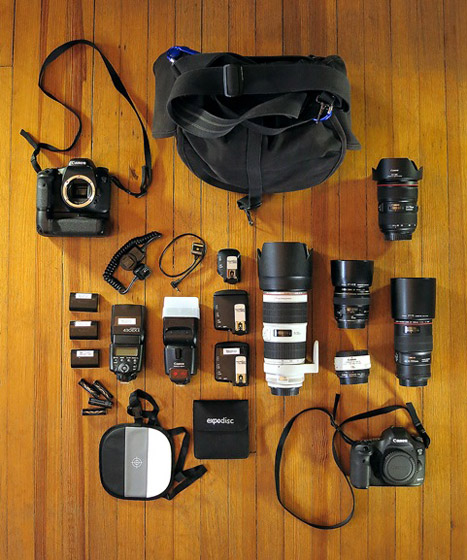 The couple of other items I've found handy for food shoots are translucent reflectors to control any harsh light from a window or toss a bit of fill light onto a scene, a couple of small 1/4 clamps to mount LEDs or 430s in tight spaces, cinefoil to control light spill and gaffers tape always has a million and one uses. I always try to grab a damp clean kitchen towel from the staff as well to clean tables, silverware, glasses, etc. I tend to do a bit of food styling but I usually don't go too crazy on site.
As for post production I use Adobe Photoshop most days and mix in a few Rad Lab filters at times (nothing too heavy handed but i think a few of the filters really can help the final look of many of my food photos). I'll also do some Photomerges in Photoshop at times for interiors/exteriors of restaurants when appropriate instead of shooting a scene wide – it gives it a completely different look.
I hope a few of these suggestions help someone out there and I always think that there's no one way to do things just a way that works for you and your style…I've always preferred to keep it simple so there's less that can go wrong and you can concentrate on making pictures.
List of gear:
– Canon 5D Mark III
– Canon EF 24-70mm 2.8L
– Canon EF 100mm 2.8L Macro
– Canon EF 70-200mm 2.8L
– Canon EF 85mm 1.8
– Canon 7D
– Canon 430EZ II (x 3)
– Pocket Wizard FlexTT5 (x3) + Mini TT1
– Pocket Wizard III (x4)
– White Lightning x1600 (x4)
– LED lights (x5)
– Joby Gorillapod (x4)
– Expodisc