When I first got started in photography I, like many, photographers, felt that I needed the fastest lens and newest camera body. However, over time I realized that a good photographer can make great images with almost any camera body. My gear bag isn't very fancy but it does the trick with hauling around the gear that I do carry with me most of the time. The contents of my bag change from day to day and from assignment to assignment.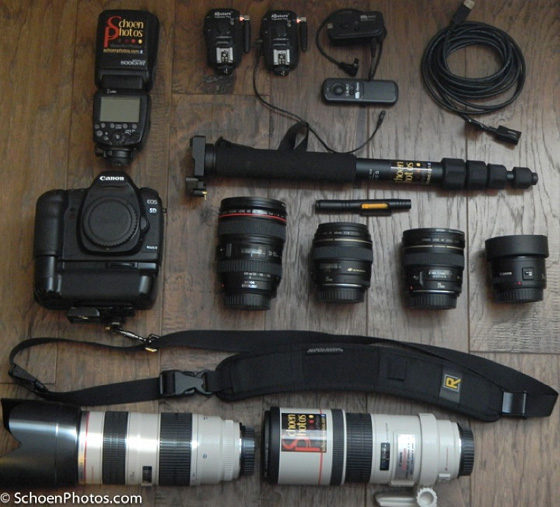 I have gone through several camera bags of which each had positive and negative points. I was until recently primarily using a Snoop Incognito Camera Bag from Timbuk2. I also own a Think Tank Retrospective 5 for use when carrying just my camera and one additional lens. However, I just switched to the Condor Compact Assault bag. This bag seems to be near-perfect for carrying my "bug out" gear (small amount of gear) in case I get an impromptu call to cover an event. If this bag holds up I may consider the 3-Day Assault bag from Condor as it is a bit bigger. This bag is just the right size to carry what I need on a regular basis. I like how it easily fits on my back and even when full is extremely comfortable to wear.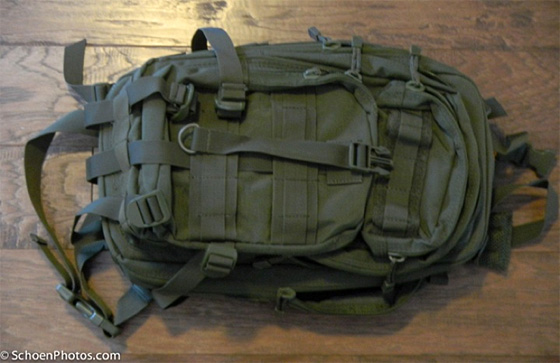 Here goes, the typical contents of my little bag:
– Canon 5D MarkII with vertical battery grip
– Black Rapid RS-7 strap
– Canon 300mm prime super telephoto lens
– Canon 70-200mm zoom telephoto lens
– Canon 135mm prime lens
– Canon 85mm prime portrait lens
– Canon 50mm prime lens
– Canon 20mm prime wide angle lens
– Canon 600 EX/RT Speedlite Flash
– Business Cards
– Spare Compact Flash memory cards
– Spare Battery (two installed in vertical battery grip)
– Moleskine Reporter Notebook and Field Notes notepads
– National Press Photographer's Association member ID
– Various media credentials
– Spare batteries for flash, remotes, etc.
– Safety vest (needed for traffic accident coverage and disaster areas)
– Induro monopod
– Aputure Trigmaster remote flash / shutter release
– Tether cable
– ExpoDisc to custom set white balance
– Gaffer's Tape
– Lens Pen
– Flash Diffuser/Softbox
– 13-inch MacBook Pro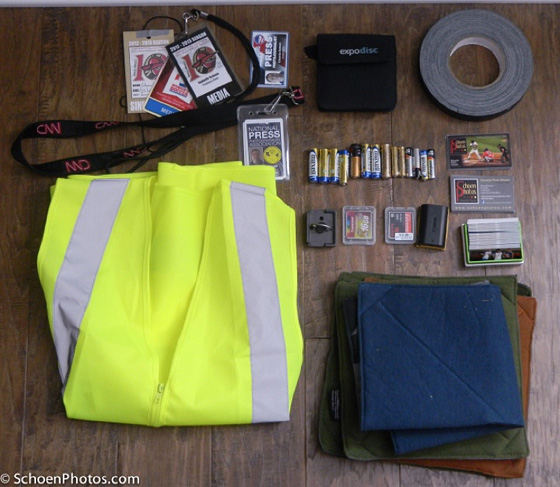 As you can see I don't own the fastest or "best" equipment. I do, however, pride myself on learning to use the equipment I can afford in the most efficient manner to capture action the way I want. This involved and still takes trial and error but over time I and others have seen a tremendous improvement in my work.
As a new photojournalist I suggest buying the best you can afford at the time and learn to use that gear effectively and efficiently. You can make great images with most any gear so focus on the art and not so much on the equipment. I hope you enjoyed reading this post. I know I enjoy reading through the posts from other photographers to see what they carry and to get tips on what is essential to keep in my gear bag. Happy shooting!