I am sure that my fellow photographers relate to the fact that being prepared for a photoshoot should never be taken too lightly.  As Murphy's Law would have it, the unexpected should always be expected and mastering the art of anticipation is something we all aspire to achieve.  In my line of photography, I shoot a vast array of subjects – from sea turtle hatchlings off the coast of Florida to pro surfer's in the waters of Indonesia.  I thoroughly enjoy the problem solving aspect of photography and the challenge in creating each photograph.  Putting myself in precarious situations particularly in the ocean environment only heightens the level of intensity even more.  Shooting in large waves, holding my breath for long periods of time shooting below the surface and working in and around the water creates an "office environment" that I have grown to love!
Here are a couple kits that I frequently have on hand.  The first is my bag of gear for a two week trip shooting surfing and landscapes in the Mentawai Islands of Indonesia.  The next bag holds the gear needed for a typical day around South Florida shooting a variety of projects.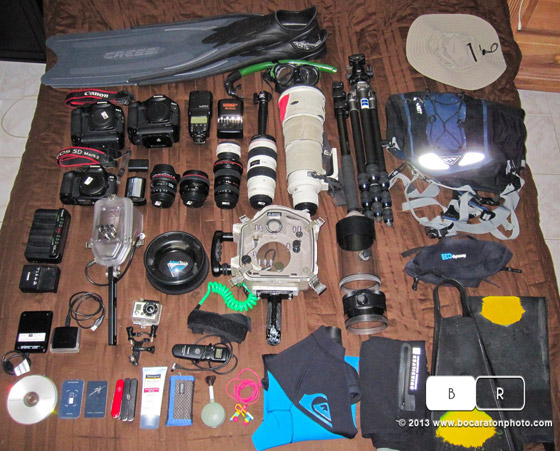 Travel:  Surf, Nature, Commercial in or around the water
I start out with an empty Lowepro Nature Trekker II pack (not pictured) and a standard 22″ x 14″ x 10″ carry on roller (not pictured).  A couple reasons I use these two bags to travel with.  The Nature Trekker is nearly the largest backpack I can get a way with carrying on most planes.  It's not the easiest option to put 40+ lbs on my back at times but this frees up my hands instead of having two rollers.  Inside: Canon 500mm F4 IS (no hood), Canon 70-200mm 2.8 IS, Canon 16-35mm 2.8 II, Canon 50mm 1.2, Canon 8-15mm f4, Canon 1D Mark III, Canon 5D Mark II, 13″ MacBook Pro and charger (not pictured), 1TB WD My Book portable hard drive, Lexar CF reader, Think Tank Pixel Pocket Rocket full of Sandisk 8-16 gb cards, Canon 580EX flash, business cards to for both my fine art and commercial, headphones to listen to music while editing, distracting sounds, watching movies, and as earplugs for sleeping in places not meant for sleeping.  That's a lot into a small bag.
The roller is a generic heavy duty roller that doesn't look like its filled with photo gear.  22″ x 14″ x 10″  is the max size I can also get away with, avoiding checking any luggage at all.  Most places I travel to are third world countries and the more I can blend in and not look like I am traveling with thousands in photo gear the better.  This bag hold odd shaped gear items most compartment rollers don't make sense to use.  Inside: An extra 1D Mark III, flash rechargeable batteries and charger, 1D and 5D charger and batteries, Canon 1.4 II extender, Canon intervalometer, Aquatech DV-4 housing for Canon 1D Mark 3, Aquatech LP-1 Port and 25mm extension for Canon 8-15, Aquatech Flash housing for Canon 580EX flash, Aquatech 70-200mm port, Aqutech 50mm port, housing leash, GoPro Hero2 and mount for Aquatech housing (GoPro seatpost mount),  Quiksilver rashguard, vest topper, boardshorts and brim hat, Electric KB1 polarized sunglasses, Gitzo G1228 carbon tripod with Manfrotto 494RC2 ball head, Manfrotto 694 carbon monopod, Manfrotto 482 mini ballhead tripod, blank DVD's as you never know when you will need them to sell photos on, Neutrogena Ultra sheer sunblock ( super waterproof and lasts for almost 2 hours), duck tape, small blower, neosporin, silicon for housing seals, lens cloths.
All surfers travel with a board bag, which I usually sneak my extra gear into that I can't carry on including my Viper 7 fins, H2Odyssey booties, Sea Sports drybag backpack (shooting on a tender boat or jet ski with the possibility of having to swim to a beach with my gear), Cressi Gara Pro fins, Cressi Eyes Evolution mask and snorkel.  Usually I fit a surfboard of my own if there is room in the boardbags. I also throw in my swiss army knife and leatherman into a checked bag to avoid security.  A small handbag with clothes, 3-4 breathable t's, toothbrush, towel and that's it.  I pack very little personal items as I will be living in boardshorts and a rash guard the entire time!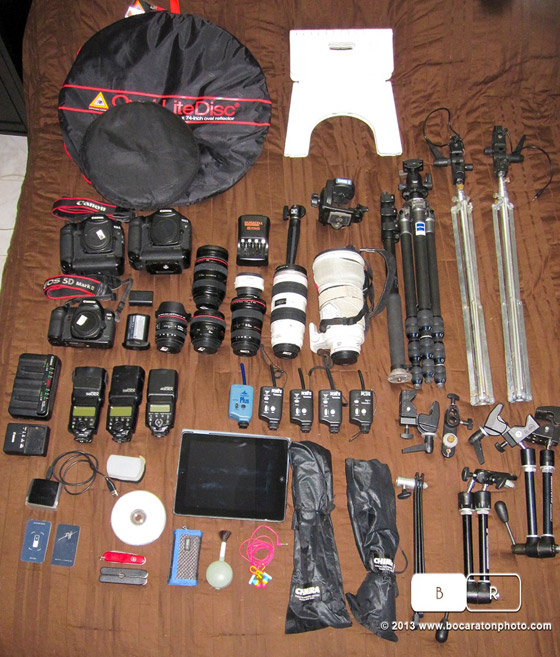 My non-flying commercial kit contained in my Pelican 1550, 1650 or King Pelican, Nature Trekker or Dakine Sequence is used for anything from portraits to action shots and it includes: 2 Canon 1D Mark III bodies, Canon 5D Mark II, Canon 70-200mm 2.8 IS, Canon 16-35mm II 2.8, Canon 24-70mm 2.8, Canon 50mm 1.2, Canon 8-15mm f4, Canon 300mm 2.8 IS, extra camera batteries, 5 Pocket Wizards and cables, 2 Manfrotto magic arms and clamps, 2 Chimera mini softboxes, Speedlite rings for 2 softboxes (not pictured), super lightwight light stands and hot shoe mounts, Manfrotto fluid head, 2 Canon Speedlite 580EX, 1 Speedlite 430EX, Stofen bounce, iPad to show customers portfolio galleries or notes/ideas about the shoot they hired me for, Large Oval LiteDisc, medium size 5 in 1 reflector, and a folding step stool.
List of gear:
Lowepro Nature Trekker II:
– Canon 1D Mark III (x2)
– Canon 5D Mark II
– Canon 500mm F4 IS
– Canon 300mm F2.8 IS
– Canon 70-200mm 2.8 IS
– Canon 16-35mm II 2.8
– Canon 50mm 1.2
– Canon 8-15mm f4
– 13″ MacBook Pro
– 1TB WD My Book portable hard drive
– Lexar CF reader
– Think Tank Pixel Pocket Rocket
– Canon 580EX flash
In my Roller:
– Canon 1.4 II extender
– Canon intervalometer
– Aquatech DV-4 housing for Canon 1d Mark 3
– Aquatech LP-1 Port
– Aquatech  25mm extension for Canon 8-15
– Aquatech Flash housing for Canon 580EX flash
– Aquatech 70-200mm port
– Aquatech 50mm port
– Aquatech housing leash
– GoPro Hero2 and mount for aguatech housing (GoPro seatpost mount)
– Quiksilver rashguard, vest topper, boardshorts and brim hat
– Electric KB1 polarized sunglasses
– Gitzo G1228 carbon tripod
– Manfrotto 494RC2 ball head
– Manfrotto 694 carbon monopod
– Manfrotto 482 mini ballhead tripod
– Blank DVD's
– Neutrogena Ultra Sheer sunblock (super waterproof and lasts for almost 2 hours)
– Duck tape (Gaffers tape is way too expensive)
– Small blower
– Neosporin
– Silicon for housing seals
– Lens cloths
Added to above for other various projects:
– Pelican 1550
– Pelican 1650
– Dakine Sequence backpack
– Canon 24-70mm 2.8
– Extra camera batteries
– Pocket Wizards and cables (x5)
– Manfrotto magic arms and clamps (x2)
– Chimera mini softboxes (x2)
– Speedlight rings for 2 softboxes (not pictured)
– Super lightweight light stands and hot shoe mounts
– Manfrotto fluid head
– Canon Speedlite 580EX (x2)
– Canon Speedlite 430EX
– Stofen bounce
– iPad 2
– Large Oval LiteDisc 72″
– Medium size 5 in 1 reflector
– Folding step stool
Also included on many of my shoots (not pictured):
– My awesome interns
– 2012 Toyota Sienna mini van (lose a lot of man points but gain a great photo vehicle)
– Calumet 750 digital monolights (x2)
– Calumet 4×6 ft softbox
– Umbrellas
– Manfrotto light stands
– Think Tank modular belt system
– Manfrotto reflector stand
– 30″ Apple screen
– Unibody MacBook Pro 13″ laptop with CS5 and Photo Mechanic