Tom Di Maggio
is a freelance photographer who picked up his first DSLR a Canon 300D in 2007 and instantly fell in love with photography. In 2008 he created InFocus asbl with a good friend and fellow photographer JP. InFocus was created as a non-profit association which provides a base for learning the art of photography, in different ever evolviong environments. The first exhibition quickly followed and the motivation grew. In 2009 Tom started working as a freelance concert photographer. This allowed him to combine his two big passions, namely photography and music. It is with concert photography that things started to move along quite fast. In 2009 he was approached by RoadRunner Records. In 2010 he started doing some promotional work for bands, which is a photographic journey he enjoyed a lot. 2011 Tom shot a promo for Gibson Guitars in Paris. In 2011 Tom started working with composited images for different Band CD booklets. This generated quite a big demand and made Tom focus a bit more Photoshop oriented work. Today Tom's pictures are regularely published on photography and music related websites, magazines, band sites and record labels. Lately he also enjoys writing articles about photography. He's certain about the fact that a photographer should not be limited by a certain style of photography. Photography is a learning process that doesn't stop, you have to be open to change and always on the search for new ideas.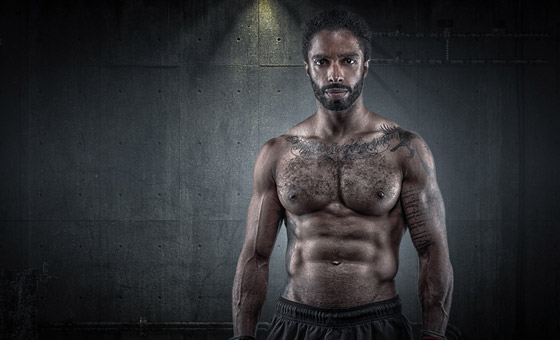 "Made up of disparate or separate parts or elements", is what you will find when you look up the word composite in a dictionary. You are probably asking yourself what this has got to do with photography? Well that's the issue with composites, people instinctively think image manipulation and tend to forget that photography is still playing the biggest part in a composite.
The thing with composited images is not so much about the technique or the tools, but more about creativity and inspiration. Somebody once said that "imagination has no limits", and this a very good way to describe composites. There are no boundaries, you're not limited by locations, weather, physics or even reality. Whatever you can think of, well you can create it with composites.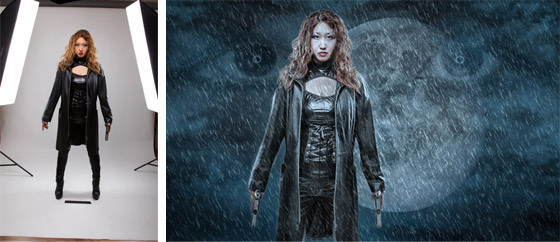 A composite, assignment or for personal work always starts with an idea or theme. It sounds trivial but trust me, if you have the idea you are halfway there. Being forced to find a theme for a composite for an already planned shoot is a creative challenge that is not very easy to master. Especially if it is a paid assignment with financial pressure associated with it. The proper way is to start working on the idea and then organize the props, model, make-up artist and so on.
When you have to create a composite for a customer, you usually know the approximate creative direction to take after meeting them. Sometimes you are left with absolute creative freedom, and sometimes they know exactly what they want and give you pointers that make your life a whole lot easier.
When you have creative freedom or work on a personal project you need to plan the final image ahead. I never start organizing anything before I am sure of what I want to do and what I need to get it done.
People often ask me where I get my ideas for the composites. I have many sources of inspiration that I use on a daily basis, they range from music to books, from video games to movies, or even magazines. There are no rules here, I use whatever works. As a small tip I found out it's very useful to have something around at all times to take notes. Pen and Paper or Smart Phone, it doesn't matter. Once you have an idea write it down. Depending on where you were when you had the idea you might not remember at a later stage. Very often one idea leads to another and soon you'll have a really interesting project to prepare.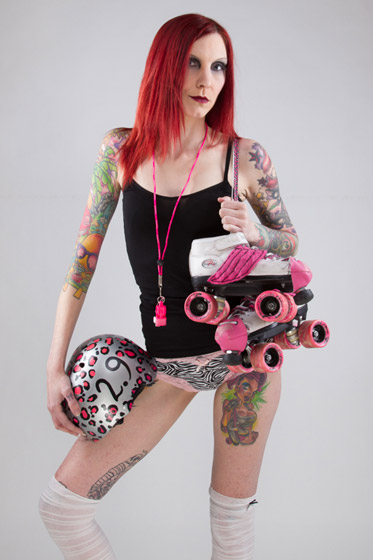 Once I'm set on the idea I start organizing the studio shoot. I book the model(s), make-up artist, stylist and assistant(s), try to get a hand on all the props I will need for the shoot. At the same time I start to look for the pictures I will use to create the composite. Whenever possible I will use pictures I shot myself but I find myself relying more and more on stock photography sites. It takes less time to use those pictures than to drive around scouting for locations to shoot. I use sites like iStock, Fotolia and Bigstock. Sometimes I get in touch with artists from Deviantart for more specific stuff.
As for make-up, clothing and lighting I do adapt them to the mood I want to create in the final image. I will talk a bit about lighting here, as it can make or break the composite. Most of the time I tend to lighten the subject as much and as even as I can. Shadows are easy to create in Photoshop whereas the other way around is not always easy to achieve. You can plan ahead as much as you want, but sometimes things will change at the last moment, and having lit your subject in a very specific manner will cost you in flexibility at a later stage. My standard light setup is two strip lights (1,20m) left and right of the subject and one big Octabox (1,40m) over the camera angled down or slightly to one side of the subject. The softness of the Octabox will allow the light to wrap nicely around the subject. The ratio between the Octabox and the Striplights is usually 3:2. I like the highlight the strip light produce on the side of the subject's body. As for the background, I will usually shoot on a white or grey background, depending on what gives me more contrast. I don't light it as I will extract the subject from the background anyways. For a normal composite I usually don't spend more than 2 hours (make-up included) with my models in the studio.
Once the studio session is wrapped, the images transferred to my drive and backed up, I'll leave them alone for a few days (if the schedule permits it). It gives me time to get some distance from the shoot and prevent me from being to subjective in the final selection. This is very important and too often underestimated. I will keep on selecting my images until I am left with one or two pictures for my composite. I will take as much time as I need for this as I want to be 100% sure that I work with the best image possible for the finale image. I use Adobe Lightroom for all my image selection and organization. Is it better than other products out there? Honestly I don't know, I've been using it for years now and never felt the urge to look for a different software to do this.
This leads me to the core of the job… namely Photoshop. To achieve the effect that I have on my pictures I use a combination of Photoshop CS6 and NIK's Color Efex Pro 4. I work on the subject first and spend a lot of time marking the areas I am going to work on, modifications, light, doge and burn and so forth. I work in a non destructive manner as much as I can so I can always adjust things at a later stage if need be. For the extractions I typically use the quick selection tool followed by a refine selection. I apply that selection to a layer mask that I will fine tune afterwards with a simple brush or the smudge tool. Once the subject is done I start working on the special effects in the picture if there are any.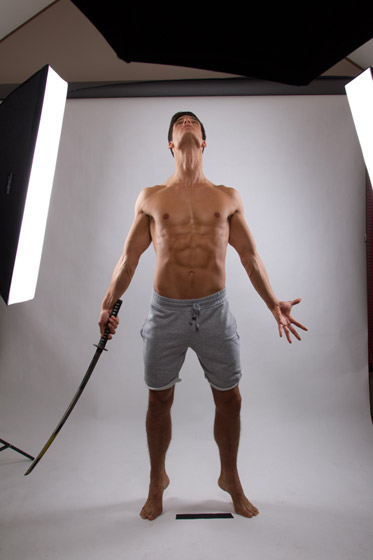 The final and most important stage of a composite is making the foreground and background come together as one picture. You don't the subject to look pasted in on the background. This is usually done with a coloring effect at the end of the process. I usually use photo filters in Photoshop to achieve this.
For hiring models I often use "Model Mayhem". The pool of Models is very impressive on that site, and I've never been disappointed by a model that I booked over this site. If I am on a budget or plan a personal project I usually look for "TFP" work. Models as well as photographers are always on the lookout for pictures they can use in their portfolio. You can look for models who ask for "Trade for pictures" (TFP) assignments or you can post your own add asking for models.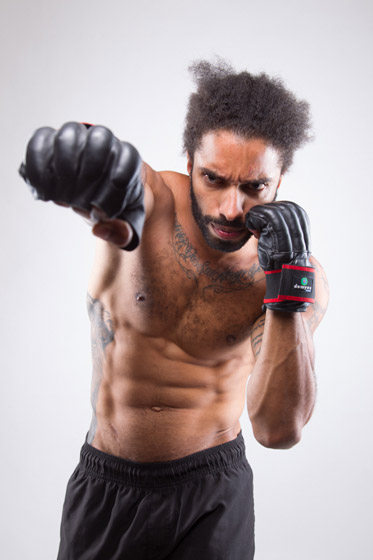 The temptation is always big to ask friends to pose for some shots, especially when you are starting out. That's not a bad thing in itself, it's fun and depending on your character it might be easier to work with someone you know as opposed to work with a total stranger. And most of the time it's free. Working with a pro though gives you the chance to focus on the light and the composition of the shot. They know how to pose and that will make your job a whole lot easier. Once you've explained them what you want to do with the picture they usually know what to do to get you the pose you are looking for.
When people hear composite they often think huge elaborate backgrounds. Backgrounds that you've spend more time on than on the subject in the picture. That doesn't have to be the case. I often use compositing techniques on simple portraits. As I said before, the only limit to a composite is the limit we set our imagination.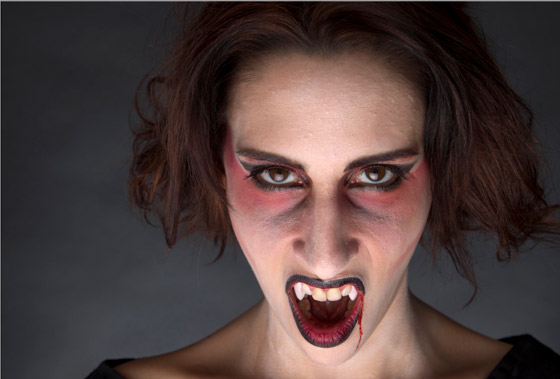 Finally it's important you keep on working on your techniques. You don't have to (and you should not) wait for someone to come along and ask you to create a composite for them. If you have an idea write it down and look for a way to realize it. One such example is a project that I've started last year which is quite simple. I want to realize one Christmas composite for the family every year. It gives me ample time to prepare and realize, it's personal and fun.
As with every kind of artistic creation, the most important ingredient is inspiration. I for one cannot "control" inspiration. When I get an idea it's crucial for me to write it down with as many details as possible. That's the start of the process, and I can assure you that not once has the final image been what I had in mind to start with. During the process of creating a composite I talk to people, show people close to me what I am working on., and thus the image keeps on changing until I am satisfied with the result or until I've hit the deadline. Sometimes I get really interesting comments that I will incorporate into the image, sometimes it will change the whole feeling of the image. But that's ok, as long as I (or the customer) am happy with the end result.