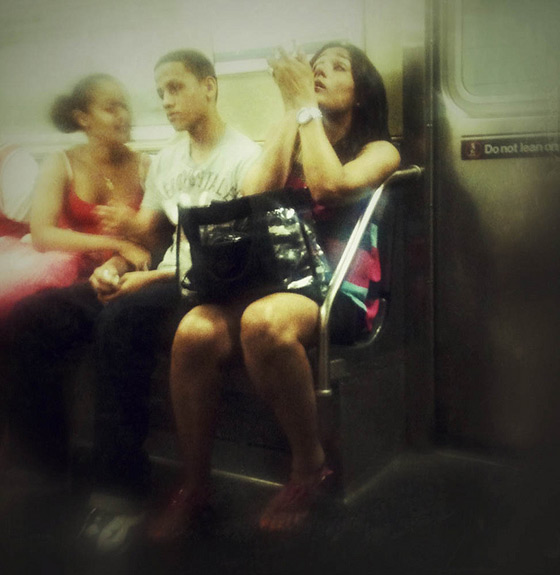 Brooklyn-based photographer Tonia Mc Caskill-Johnson shares a series of photos from the NYC subway.
This particular project began when I took a single portrait with my cell phone out of  boredom during a subway ride home. It wasn't long before three weeks passed and I had recorded over 100 subway portraits. It was fascinating to know that by taking these portraits I was observing the human condition in a very public space for a brief moment. I used the iPhone 3GS because it's the cell phone that I owned at the time. It's the kind that resembles the iPod so people probably thought I was just listening to music most of the time — which I did on occasion. It definitely helped with capturing people in a more natural state. That's definitely and element I couldn't get away with had I used my professional gear.

The majority of this project took place on the A/C subway line and sometimes on the 2,4,5 and 6 line. I rode the subway twice daily for three weeks. On an average day out I would take about 6 portraits. If I had to run any errands I managed to squeeze in additional portraits. The quantity of images captured in a day depended heavily on how crowded my subway car was. I decided that since the portraits were captured using iPhone technology they should also be edited with the same technology. I used a single editing software application called Snapseed. I love this app for quick filter edits. Not only does Snapseed provide a quick editing solution it helped to maintain a level of consistency throughout the series.
See the entire series on Flickr and more of Tonia's work on her website.