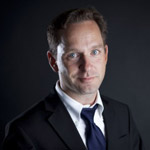 Jay Westcott
has always had a passion for photography, but it wasn't until he served in the U.S. Navy that he thought about pursuing it as a career. He worked with a Navy photographer and kept borrowing his camera. The photographer finally said, "Jay, you need to go buy your own camera." Needless to say, Jay did and was on his way. After a brief career in sales, Jay pursued a degree in photojournalism at The Corcoran College of Art and Design in Washington. He has worked as a photo tech/editor at The Washington Post, as a staff photographer at The Washington Examiner as a staff photographer for TBD.com, and most recently as a staff photographer for POLITICO. Based in Washington, DC, he specializes in politics and portraits, and often the two intertwine. His work has appeared in The New York Times, USA Today, The Washington Post, Newsweek, Time, Washingtonian Magazine and countless other places, including his mom's refrigerator. When he's not out shooting photos, he can be found riding or racing bicycles or hiking with his daughter, Lauren.
On Friday I was let go from Politico, where I had worked for the last two years. It was unexpected, to say the least. They are undergoing changes and eliminated my position. I was the most recent hire in the department and, in turn, the first to be let go.
As I wrote in a letter to management, I thoroughly enjoyed my time there. I learned a lot and felt I was able to contribute to the team not only with photographs, but with reporting and storytelling. I have always considered myself a photojournalist; a reporter with a camera. I was able to flex my reporting skills, work sources, and chase leads. I was never prouder to represent an employer than I was at Politico.
I understand that Politico's future is evolving and going in new directions. I'm excited to see the future of journalism continue to shift away from stories that publish in a print edition the next day to stories that publish immediately on the web and on tablets. I believe that the possibilities are limitless and the future is bright, especially for photography. The new media landscape will be more visual than ever before. I think where the folks at Politico and I differ is in the importance of original, staff-generated visual storytelling that goes beyond a simple collection of wire photos. Going forward, I will continue to produce compelling images and storytelling multimedia features.
So, what's next? I'm going to keep doing what I do best: photograph politics and portraits. I know how to cover Capitol Hill. I have sources, I have connections, and I know who to know. I have access. I have a style that is different from other photographers; I know how to separate myself from the pack. I think I make some pretty compelling images of politics.
I also love to shoot portraits. I like interacting with people during a portrait session and making a connection. In my opinion, that's the key to making a good portrait. At the end of the day, the portrait is just a sliver of time like any other picture. What is represented in that portrait is the connection that is made. If given the opportunity, I will make an engaging, insightful portrait.
Here is a collection of some of my favorite photographs from my time at Politico. I hope you enjoy viewing them as much as I enjoyed making them: http://jaywestcott.photoshelter.com/gallery/Best-of-Politico/G0000I0xD4UmS.mM/2/C0000LcoC_MonpWE