C.S. Muncy
is a freelance photojournalist based out of New York City with a client list that includes The New York Times, The Wall Street Journal, Newsday, The New York Daily News and The Village Voice. As a freelancer, he's covered such subjects as the BP Oil Spill, the fight for same-sex civil rights, the takeover of the state capitol in Madison, Wisconsin and Occupy Wall Street. A graduate of the Defense Information School, he enlisted in the United States Air Force in 2002 and is currently a photographer with the New York Air National Guard.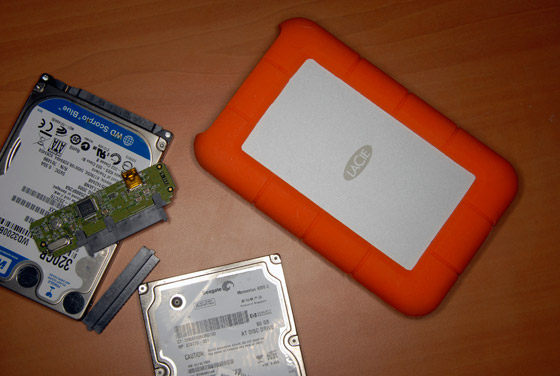 "Click…click….click…click…."
This is the sound of me slowly losing my mind. This click, which may be familiar to more than a few readers, represents years worth of lost photos, movies, writings and work. It represents the loss of important papers, tax forms and business contracts. This sound, gentle and quiet and unassuming, signifies the loss of over four years of tear sheets from every major newspaper in the city.
It's the sound of a hard drive going bad.
There are many reasons why an HDD (currently the more common HD format) drive might go bad. It could die from a sudden physical impact or drop; or from exposure to intense heat or moisture. Sometimes the reader head comes into contact with the storage disk and scratches the surface.  Hell, it could even come from coming into contact with a magnet or old age. There's just too many moving parts that, on a portable drive like the one that recently died on me, could fail for any number of seemingly minor reasons.
After meeting with a representative from LaCie last year, I was sent a SSD drive to test out. SSD, or solid state drives, are flash based (similar to the memory cards in your camera) and contain no moving parts. The drive LaCie sent me, the Rugged Thunderbolt (USB 3.0) also contained a high-impact rubberized edge and metal frame which I've put to the test several times by dropping it from varying heights. With the USB 3.0 connection, I was also able to transfer files significantly faster than with my older drives.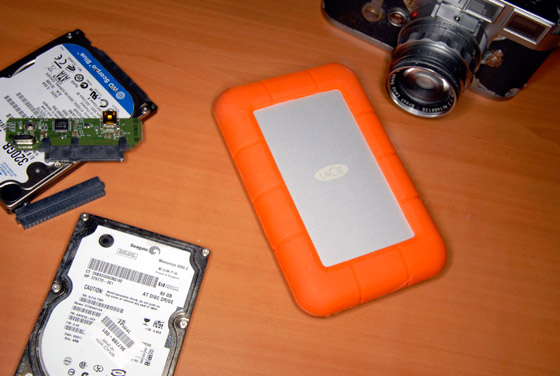 It's important to note that, in regards to the loss of the hard drive above, I failed to make back-ups of the data I lost. Ideally, your photos and important information should be backed up twice on physical drives, and again online. Readers would be well-advised not to make the same mistake I did in keeping all of your eggs in one fragile basket.
Those who have been following my writing with The Photo Brigade know that, above all, I value the ability to take a beating in my gear. My lenses, laptops, drives and bodies will regularly get thrown about, dragged through the mud and sand or tossed into the back of a moving vehicle. The LaCie Rugged Thunderbolt has taken all the abuse I've been able to heap on it and then some. I have no doubt I'll be regularly replacing my older drives with these in the near future.