As a college student about to graduate, working part-time at a small daily newspaper, and trying to figure out what gear I needed to have, I found that getting a look at what other photographers were using was very helpful. When I saw that The Photo Brigade was looking for someone to do this weeks "In My Bag" column I figured I'd give it a go. It seemed like a good way to show other P.J. students what someone in their shoes carries.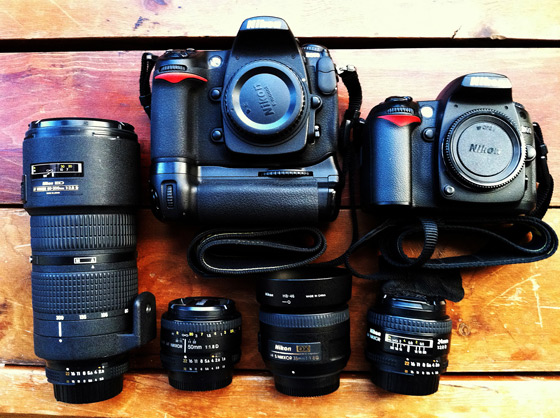 Working part-time at a small daily newspaper I cover a pretty big variety of assignments. On an average day I could be shooting anything; portraits, prep sports, feature assignments, or weather features (lately lots of snowy weather features).
As a young photojournalist I've been saving, buying, selling, and trying to figure out exactly what I needed to make photos efficiently and the way I like. When I first got into photography I felt that big, expensive, zoom lenses were what you needed to be a working photojournalist.
As soon as I started actually working as a photographer I realized that wasn't always the case. I realized pretty quickly that those big, expensive, zooms were just that, big, awkward, and heavy, oh and expensive. These lenses definitely have their place though.
My 80-200 is one of my favorite lenses and I use on just about every assignment. I do occasionally use one of the paper's 24-70s (mostly for sports), and I use their 17-35 from time-to-time as well.
So, what do I use then? I've been a really big fan of the Nikon primes. They're light, unobtrusive, and pretty inexpensive. That last part is pretty important for me right now, because I'm a broke college student.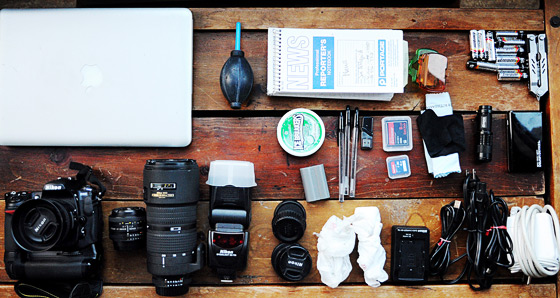 Gear:
– Nikon D300 w/ MB-d10 Battery Grip
– Nikon D90 (used to take the photo)
– Nikon 24mm f/2.8 (used to take the photo)
– Nikon 35mm f/1.8 (On D300, this is an awesome lens by the way. If you're shooting a DX Nikon body I highly recommend it. Also, it works pretty well on a full frame, if you can deal with a – fair amount of vignetting.)
– Nikon 50mm f/1.8
– Nikon 80-200 f/2.8
– Nikon SB-700 w/ dome diffuser (doesn't leave the bag much)
– Extra body cap and lens mount cap
– Dust blower
– 4 reporter's notebooks
– Ice Breakers Mints (you've got to keep the breath fresh for those interviews!)
– Extra EN-EL3e battery
– 2 grocery bags (in case I get caught in the rain while on assignment)
– Extra pens
– Flash drive
– Extra 8 GB CF card
– Extra 4 GB SD card
– Gels for SB-700 (I'm not sure if I've ever used these)
– Assorted microfiber cloths
– Flash light
– Random cords
– Extra batteries
– Card reader
– Gerber multi-purpose tool
– MacBook w/ all the necessary programs to tone photos
– MacBook laptop charger
– iPhone 4
– Cheap light stand (pretty much is always in the trunk of my car)
– Cheap 24" soft box (always with the light stand)
Some gear I use from the paper I work for includes:
– Nikon D3s
– Nikon 17-35mm f/2.8
– Nikon 300mm f/2.8
– And very rarely a Nikon 24-70mm f/2.8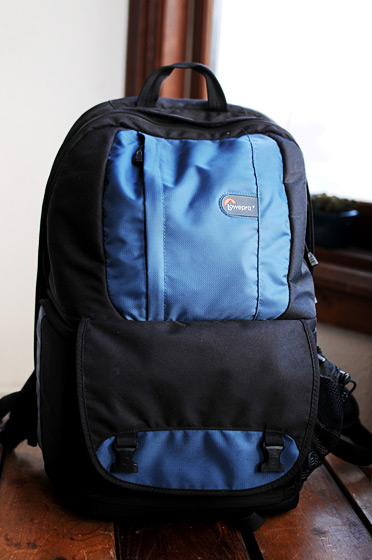 All of this gear fits into my Lowepro Fastpack 250. I was using a National Geographic NG A2560 Africa Series Medium Satchel, but I was filling it with too much stuff, and my back/shoulders were paying the price. The backpack is much more forgiving. At the end of the day though, I believe that any photographer should be able to make compelling images with just about anything, so don't get too hung up on the next cool lens or body.