Based out of Chicago,
Cengiz Yar Jr
is a documentary photographer and freelance photojournalist whose work has been featured in publications around the world. His photography focuses on human conflicts, both violent and peaceful, and aims to encourage understanding by fostering interest and making the alien familiar. His travels, work, and studies have centered heavily on Asia and the Continental United States.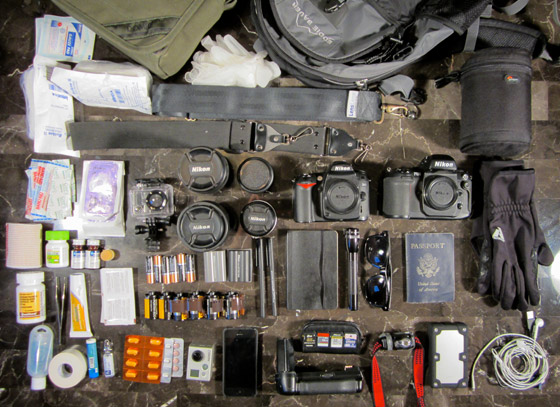 I carry a variety of bags depending on where and what I'm shooting. In December I traveled to Syria to spend time documenting the civil war. I had a large duffle bag packed with medical supplies, warm winter clothing, my computer, cameras, body armor, as well as chocolate, cigarettes and other types of small bribes. After about an hour drive from the Turkish border, my driver dropped me off at a safe house where I spent the night. In the morning a translator arrived (a day late) and asked me what I wanted to do and how long I wanted to go into Aleppo for. I explained that I wanted to meet with a militia and go in for a day or two. He said it was no problem and said we should go now. Right now. I packed the below bags, put on my body armor, grabbed my helmet and followed him out the door. About an hour later I was crushed in the back of an old Hyundai with Free Syrian Army fighters smoking cigarettes driving towards Aleppo. They asked me how long I was going to stay with them in the city for, to which I responded a day or two. They laughed, paused appropriately, and said they were heading in for two months and didn't know how I was going to get back to the safe house. So I had the equipment below and the clothes and armor on my back for a week in Aleppo before I finally made it out again. If you notice, deodorant and a toothbrush are missing.
Bags:
– Domke f-5xc
– Eddie Bauer Trailhead
– Lowepro Lens Case 9 x 13cm
Cameras and other Equipment
– Nikon D90
– Nikon F100
– Nikon MB-15 High Power Pack and Grip for F100
– Nikon 18-105 mm f/3.5-5.6
– Nikon 24-120mm f/3.5-5.6
– Nikon 28mm f/3.5
– Nikon 50mm f/1.8
– GoPro Hero 2
– GoPro watertight case with camera flashshoe mount
– GoPro charger cable
– Lens Baby strap
– Some old strap a friend gave me years ago
– First Ascent Soft Shell Gloves
– iPhone 5
– iPhone charger cable
– Apple Headphones
– Mophie Juice Pack Powerstation
– Princeton Tec Byte Headlamp
– Targus memory card case
– Sandisk 32gb
– PNY 32gb
– Toshiba 8gb
– Kingston 4 gb
– Mini Maglite LED 2-Cell
– 2 EN-EL3e Nikon batteries
– 6 loose AA Duracell batteries
– 1 Kodak Portra-800
– 4 Kodak Portra-400
– 1 Kodak Ektar-100
– Moleskine notebook
– 2 Sanford uni-ball onyx pens
– Cheap plastic glasses
– Passport
Medical Equipment
– 500 mg tablets of Ciprofloxacin
– 2 mg tablets of Imodium
– 25 mg tablets of Meclizine Hydrochloride
– Glass vile of Lidocaine
– Lip balm
– Medical taps
– Hand sanitizer
– Isopropyl Alcohol prep pads
– Iodine prep pads
– Triple Antibiotic Ointment tube
– Long-noose tweezers
– bottle of Diphenhydramine hydrochloride 25mg tablets
– 2 Portable Agua water purification tablets
– bottle of Wal-Zy 10 mg tablets
– bandage roll
– assorted bandaids
– packs of sterile sutures
– 2 large gauze rolls
– small gauze pads
– tourniquet
– 6 rubber gloves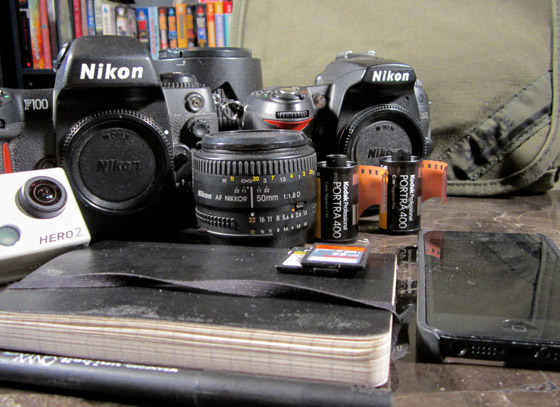 Typical day in Aleppo bag
– Domke f-5xc
– Nikon D90
– Nikon F100
– Nikon 18-105 mm f/3.5-5.6
– Nikon 50mm f/1.8
– GoPro Hero 2
– iPhone 5
– 2 rolls of film
– 2 memory cards
– Moleskin notebook
– Sanford uni-ball onyx pen