C.S. Muncy
is a freelance photojournalist based out of New York City with a client list that includes The New York Times, The Wall Street Journal, Newsday, The New York Daily News and The Village Voice. As a freelancer, he's covered such subjects as the BP Oil Spill, the fight for same-sex civil rights, the takeover of the state capitol in Madison, Wisconsin and Occupy Wall Street. A graduate of the Defense Information School, he enlisted in the United States Air Force in 2002 and is currently a photographer with the New York Air National Guard.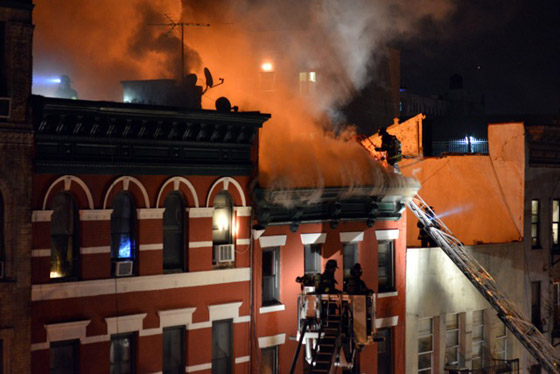 The thing about shooting spot news is that you need to keep a flexible mindset. Last night I had just arrived home my base and was just about to pass out on my bed for a nap when I heard a number of firetrucks passing down the street. This is not an uncommon sound in lower Manhattan, so I didn't pay it much mind. Many of the buildings in my area are over a hundred years old, so even for minor alarms the FDNY will send a number of trucks and ladders. Eventually, I noticed that the sounds weren't fading: an unusual number of trucks seemed to be heading in my direction. Eventually I lifted my head from my pillow and noticed a large plume of smoke filling the air several blocks west of my apartment.
Even when you're working on four hours of sleep you need to be ready to move. I grabbed my bag and a camera and started running, calling various editors as I moved. In the city, you've got a couple of options when you're trying to get someplace in a hurry. Owning a car is extremely expensive, but taxis and subways can be undependable. Carrying thirty pounds worth of gear, I eventually decided on cabbing it.
By the time I arrived at the scene the street was already filled with smoke, firefighters, police and gawkers. The police were still setting up the crime scene tape, but so far they weren't moving anyone away. When you're fortunate enough to get to a fire or crime scene this early on, you have to move quickly. You've got maybe ten minutes from the time the first officer responds before you're moved back and away from the area. When this happens it's all too easy to get angry or feel targeted (and sometimes this is actually the case), but I really get it. In a situation like this, the last thing you want is to be an impediment to the first responders. I've found that the best thing to do is to shoot and move; don't get locked down into any one location where you (and your bright, shiny-yellow press pass) paints you as a target.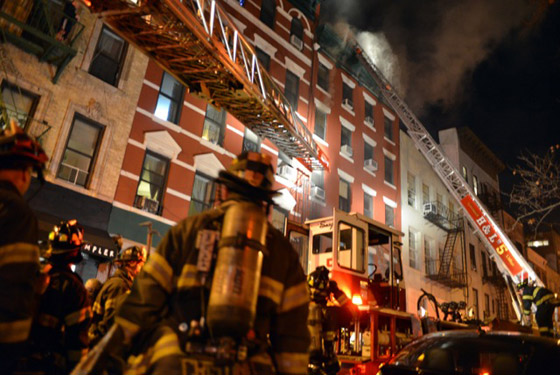 Eventually an officer did pull me aside and asked me to move behind the yellow lines. By now the street was so full of firefighters, trucks, ladders and police that I wasn't really getting any unique shots. It wasn't worth putting up a fight, and the last thing I wanted was to risk having my pass pulled. Every photographer has to decide for themselves when and where it's time to make an issue of access, but I really didn't feel like this was it.
Being flexible means adapting to the situation and thinking in three dimensions. When you can't shoot from the ground, what other options do you have? I started ringing buzzers on the building across the street and managed to convince one of the residents to allow me access to their roof. Photographers need to be extremely careful when they attempt this; if you manage to get on a roof but haven't been invited you're legally trespassing and can easily find yourself arrested. Landlords and supers will also freak out when they find a stranger hanging out on their buildings, because if you fall off or hurt yourself they can be held legally liable.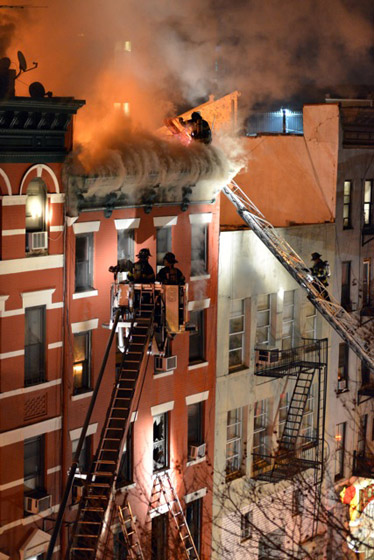 Last night I made several mistakes. The first: I left without checking my bag, leaving behind my telephoto lens and Eye-Fi memory card. The card would have been extremely useful as I could have filed my shots without having to leave the scene. I also only grabbed one camera body. My bug-out bag usually carries two; this allows me to shoot wide and long without having to change lenses. In an environment like this your camera will literally breath in smoke particles and dust. Third, I didn't bring my scanner. Having a police and fire scanner allows you to listen in and know where you need to be in order to get the shot. I also typically carry a hospital mask, and forgot it this time. I must have spent two hours on that rooftop sucking down smoke. Not fun.
Daily and spot news photographers should also keep their ears to the ground. Sometimes this means spending some time listening to the police and fire bands on their scanners. Other times, it means keeping an eye on social media, or subscribing to news-alert services like Breaking News Network. But above all, you need to be ready to drop everything and start shooting.