Ryan Hodgson-Rigsbee
is a photographer based in New Orleans and Chicago. He grew up in Chicago, raised by social worker parents, and studied photojournalism at Ohio University's School of Visual Communication. After graduation in 2005, Ryan worked as a staff photographer at the Orange County Register until 2007 when he left the newspaper industry to return to Chicago and work as an independent photographer and tutor for low-income kids. While in Chicago, Ryan began a number of personal projects that he is continuing to pursue since moving to New Orleans at the end of 2011.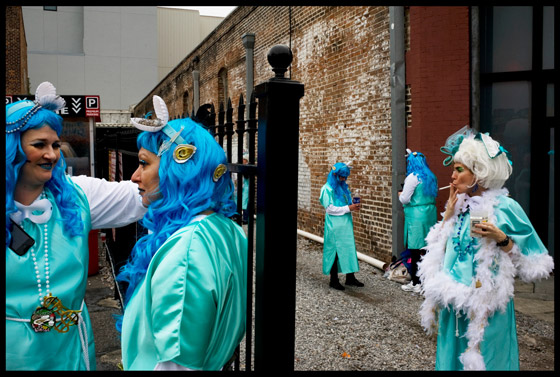 As the year turned from 2011 to the infamous 2012, I had just moved from Chicago, my hometown, to New Orleans. This move represented so much more than just a new city. After a five year hiatus from working as a photographer, I saw this as the time to dive back into it, sink or swim. The work I've done in New Orleans is representative of where I have taken my visual communication since leaving the newspaper industry in 2007. Music unites the community in a powerful way. I believe that message is deeply important in an age of societal turmoil and decay.
Since transplanting to the South, I have started working with local and national media and  have a number of exciting projects underway. I launched a new portfolio site (rhrphoto.com), a wedding photography business (rhrwedding.com) to support the effort.  I am also presently editing my first solo gallery show opening February 2 at Scott Edwards Gallery (scottedwardsgallery.com) in New Orleans. While there is still more to learn and even more to do and see, I am excited about the possibilities 2013 and beyond hold as I explore my place within the community as a visual communicator.