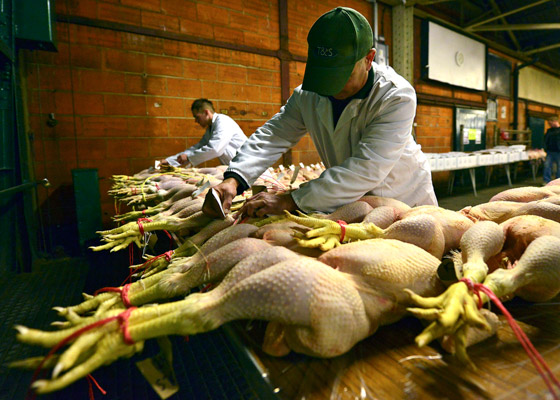 London, England-based photographer Stephen Simpson shot an auction of Christmas poultry.
Today I woke at some ridiculous hour to drive to Reading so I could photograph the preparation for an auction of Christmas poultry, held by Thimbleby and Shorland, Berkshire. I arrived shortly after seven am and found a handful of people unloading cars and vans of their cargos of birds. The smell was overpowering and the meat was fresh enough for blood to find its way onto my jeans. There was an 80′s cassette player blasting out a mix of Christmas number one singles whilst bird after bird was placed on the trestle tables set up around the dark interior of the auction sheds. The music made for an oddly ironic moment or two especially the sight of 8 guys shouting out the names of the solos during 'Do They Know It's Christmas? ' whilst carrying dead poultry around. Everyone was a pleasure to be amongst and it still surprises me that people are able to happily carry on their work with a 14mm stuck in their faces, opportunities like this are down to access and it's great when it works well. After an hour or so customers started to arrive to browse the birds (still only 0800) and shortly after the auction took place with each of the 500 or so birds being sold weighed and sold individually.  I'm not so sure I'm looking forward to eating my Christmas turkey with my family on the 25th anymore though!
See more photos on Stephen's blog.