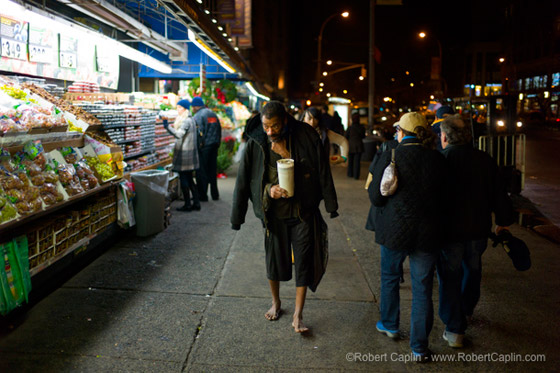 NYC-based photographer Robert Caplin photographed the barefoot homeless man who was given a pair of boots by a NYPD officer.
Last night around 7:30 I received a call around asking if I was available to take a last-minute assignment in my neighborhood. I was told that one of the NY Times reporters had happened upon the now-famous barefoot homeless man, Jeffrey Hillman, who was given a new pair of boots by a generous NYPD officer last week. The exchange was caught on film by a tourist and the photo went viral after it was shared on the NYPD's Facebook Page gaining hundreds of thousands of likes, shares, and comments.

Of course I had seen the photo as it was on the cover of many newspapers, magazines, and television shows worldwide. It painted a picture of generosity and sympathy for the homeless population and was great publicity for the NYPD and Officer DePrimo.

In taking the assignment, I was intrigued to meet him and see how his sudden celebrity had effected him. I was shocked, though, to find him just blocks from my apartment near one of my favorite grocery stores, Fairway Market, still standing barefoot and begging for change on the cold, dirty NYC sidewalk.
Continue reading and see more photos on Robert's blog.