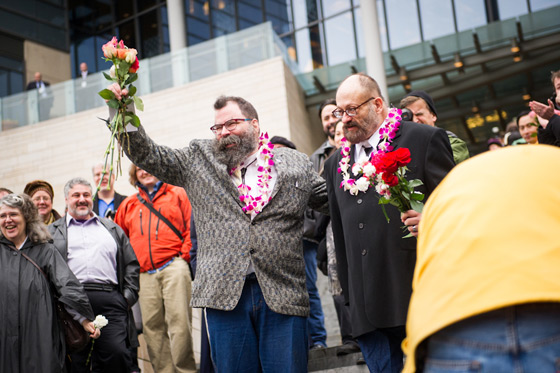 Seattle-based photographer Nate Waters documented a day of wedding ceremonies for same-sex couples, celebrating the recent legalization of gay marriage in the state of WA.
I was recently assigned by City Arts Magazine to photograph art installations at Seattle's City Hall during a day of same-sex wedding ceremonies put on by the city. The assignment was easy enough, I thought – and with family visiting, I hoped I could grab the shots and be out of there well within the one hour of time allotted for press to be inside City Hall. Turns out, I could have never anticipated the level of emotion and excitement I felt by being inside City Hall that day. I ended up staying for almost two hours. Mayor Mike McGinn and his wife attended many of the ceremonies and seemed just as elated to be there as the couples being married. A huge, cheering crowd gathered outside on the stairs, waiting for couples to exit the building.

The opportunity to witness such a moment in our history, to see over 140 couples proclaim for the first time, their love for one another the same way everyone else is allowed to, is something I feel very fortunate to have been able to document.
See more photos on Nate's blog.